Building Learning Power
Grow your brain - what is Growth Mindset? Click here to find out
Building Learning Power - read about Our Learning Powers here
NED Mindset Mission Summer 2019
We were excited to welcome The NED Show (Never give up, Encourage others, Do your best) to Laira Green on Friday 12th July. Hayley from the NED show taught us all about NED's Mindset Mission in a special interactive assembly using storytelling, puppetry, illusions and some amazing yoyo tricks. The children have been able to purchase special NED yo-yos as a reminder of the NED mindset. We learnt it's important to learn from mistakes and to never give up!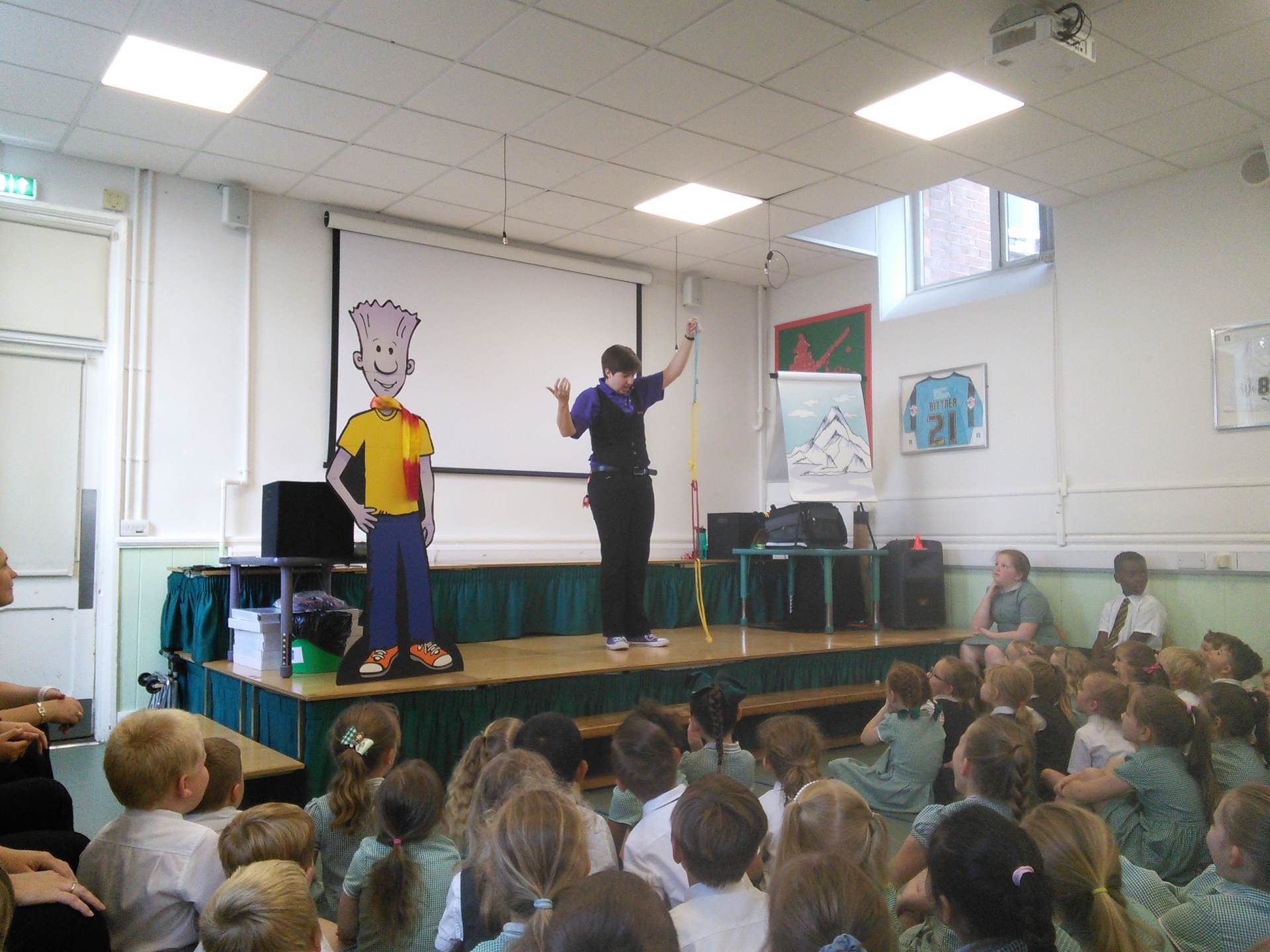 Well done to the children who took part!
Kristian King tells us all about the amazing show here...
Today we had an assembly all about N.E.D told by a woman called Hayley. This was about what NED actually stands for and him having an adventure.
At the start, before the assembly had begun, Hayley was showing us a few cool yo-yo tricks that she had learnt over time from practise. In the assembly, we learnt that that your brain is fuelled by learning and that this helps your brain grow in size. She was mainly talking about Ned's adventures and the fact that he really wanted to know where his right mindset was. Ned was given the first letter of his name by Mrs Norgate. "N" . To find the next letter, a piece of paper was hidden inside of the laminate paper and Ned found out that he was going to travel to Mount Everest in a hot air balloon and then climb up the enormous mountain to find the next letter of his name. While Ned was ascending the mountain, a massive snowball came down and hit him. He nearly gave up but he persevered and made it up to the top of MT. Everest where he found the letter N. He was sent over to the Caribbean islands on a zipwire to meet a lady pirate called Captain Kindly, who would give Ned a treasure map that had the location of the final letter of his name "D", This means do your best . He had to find the right mindset and to let go of the phrase "I Know" so his brain could learn more and grow.
When he returned, he said to everyone " I found my mind set guys! "
One thing we learnt was that if you give up it won't do you any good and it can be known as brain freeze.(not the ice cream/milk version) Another phrase we now know is "Go brain Go."
Click on the link here to see the a selection of posters the children made following the visit: lovely posters
Learning Powers and Growth Mindset - click here for our powerpoint showing how it works at Laira Green
Laira Green Crest 2018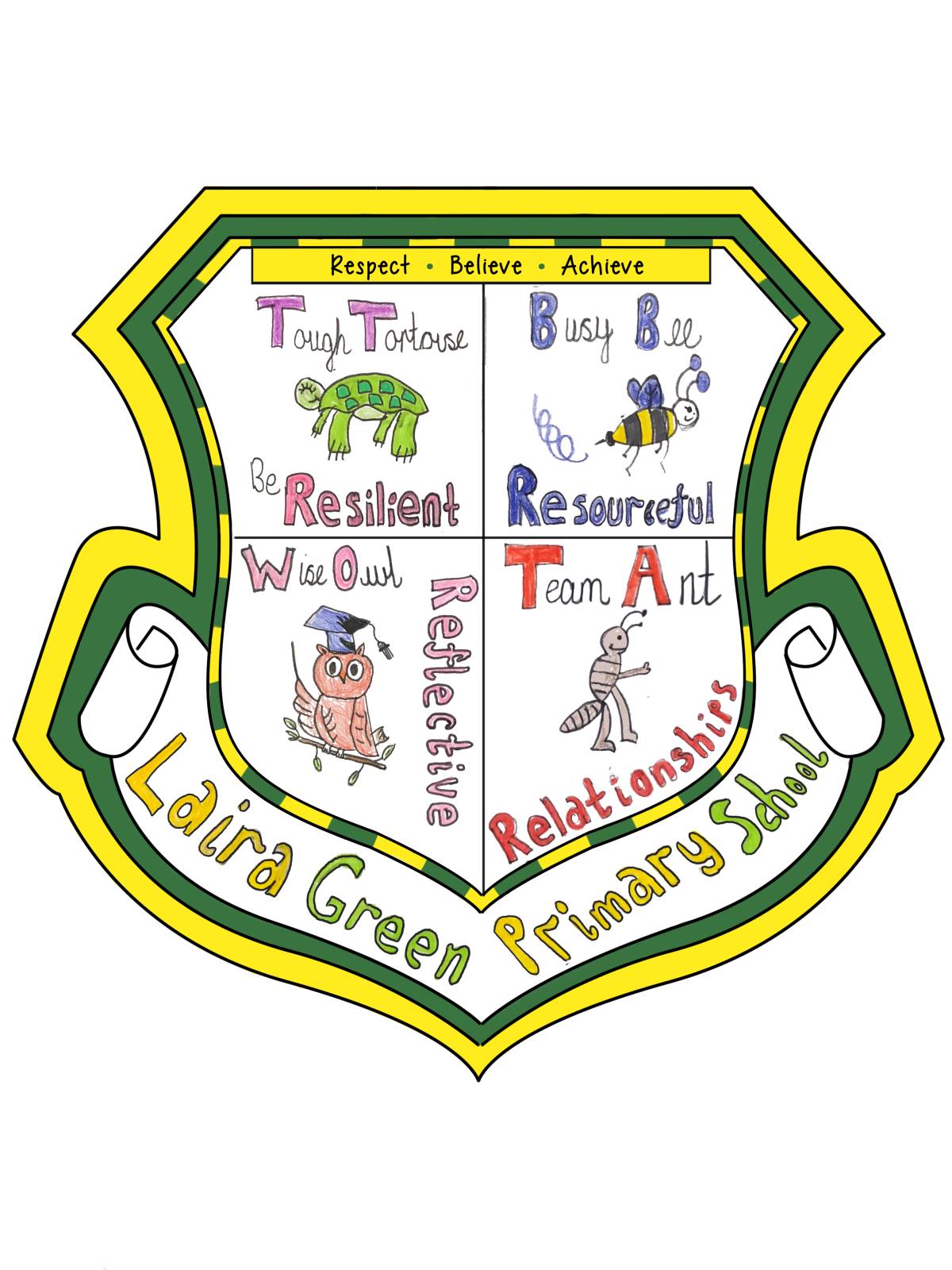 Summer Term 2018
In the Summer Term we held a whole school competition to design a Laira Green Crest. All the children worked really hard on their entries and incorporated our five learning powers in them.
Initially the School Council judged the entries and narrowed it down to a few from each class. The Governors then had the challenge of picking a winner. On the last week of term we announced the winner in assembly.
Here are the designs which made it to the last 6!
Last 6 designs
On Friday 26th January the whole school took part in a challenge afternoon! This was a great way to work collaboratively and to use many of our learning powers. An exciting range of activities were planned to challenge the children:
Ladybirds - Sound Sandwich
Caterpillars/Fireflies - Marshmallow Towers. Can a small team make a tower that is over a meter high with a bag of marshmallows and pasta.
Butterflies/Dragonflies - Team building challenge - move the cup without touching it, untangle the knot - linked to individual liberty.
Maple - Humpty Dumpty is about to fall off the wall. What can each team build to save him from breaking?
Apple - Bridge making. A construction challenge using newspaper. Can your bridge hold eight cars?
Oak - Visit to Plymouth Guildhall - meet the author.
Hazel - Who can construct the tallest Mayan Pyramid using spaghetti and marshmallow bites. Mayan pyramids were stepped and not like a square based pyramid.
Cherry/Birch - Save the Egg - can you build a safe carrier for your precious egg to stop it from smashing when it is dropped from the second floor window?
Look at the photos of our afternoon activities and see our Learning Powers in action!

Respect.....Resourceful (Busy Bee)....Relationships (Team Ant)...Resilient (Tough Tortoise)....Reflective (Wise Owl)
Here are some quotes from the children:
Ellowen (Year 1)- My team tried to make a big structure but it fell down. (Tough Tortoise)
Harry (Year 1)- We talked to each other and we didn't argue. (Team Ant)
Stanley (Year 2)- We had to put lots of effort in (Tough tortoise)
Mason (Year 2) - It was good working with other people we don't usually work with. (Team Ant)
Dilan (Year 3) - Each person had a job to do. (Team Ant)
Darci (Year 3) - It was fun to work in a team. (Team Ant)
Riad (Year 4)- Our bridge wasn't strong enough to hold eight cars.. It's important to learn from your mistakes. (Wise Owl)
Sophie (Year 5)- our team was talking to each other working hard. (Team Ant/Toigh Tortoise)
Amy (Year 6)- The egg didn't crack but we couldn't decide at first what design to do. We worked through our problems to achieve our results. (Tough Tortoise/Team Ant/Wise Owl)