Cherry Year 5/6
WELCOME TO CHERRY TREE CLASS
To see a copy of our Summer Term spellings for 2018/2019, please click here.
To see a copy of our Curriculum Leaflet for Summer Term, please click here.
To see a copy of our Spring Term spellings for 2018/2019, please click here.
To see a copy of our Curriculum Leaflet for Spring Term, please click here.
It will tell you the details of everything we are learning this term and give you ideas for home learning projects.
SCIENCE - SEPARATING MIXTURES
Cherry class had mixtures of:
stones and sand, sand and soil, salt and water, sand and staples, sand and water
They had to use any equipment they wanted to separate out the mixtures. There were conversations about petri dishes, syringes, mixtures, solvents, solutes, filtering, evaporating, dissolving. They were true scientists. Here are some photos: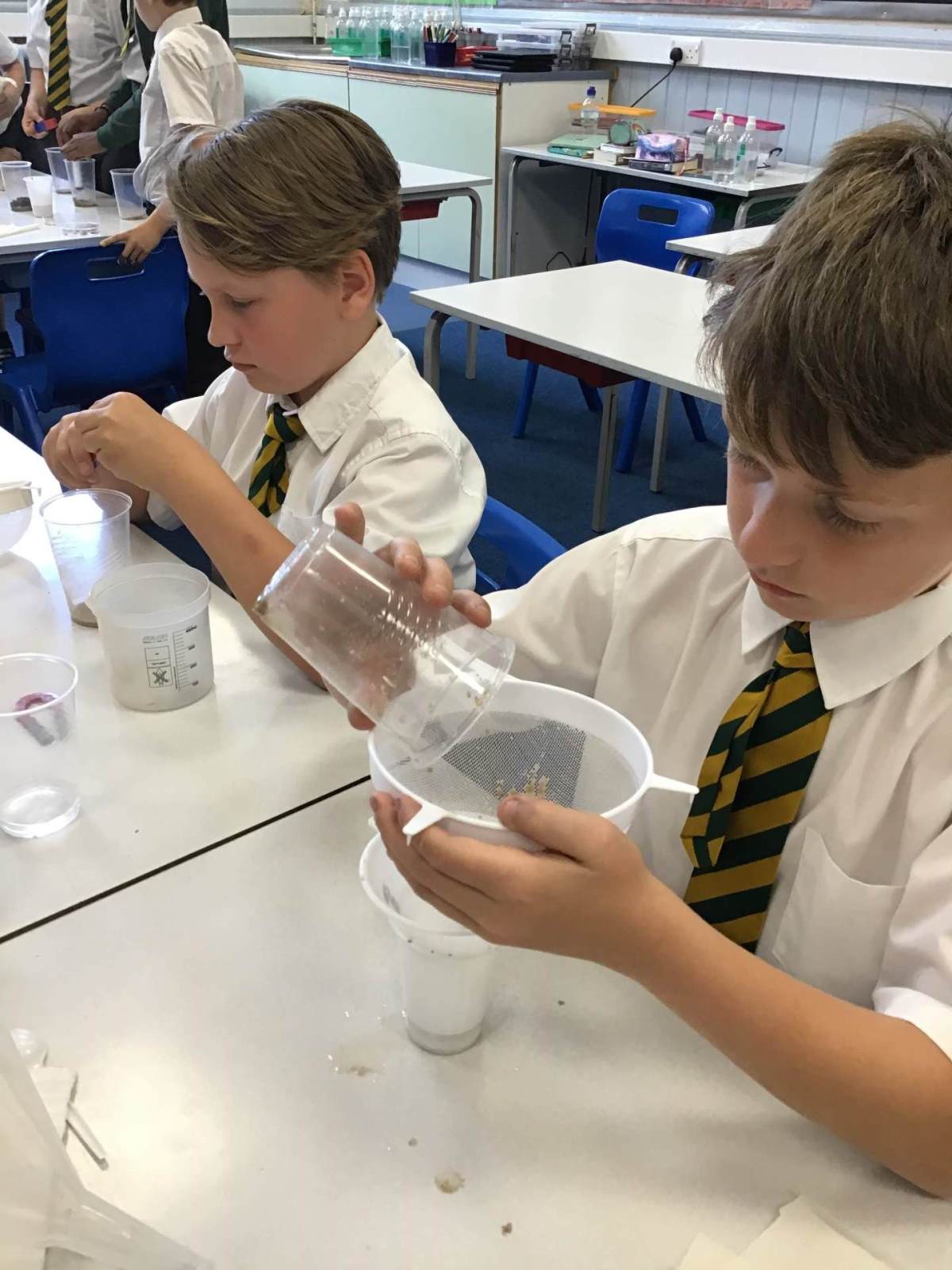 HEALTHY EATING WEEK
During healthy eating week, Cherry class had a visit from Warburtons bakery. They told us all about the Eatwell Plate - we learning about how many carbohydrates, proteins, dairy products etc that we should eat every day.
Here are some photos of the event: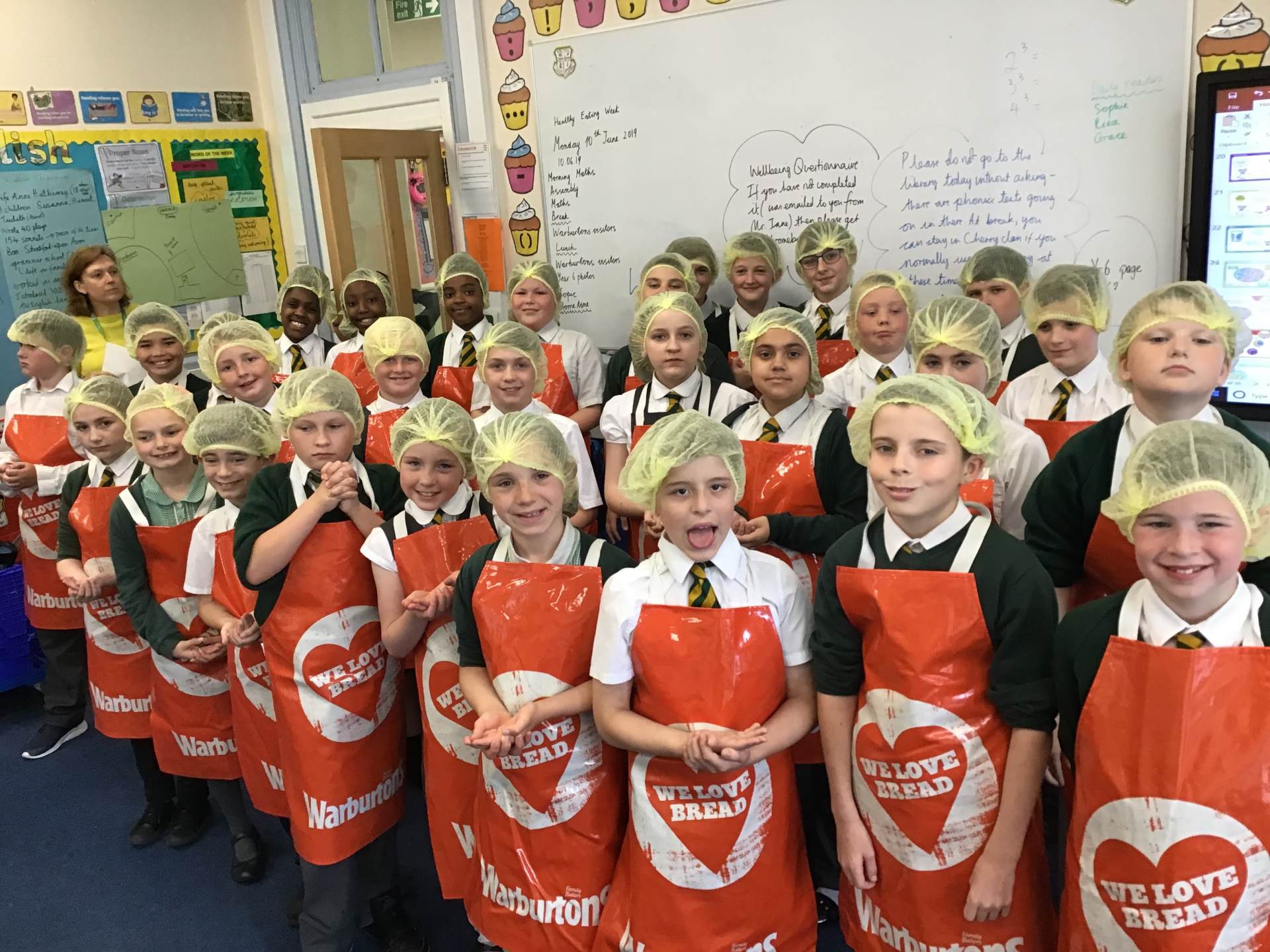 Two children wrote reports about the event:
On Monday the 10th June Warburtons came over to our school to talk about keeping healthy and they told us how much fruit and veg to eat a day and how much protein to eat as well. They said that you should not eat too much sugar because it is not good for you and if you eat too much sugar your teeth would rot away and would not be able to eat as much hard food as you would normally.
For about one hour, they showed us a powerpoint about how Warburtons started and how it has evolved throughout the years. Warburtons was started by a family called the Warburtons family, they were working in a little shop near a town square. After the powerpoint, we made some healthy sandwiches. There were: carrots, tomatoes, sweet corn, hummus, ham and cheese. We used soft bread to make our sandwiches. After that, we were aloud to take home some bread.
By Brandon
On Monday 10th June, people from Warburtons came in to talk to us about when Warburtons first started and who started it. It started in 1876 and it initiated when Ellen Warburtons - Thomas Warburton's wife, also manager of the business - started to make bread because their store was rarely visited. In 1 week, they sold around 1344 loaves of bread and about 1368 cakes.
We also talked some more about the people who work there, their jobs and then told us about the Healthy Eating Circle and the things that go inside the separate fractions of the circle.
After break, we made our sandwiches. We used wholewheat bread. First, we put non-dairy butter on our bread. Next, we got to put on the protein, I chose ham and cheese - the only 2 proteins. After that, we got to put on our fruit and vegetables: I chose lettuce, carrots and sweetcorn.
By Jack
On Thursday, the Year 6s attended the Junior Life Skills event at Bull Point to learn real life skills. These included sea safety, resuscitation, using public transport safely, railway safety, how to avoid electricity hazards and staying safe at home. The chip pan fire demonstration was a huge hit with children amazed at the ferocity and size of the fire caused by throwing water on to the pan. Click here to view more pictures of the event.
Our Year 5s received an invitation to Lipson Cooperative Academy to attend a visit by an author named Jon Mayhew; author of books such as the Monster Odyssey series. Not many of our Year 5s had heard of him before but they thoroughly enjoyed hearing all about how he became an author and some of his storylines. Many of the children purchased a book which Jon signed for them. When Jon realised it was one of our children's birthdays (evident from her HUGE birthday badge!) he very kindly gifted her a copy of her choice of book. It's always lovely to be introduced to find a new author to read!
For more photos, click here.
WORLD BOOK DAY
Take a look at the fantastic book character costumes we had in Cherry Class for World Book Day on 7th March 2019. We had Mary Poppins, Willy Wonka, Little Bo Peep and even a woolly mammoth!!!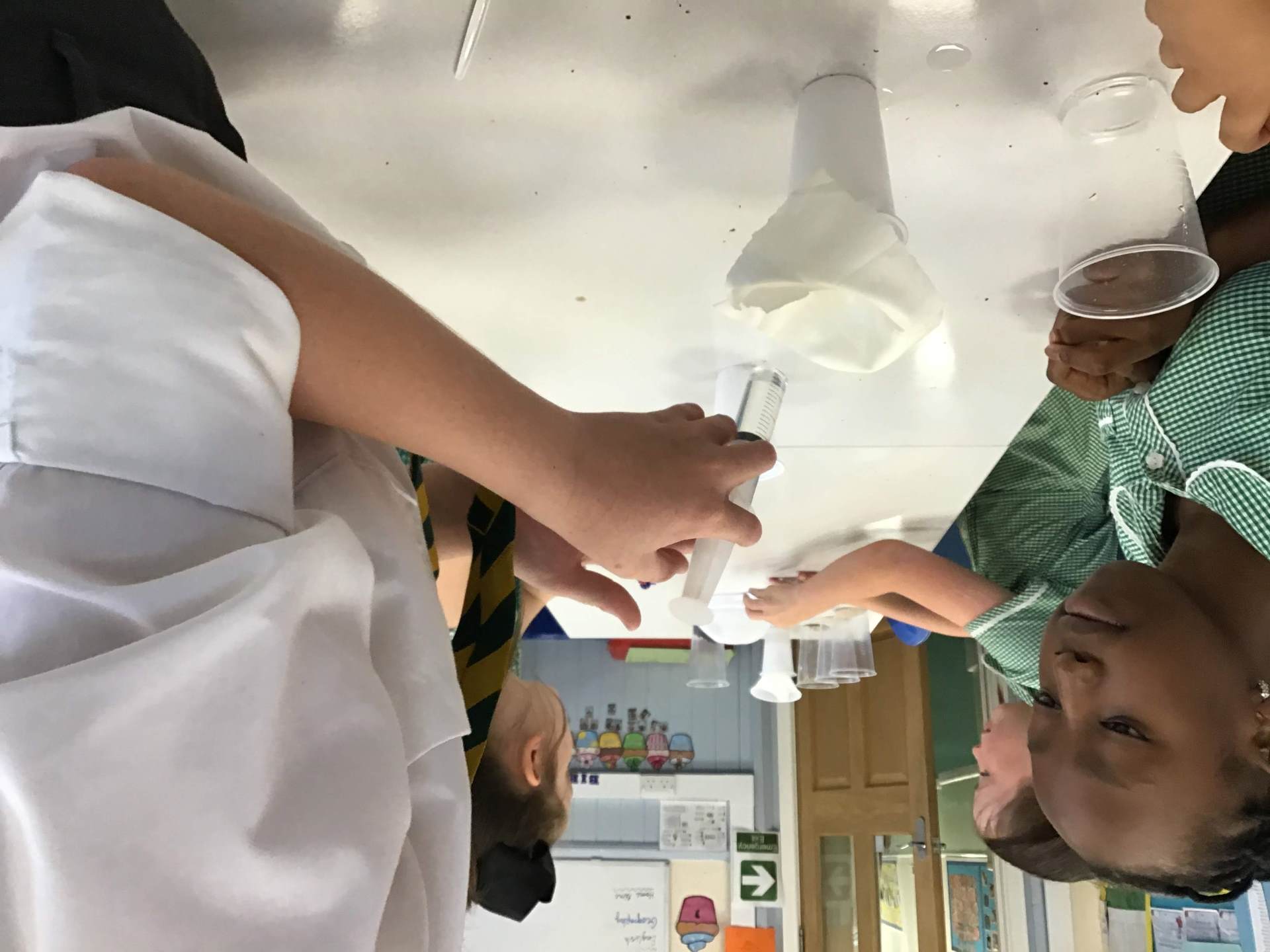 During the day we did "book tasting", "scavenger hunt in the library", "share a story with Year 4&4".
Click here to see a slideshow of our children reading with Year 4 children:/docs/WBD_Cherry_for_website.pptx
EARTH IN SPACE
As part of our Earth in space topic, we learnt about the phases of the moon. If you would like to learn about them, follow this link to watch a great video:
https://www.youtube.com/watch?v=NCweccNOaqo
To help us remember the phases and their names, we made a demonstration out of Oreo cookies. We had to take off the top of the biscuit then nibble the cream bit into the right shape. It was fun and delicious!!
VISIT TO MANOR COURT
Cherry class went up to see the residents of Manor Court recently. The children talked to the elderly people about their school work, their clubs, Christmas, anything and everything. The residents were very happy to have such cheerful, friendly children with them for an afternoon. A little later, Cherry class put on some music and sang Christmas songs to the residents - many of the people joined in. Cherry Class were so kind and thoughtful and confident - it was brought a tear to everyone's eye!! Well done, Cherries!!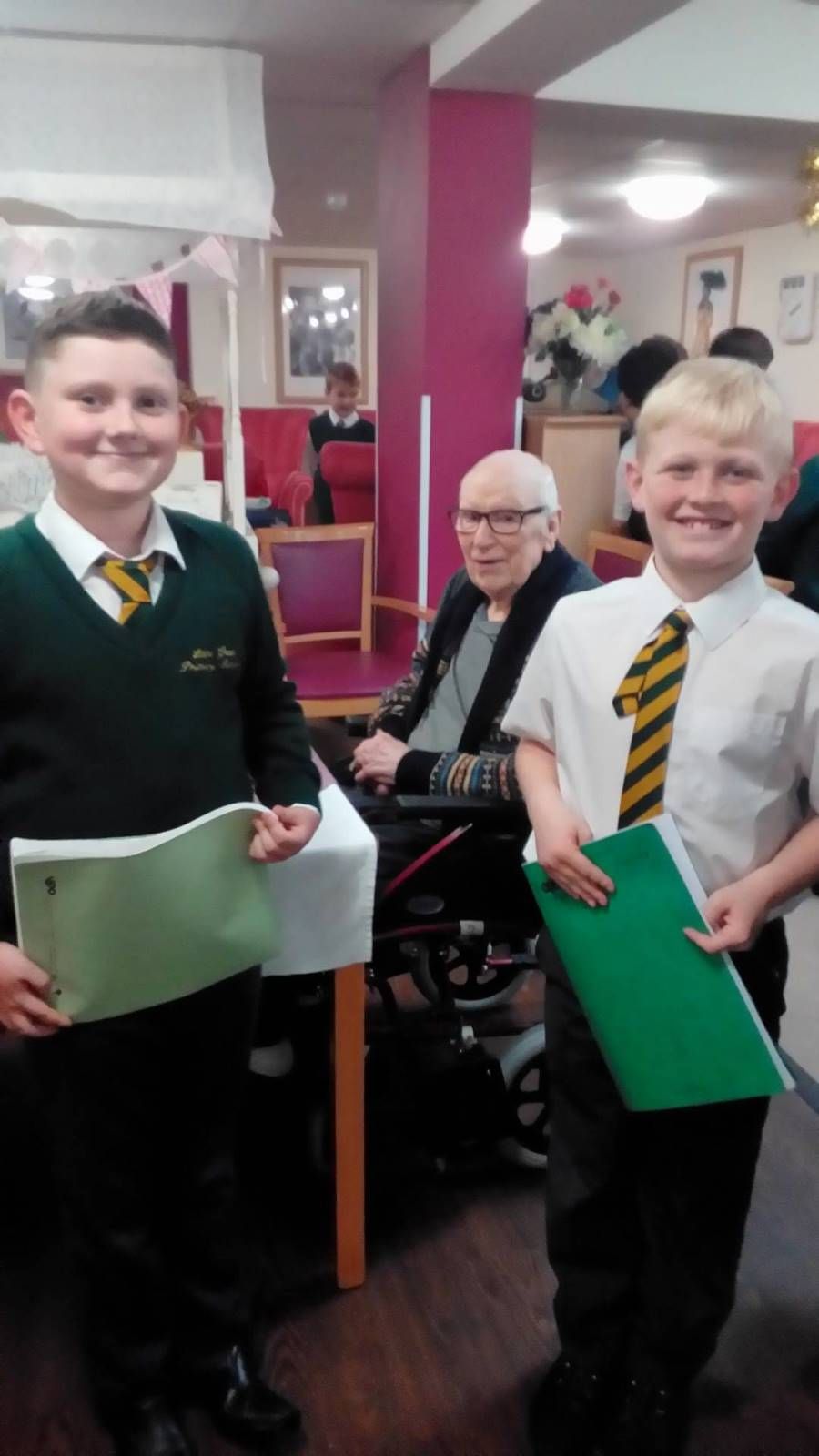 Synagogue Visit
Cherry Tree (along with Hazel and Birch class) were fortunate enough to have a trip to the Plymouth Synagogue arranged for them. We walked (yes, it was a long walk!) right into Plymouth centre to visit the Synagogue. The children got to try on the kippur hat, blow on a sheep's horn and look at all the beautifully decorated items in the ark, where the Torah scrolls are kept. They were told all about the prayers that take place in the Synagogue and also about how Jewish families have a Shabbat service, followed by a family meal on Friday evening. It was incredibly interesting and our children asked lots of questions about this fascinating faith. There was so much to learn!
Well done, Cherries, for being great students of Religious Studies and for remembering everything you have learnt. Many thanks also to Plymouth Synagogue for allowing us to visit.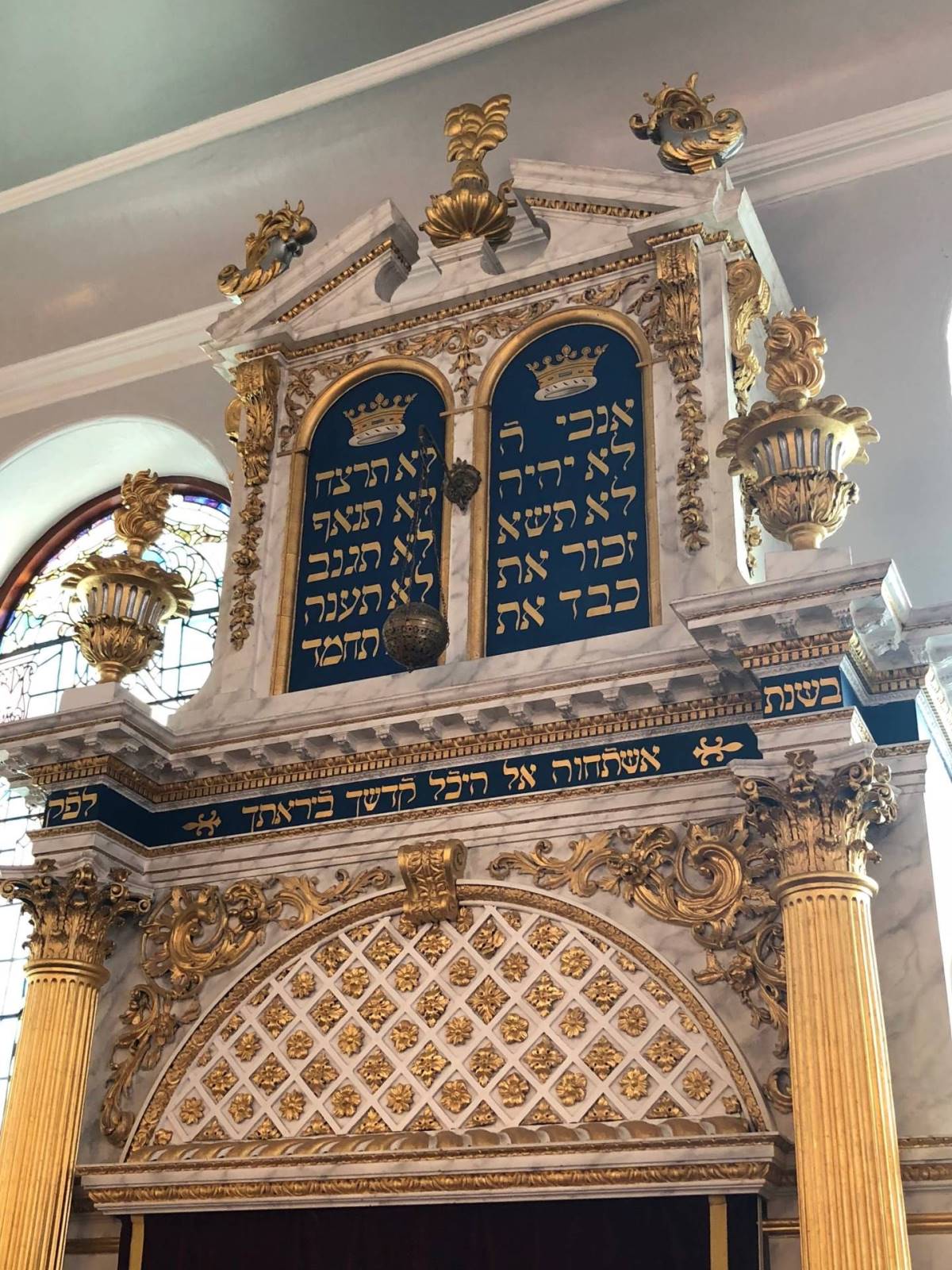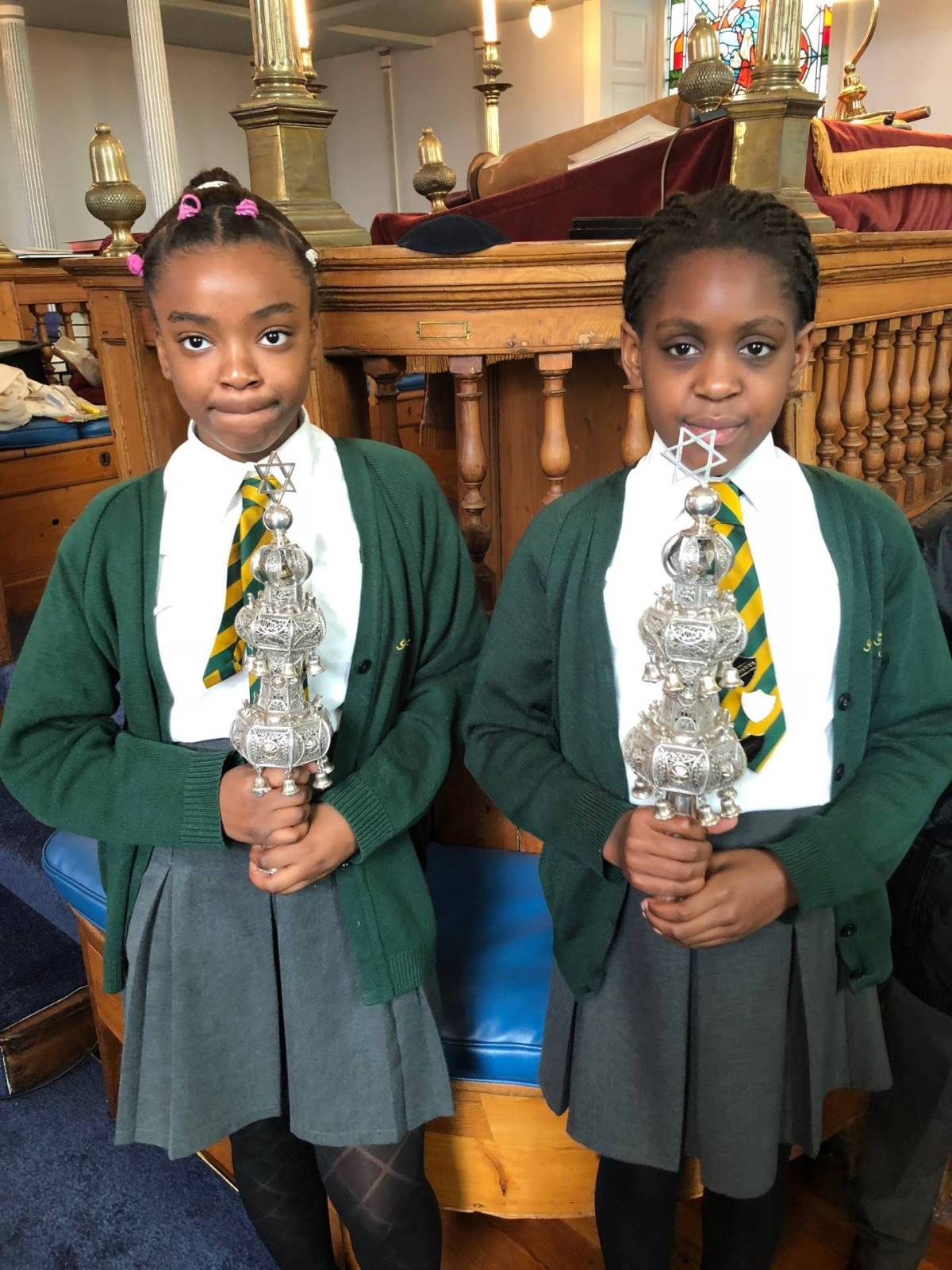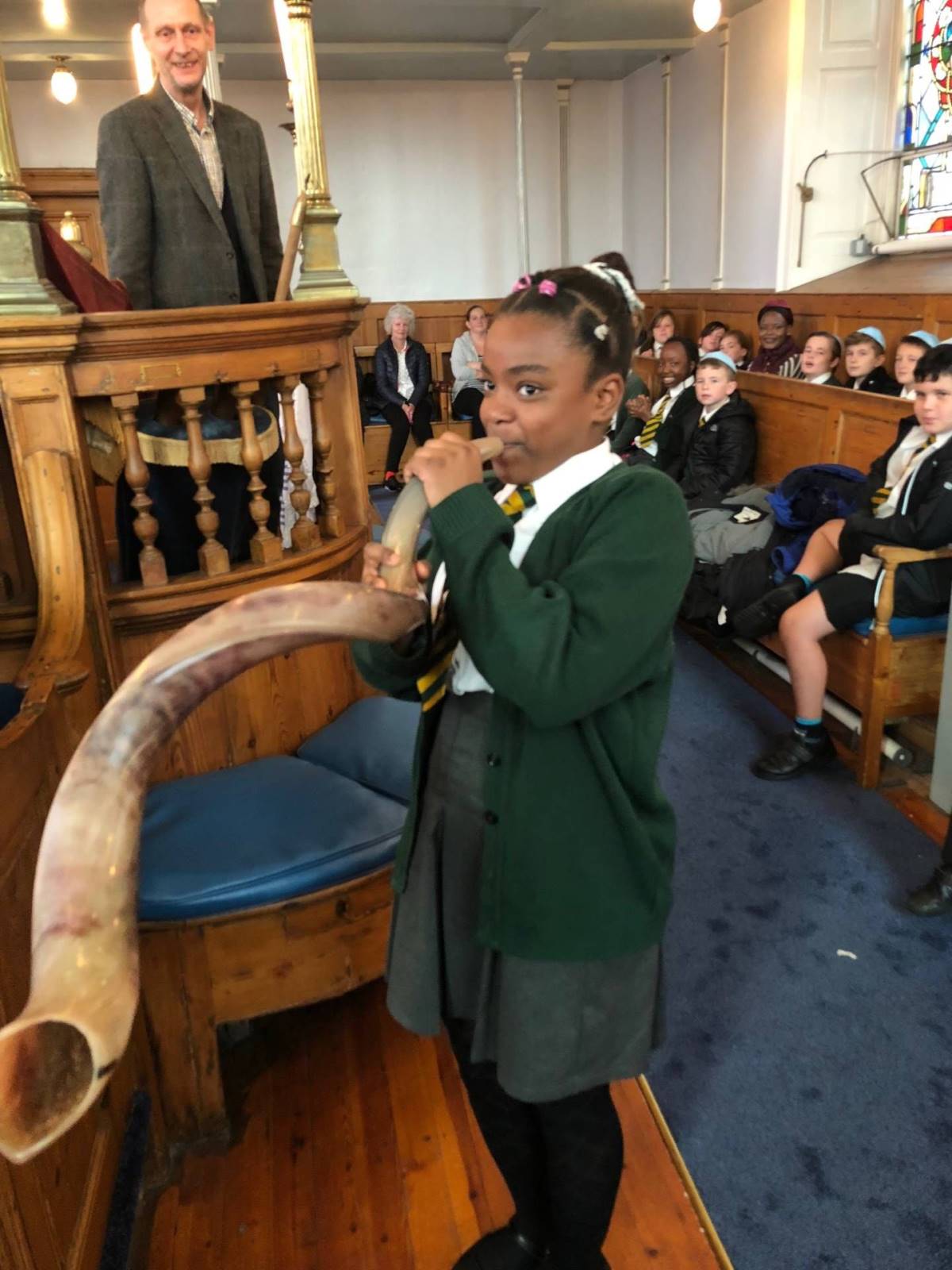 CHERRY TREE CLASS ASSEMBLY
Cherries performed their class assembly today to the rest of the children at Laira Green Primary School and to lots of lovely parents and families who came to watch. The children showed all their learning around the organs of the human body and also the Egyptians. They sang Ancient Egyptians song and also our favourite, A Million Dreams. There was a fantastic demonstration of TT Rockstars by Diego and Jack, and one of our parents, Mr Henderson, came to have a try - he needed quite a bit of help!! (Thank you Mr Henderson for being such a good sport).
Here are some pictures of the event: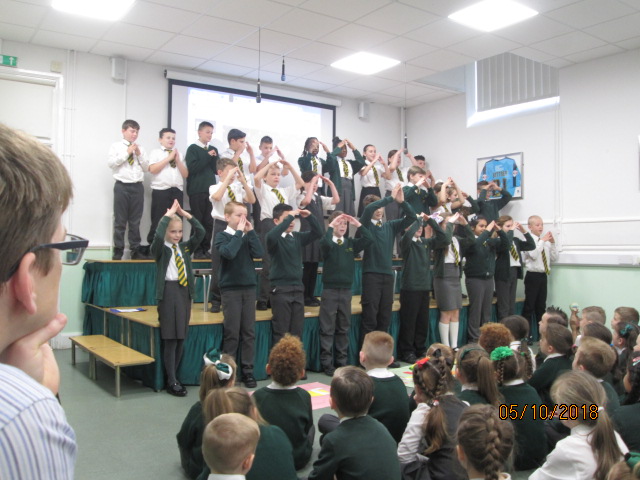 Egyptians - our history topic
We have mummified a CHICKEN!!!
It sounds crazy but we were wondering how the mummification process worked and we are not allowed to mummify a real dead person - so we went for a chicken from the supermarket.
This is how KING CLUCK, as we called him, looks now:
We cleaned him, washed him, stuffed him full of salt and then put him into a bag and packed in more salt.
In two week's time, we will tip all the salt out and change it. His skin was plump but the salt will cause all the water to come out of his skin, by osmosis. Then he will get drier and drier until he is a "mummy".
We can't wait to see him all mummified!!!
Cherries have had a great first week.
We have so many interesting things planned so we'll all learn new things together. Remember to keep going onto the website and keep up to date with all our news.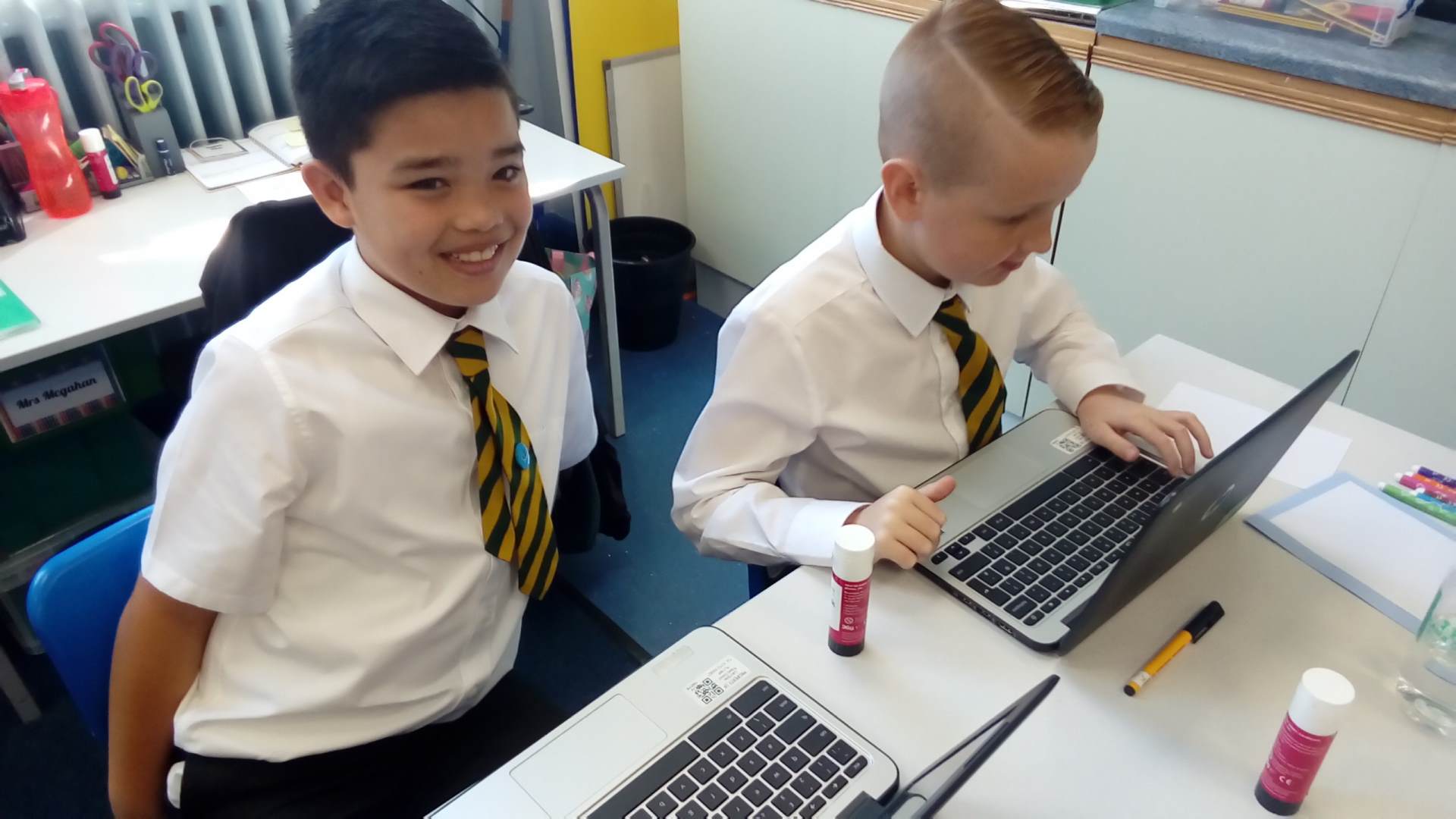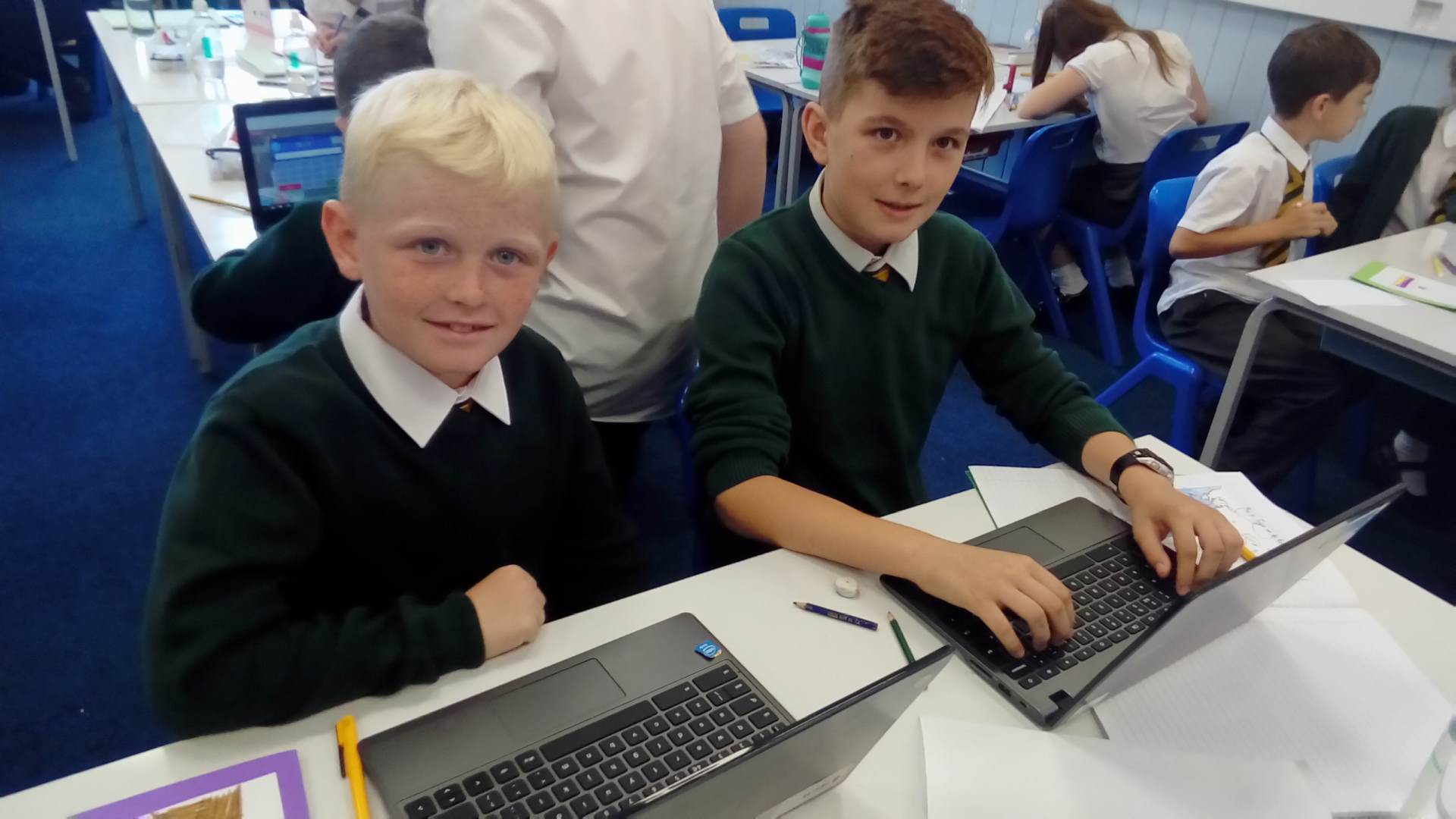 It's been lovely to meet the children and I'm sure we are going to have a fantastic year full of interesting activities along with the occasional trip to help with our learning.
The Team:
The class will be taught by Mrs Nightingale with support from Mrs McGahan.
Reading:
The children will continue to bring home reading books which they have chosen as part of the Renaissance Reading programme plus we have a fantastic new library in school - there will be an official opening later this week. We would like to encourage you to listen to your child read and discuss what they have read. We suggest reading for 15 minutes, five times a week. Please use the Reading Record book to let us know that you have heard your child read and to make any relevant comments but children can write in this themselves. The children will complete quizzes relating to the books they have read and it is therefore important for them to have a good understanding of the language, style and vocabulary used in the books.
To see a copy of our Autumn Term spellings for 2018/2019, please click here.
To see a copy of our Spring Term Leaflet, please click
here
.
Click here to view the 2018-19 Curriculum overview.
To see a copy of our Autumn Term Leaflet, please click here.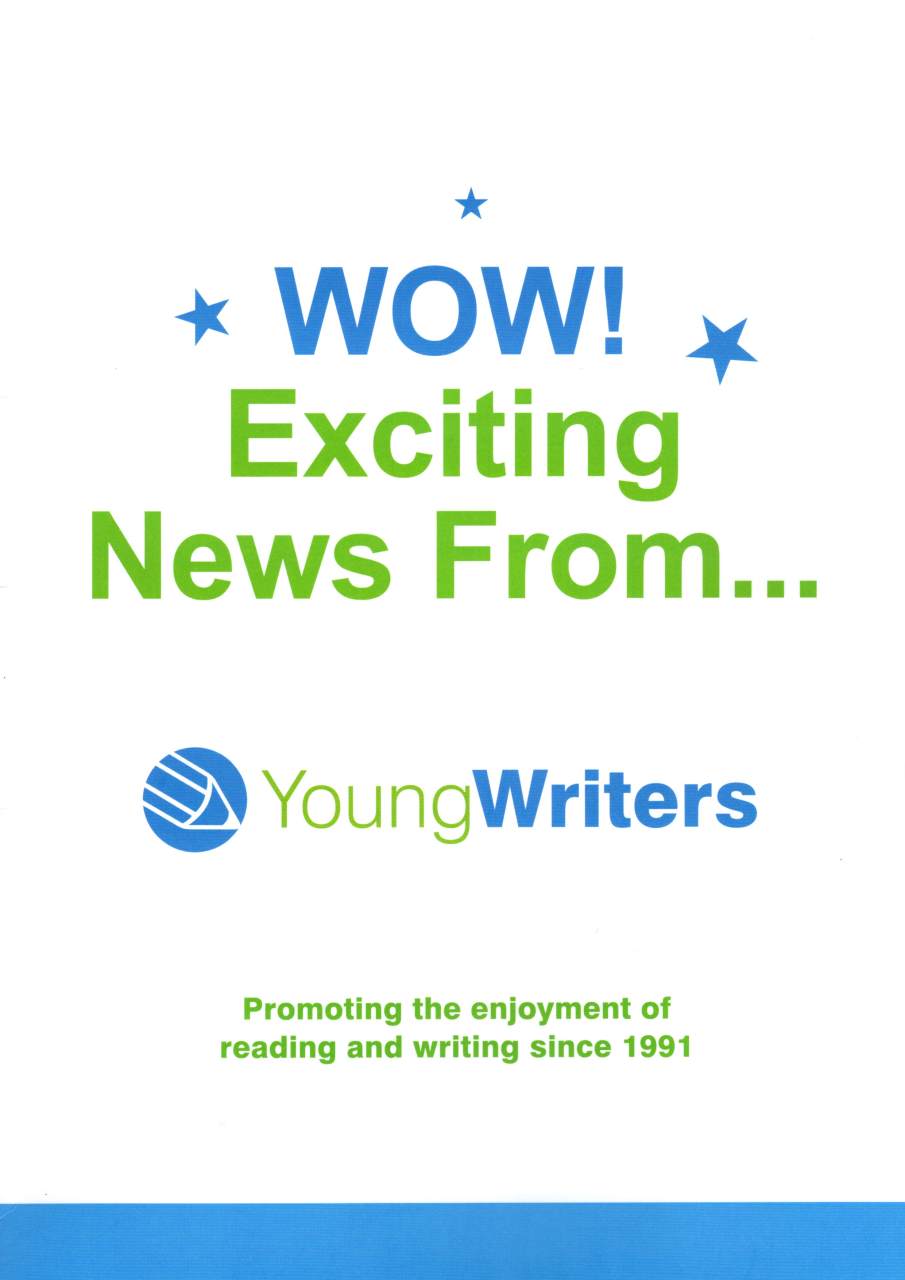 Last school year, our then Year 5/6 classes entered a Superhero Adventures creative writing competition. Today we discovered that 27 of our children have been chosen to have their stories published! Some of these children have since moved on to secondary school and their advice letters will be forwarded on to them but congratulations to the following children who are now our current Year 6s:
Blake, Billy, Maisy, Quinn, Jude, Lukas, Charodon, Ayman, Kayla, Kira, Kamila, Ruby, Charlie & Tyler.
Each child will receive a prize for their efforts in addition to becoming a published author. They're all superheroes!
CHERRIES 2017-18
YEAR 6 CHERRIES HAD A GREAT LEAVERS PARTY CELEBRATION!!
Year 6 Leavers were treated to a party on Thursday this week. Sam and her wonderful kitchen staff provided them all with a buffet of pizza slices, garlic bread and cream cakes!!! It was delicious. Mr George arranged some great music, disco lights and a smoke machine. The children enjoyed dancing, playing and laughing with their friends - they have worked incredibly hard this year and throughout their time at Laira Green so it was well-deserved.
Click here for some pictures.
SCHOOL CREST COMPETITION
We have been using our Rs this year - resilient, resourceful, reflective, respectful and relationships to help our attitude to learning. We were asked to make a school crest using these Rs - click here for some of our ideas.
WRAP SPLAT HAT campaign competition entries
Some of the Cherry Class designed a new sunhat that had to be eye-catching, practical and protected a child's face and neck from the sun. Here are some of our designs.
VISIT TO HOUSE OF FRASER POP-UP MUSEUM
Cherry Class took the bus to town last Thursday to visit a pop-up museum as part of their PSHE and History curriculum and to have lunch on The Hoe.
We went to House of Fraser, up to floor 5, where visitors are able to view the
'Plymouth – From Destruction to Construction' exhibition. We found that the artefacts and photographs explore the devastation caused by the Blitz. There was also information about how Plymouth city centre was developed at the end of the war.
The Cherries got to try on some wartime clothing and a gas mask. They went into a mock-up of an air raid shelter and heard the air raid sirens sound. There was some old books and cards from the time and even a milk jug that had molten glass stuck to the side, which had melted from the windows in the severe heat of the bombing fires!
As you can see from the pictures (click the link), we really enjoyed the visit, especially the picnic!!
Our children were incredibly well behaved on the bus journey there and back, giving up our seats for members of the public - respect, believe, achieve!!
TO SEE THE PHOTOS OF OUR MUSEUM VISIT, CLICK HERE
http://lairagreen.com/News/Galleries/?SSID=15374&password=#mainholder
RE Topic:
It Matters to Me, It Matters to Others
Homework Task:
You have been asked to make a collage of what makes you you? What matters to me? What makes me me?
These children from Cherry class created these amazing collages about themselves and what matters to them in their lives. We hope you like them….

R.E. connected to Easter
Spring Term 2018
In Cherry Class we had some questions that we talked about:
Why do churches use stained glass windows to remember Christ's death and resurrection?
What might the first Easter have been like for people at the time?
We read some stories about the first Easter and how Jesus was betrayed by Judas. We used these stories as inspiration for us to write some short narratives about this event, including dialogue (we have been learning how to punctuate speech within text).
We looked at some photographs of stained glass windows. We then tried to create our own stained glass windows, based upon the story of the crucifixion and ascension of Jesus, using oil pastels.
Here is some of our writing and some of our artwork: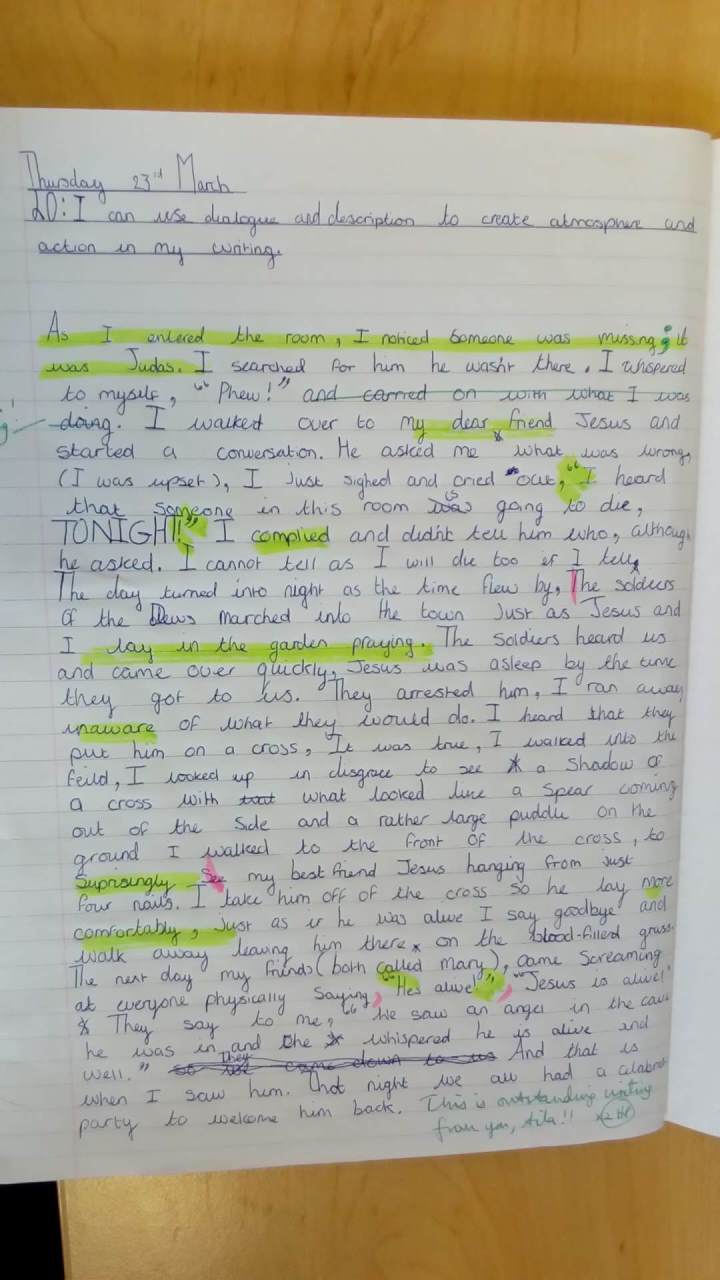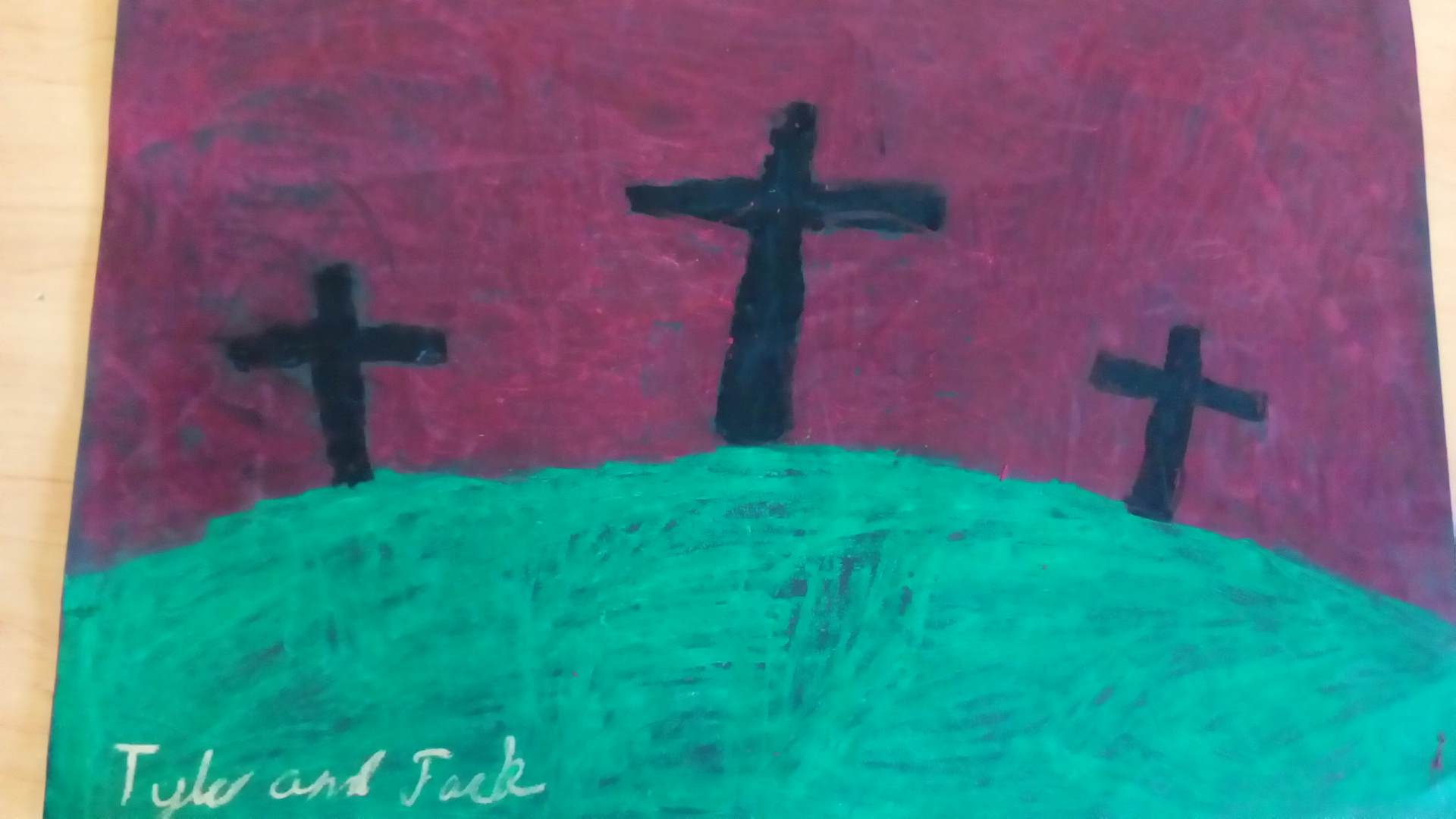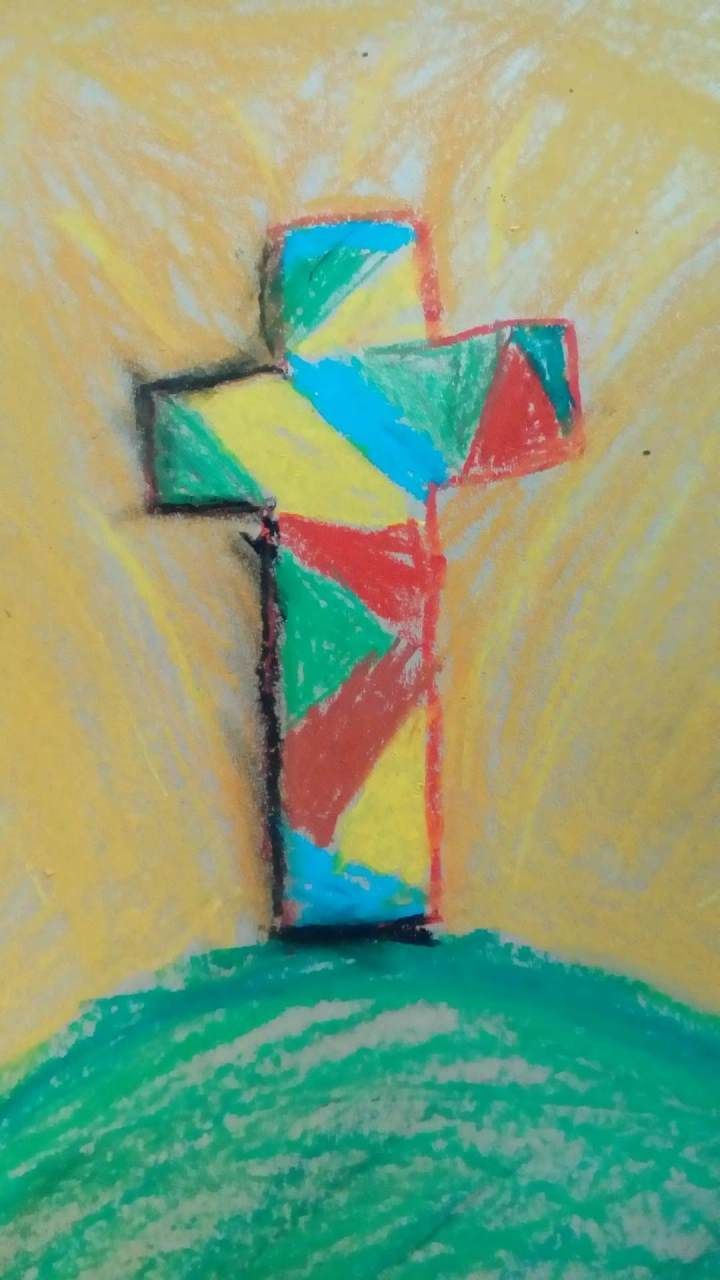 WELCOMING OUR FRENCH VISITORS
Cherry Class were very lucky to host 8 children from a school in Brest, France, last Tuesday. They joined in all our activities: maths problem solving, writing direct speech using speech marks, Artwork around the significance of stained glass windows to Christians. The children were lucky enough to have Isaac available to translate as we went along - fantastic work, Isaac!
Here are some photos of us all working together...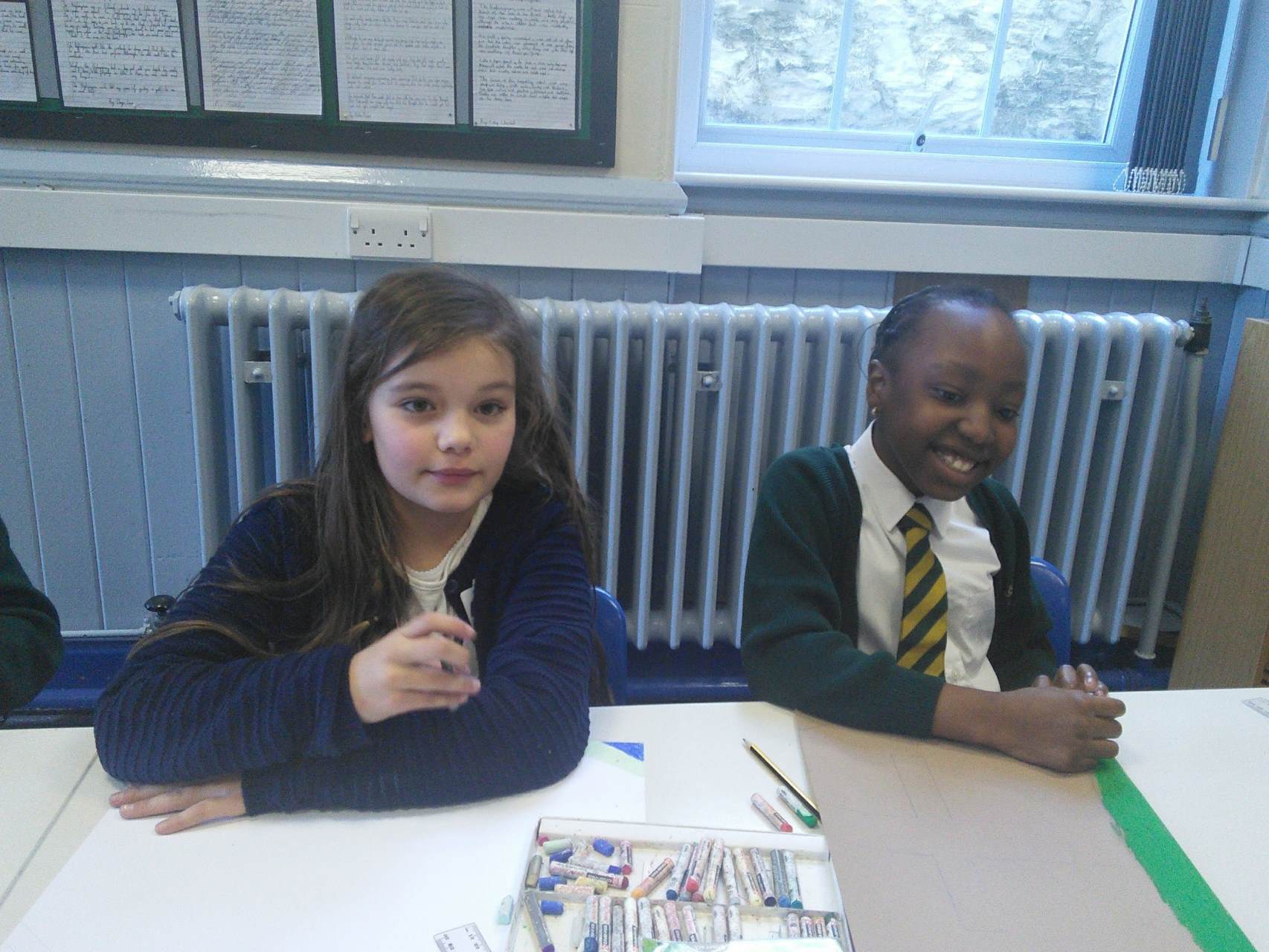 JUNIOR TEN TORS PRACTICE WALK.
Here is a report of our exciting trip by Esha from Cherry Tree Class:
Junior Ten Tors
Yesterday the year 6s only went on a very exciting trip to Dartmoor. we were practising for the real ten tors. its wasn't very much but my legs did ache a lot because it was a very long walk but it was very fun.
Firstly, we walked on a really muddy path and my shoes got soaking wet and they were so wet I had to stop to empty the water from my shoes and then after that happened I nearly fell into the water/mud. [ I think next time I go on walks like that I will wear wellies of some sensible shoes because I wore trainers and they got very muddy and very wet].
Secondly, we went over so many rocks my shoe laces got stuck in them and iIwas a little worried. Also I was in Miss Nightingale's group and she was the best team teacher ever she numbers us 1 to 10 I was number 2 and Amber was number 1.
We also got some snow and people were throwing it at each other and then we passed Sheeps Tor which we went up before and that was really fun. So we got to the top of the hill were you could see it and the view was amazing and I didn't want to leave because the view looked was so sandy. It looked like a sandy desert from where we were standing and then we walked down the hill and went up another hill and it was so tiring I couldn't walk anymore. But I got up my courage and started walking again. I sort of stopped to have a break, but that doesn't matter all that matters is walking and getting healthy and strong.
By Esha, Cherry Tree Class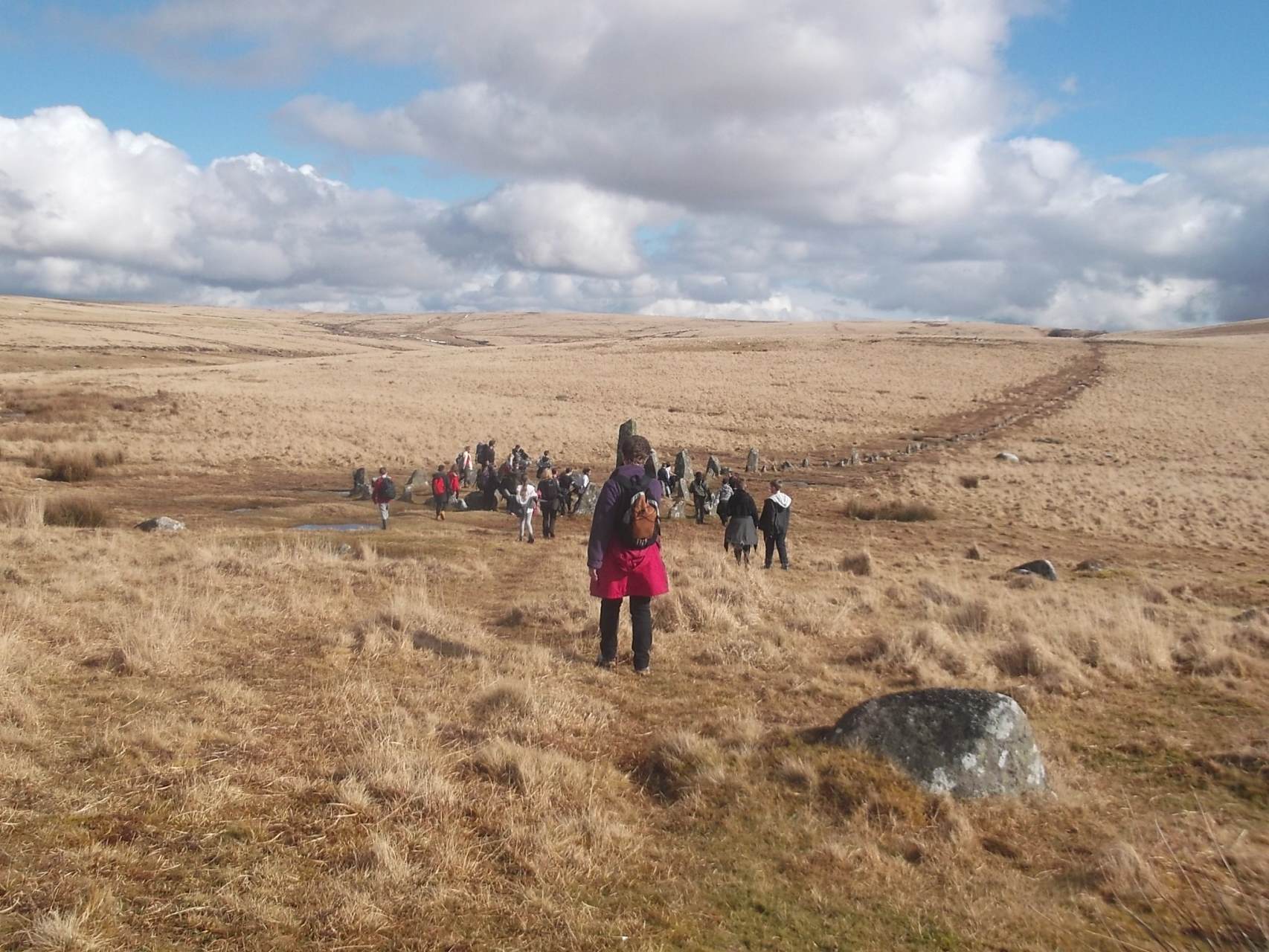 DISSECTING AN EYE IN SCIENCE
The brave children of Cherry Class carried out an eye dissection last week. They were each given a pig eye - which came from a local butcher. They had to examine it carefully with a magnifying glass and identify the schlera, cornea, pupil, lens, optic nerve etc. They turned it over and over and took their time to examine they eye and find out everything they could. Initially, some children were a bit reluctant but they soon managed to join in and start learning.
A while later, the eyeballs were cut (the scalpel was very tricky so we ended up using scissors) and the aqueous humour came out. It was very simple then to remove the lens. If you put the lens onto some text, you can see how it magnifies the words.
The children identified the retina and all the blood vessels within the eye. As a whole, the class were fascinated with this activity and learnt so much more than they had from a diagram!
Well done, Cherries!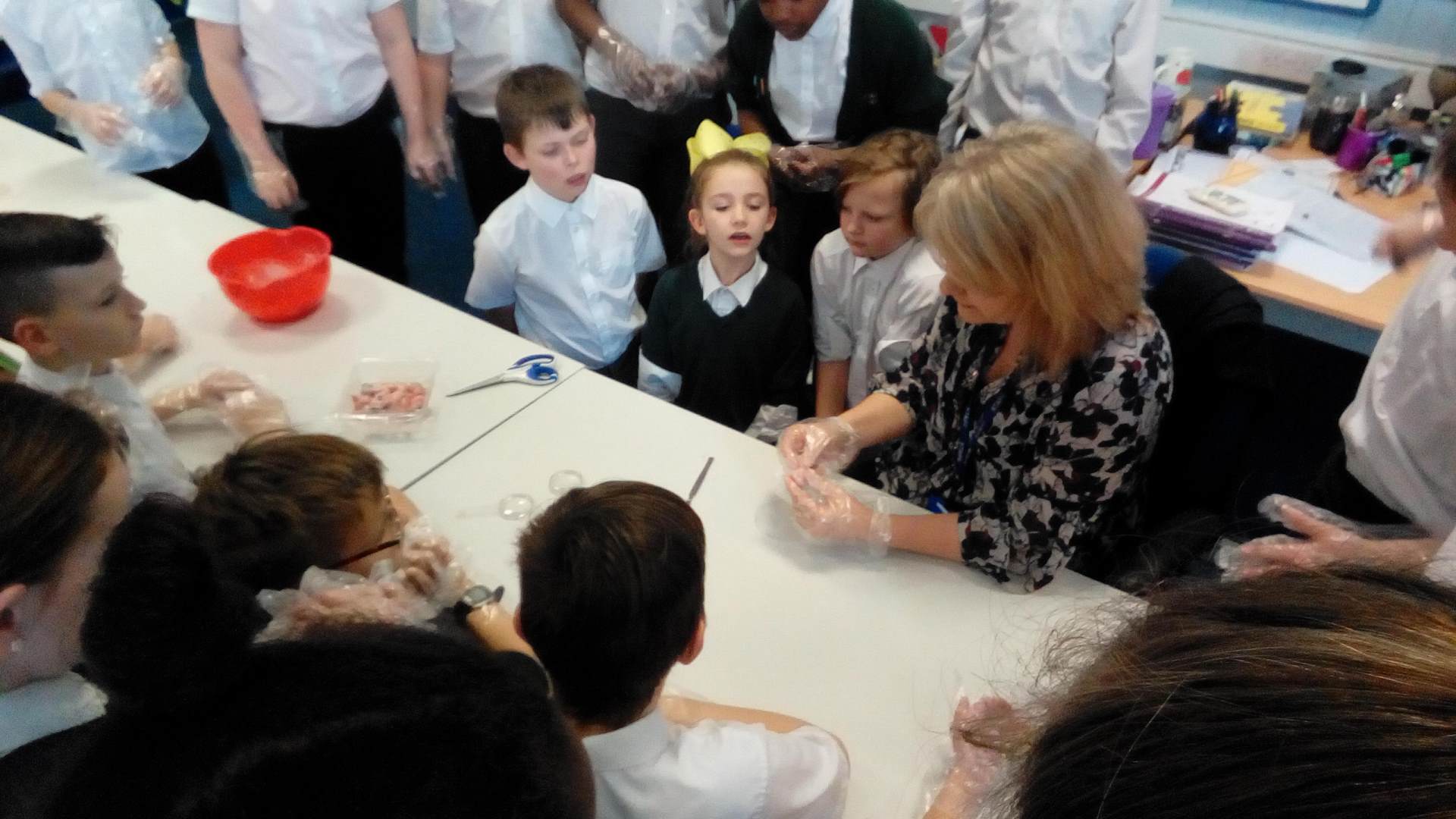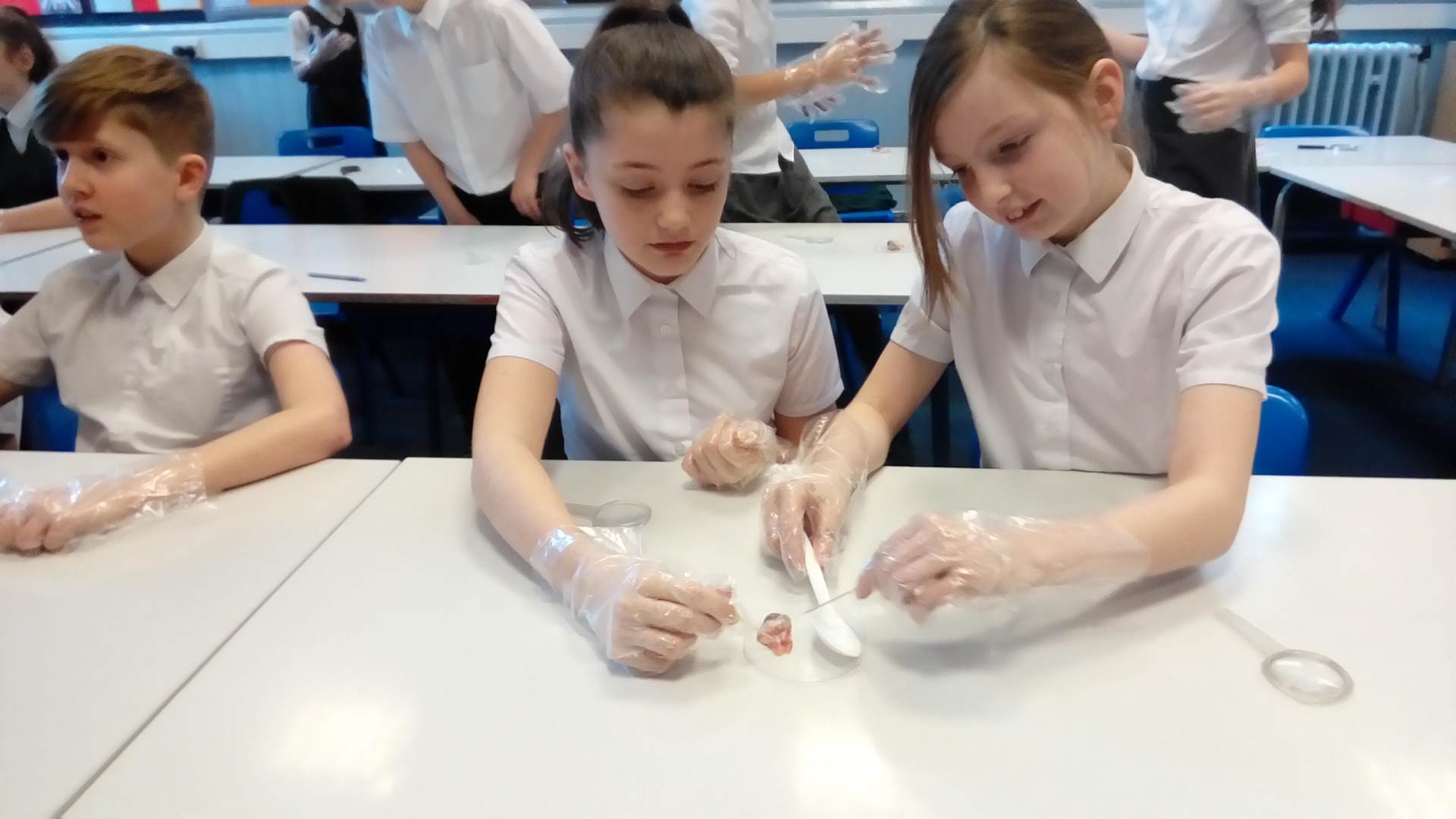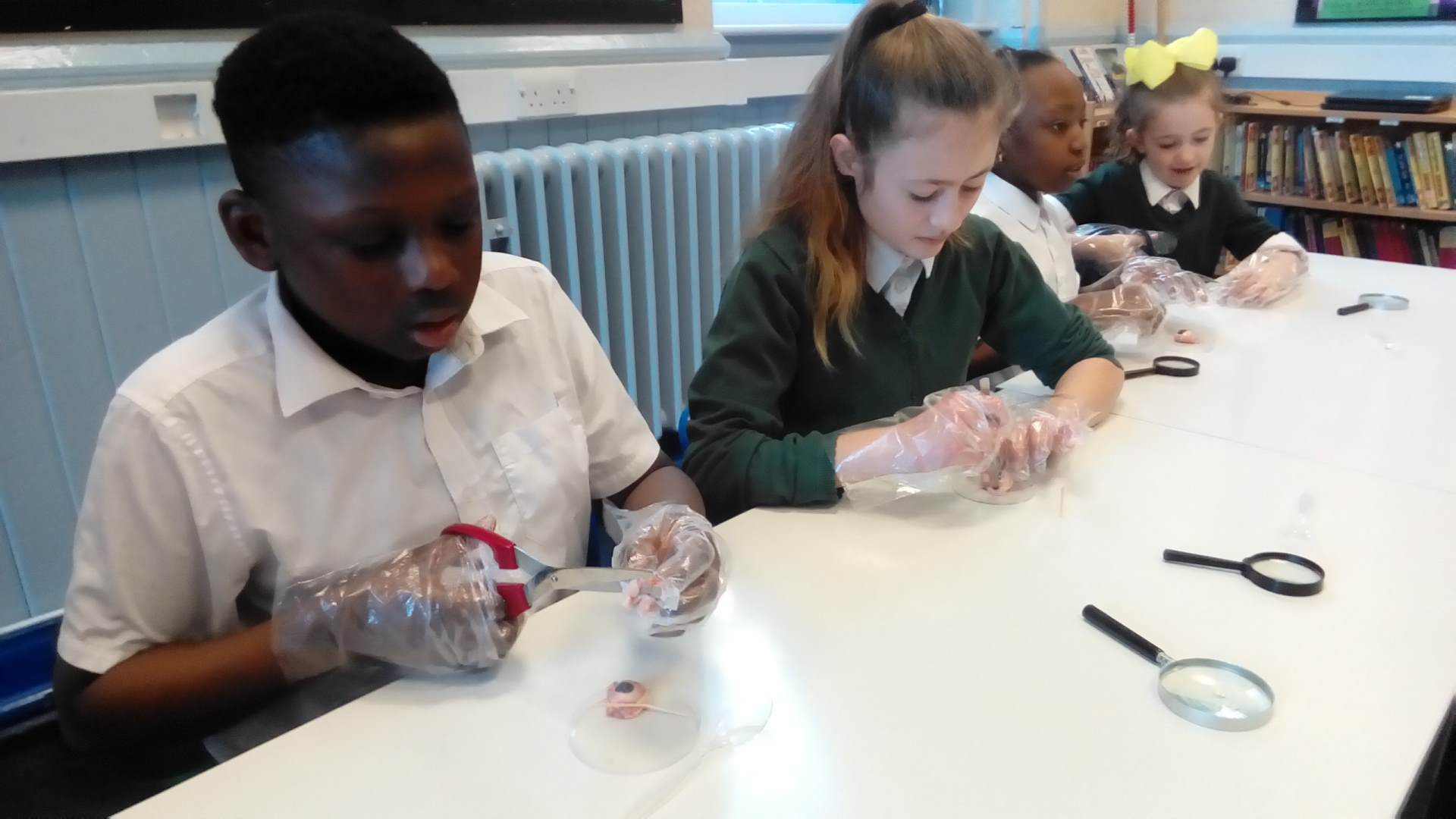 " 'TWAS THE NIGHT BEFORE CHRISTMAS" WRITING
At the end of the autumn term, we studied the famous poem 'Twas The Night Before Christmas" by Clement Clarke Moore, which was written in 1823. It had some tricky words and phrases and some old-fashioned items mentioned in the poem, so it needed lots of work.
We were then set the challenge of re-writing the poem as a narrative (bit like a story) in our own words. If you want to read your work, click on these links:
Eagle huntress Cinema Visit
As part of the "Intofilm" nationwide initiative, three classes of children from Laira Green Primary School were lucky enough to go to the cinema. We watched a film called Eagle Huntress. It was filmed on location with a Mongolian family with particular focus on their eldes daughter, Aishalpan and showed spectacular scenery in a very bleak landscape. Aishalpan was determined to follow in her father's footsteps and learn to hunt with an eagle. That involved capturing an eaglet when it was aged around three months, training it to fly and return to Aishalpan's arm, then teaching it to hunt for foxes in the snow and bring them to the family. The birds are very heavy when fully grown and Aishalpan had to hold the eagle on her forearm whilst riding a pony at full gallop!
All the children enjoyed the film and were able to contrast their life and their school with those of Aishalpan and her friends. It made the children think deeply about their responsibilities and the amount of work they have to do and the amount of free time they have available.
We are currently preparing some fascinating writing at school about the people in the film and the gender issues that were presented.
Manor Court Visit
Cherry Class went up to see the residents of Manor Court last Friday. We walked up the hundred steps, along past High View School and past the shops. We turned right and we were there. The residents were sitting in comfortable chairs, having a chat or a nap or talking with visitors.
The children from Cherry class took their topic books and their art books to show the residents what they had been working on. It can be difficult to chat to someone you have just met but the Cherries were amazing and kind and thoughtful. They showed their work and chatted to the residents about what they had been learning at school.
Our children then sang two songs: We're the Victorians and Roar by Katy Perry. They got lots of applause and smiles!!
The children from Cherry Class, Laira Green were a credit to the school. We intend to go to Manor Court again very soon!
Poppies
Cherries Poppies for newsletter
Cherry class visited the war memorial on Plymouth Hoe to look at the poppies.
Here are some of their views on what they saw:
We use poppies for Remembrance because poppies were the first plants to grow on the battlefield and are really strong flowers to represent the people who have died. Armistice day is commemorated on the 11 of November at 11 a.m.
Cody C
The artificial poppies were there to commemerate the lives of people who gave their lives so we could be free & would have a happy life. There were at least 13,000 poppies at the Hoe. Every year poppies go on sale so they can raise some money for people in the family of the soldiers.
Jack H
We wear poppies because they were the first plant to grow on the demolished battlefield; the black represents the mourning of our loved ones and the red represents the the blood spilled on the battlefield.
The wars were for our freedom to save our country and It is crucial to respect those who fell in the battles.
Dylan F