Hazel Year 5/6
Hazel Class would like to welcome you to our school page.
The class teachers are Mr Whitnall, who is the Modern Foreign Languages Coordinator and one of the school's Safeguarding officers and Mr Blake, who is also the Forest School and Ten Tors leader. We are supported in class by our teaching assistant, Mrs Lonsdale. We look forward to a busy year full of fun and learning, bring on the challenges! Our topic for this term will be the Egyptians and there are plenty of project ideas to inspire you on the back of this term's parent's leaflet. Please remember to read at home every night and also to practise and learn your spellings and times tables regularly.
To view the 2018/2019 Curriculum Overview, please click here.
To see a copy of our Summer Term spellings for 2018/2019, please click here.
To see a copy of our Summer Term Leaflet, please click here.
To see a copy of our Spring Term spellings for 2018/2019, please click here.
To see a copy of our Spring Term Leaflet, please click here.
To see a copy of our Autumn Term Spellings for 2018/2019, please click here.
To see a copy of our Autumn Term Leaflet, please click here.
Heart dissection
As part of our Science work on Animals and Humans, we have been looking in particular at the systems of the body and the circulatory system in depth.
After studying how the heart delivered blood to the body, we thought it would be good to look at an actual animal heart.
Hearts, from pigs and lambs, were sourced from a local butcher and after a safety talk we got stuck in!
We were able to see the four main chambers of the heart and noticed how thick the walls of the left ventricle were. We also were able to see the valves that prevent blood flowing the wrong way.
All thoroughly enjoyed the activity and were very upbeat about the experience.
On Thursday, the Year 6s attended the Junior Life Skills event at Bull Point to learn real life skills. These included sea safety, resuscitation, using public transport safely, railway safety, how to avoid electricity hazards and staying safe at home. The chip pan fire demonstration was a huge hit with children amazed at the ferocity and size of the fire caused by throwing water on to the pan. Click here to view more pictures of the event.
Our Year 5s received an invitation to Lipson Cooperative Academy to attend a visit by an author named Jon Mayhew; author of books such as the Monster Odyssey series. Not many of our Year 5s had heard of him before but they thoroughly enjoyed hearing all about how he became an author and some of his storylines. Many of the children purchased a book which Jon signed for them. When Jon realised it was one of our children's birthdays (evident from her HUGE birthday badge!) he very kindly gifted her a copy of her choice of book. It's always lovely to be introduced to find a new author to read!
For more photos, click here.
Mummifying a chicken in Hazel class
On Friday 21st September the children in Hazel class took a step through a time portal and found themselves in Ancient Egypt, taking part in a mummification ritual! Luckily, we had no need for human sacrifice and were blessed with the form of a chicken from the god Te-Sco...
The children watched as similar steps were followed, such as the removal of any remaining organ debris, the ritual washing of the body before the preparation using salt (in Ancient Egypt they used something call natron). The carcass was packed and then covered in salt before being placed in a sealed container (again, this was filled with salt) to dehydrate. The salt will draw the moisture from the chicken and leave it looking shrivelled before we wrap it in future weeks. Exciting times! We'll be sure to update you with this in the coming weeks.
REMEMBER THAT THE CARDBOARD BOAT RACE IS ON SATURDAY 15th SEPTEMBER AT ELPHINSTONE CAR PARK ON THE HOE.
Cardboard Boat Making Workshop
On Friday 20th July, Hazel class were lucky enough to be chosen to have a special day working on something extraordinary...a cardboard boat that some of them could sail in on the Barbican! Juliette from the Institute of Mechanical Engineers came along and talked the children through all of the aspects of design and the physics necessary to make a perfect boat. We talked about ballast and buoyancy, upthrust and gravity, hulls and free-boards and also balance and weight distribution.
In groups the children designed prototypes which were then tested with successive 100g weights to see how much the crafts could take. One group even managed to reach a mass of 2100g before it sank, well done! From these ideas the children then shared their thoughts and pulled together some plans for how the main boat could be built.
A group of six children were then chosen to go into the hall in the afternoon along with Juliette to build the boat itself. They used large strong cardboard sheets, plenty of duct tape and even some pva glue which would help increase the water proofing of the boat. The group work extremely hard and will eventually, several of them will put it into the water and sail along Sutton Harbour in it to the Mayflower Steps. Good luck!!
Juliette has also managed to secure funding to revisit the school in the new academic year to do a workshop involving marine biology and we showed our thanks by sending the message that can be seen in the gallery.
DT in Hazel Class
This term in Hazel class the children have being completing a DT project with Mr Blake. On Fridays we have been making Forest School tool belts! The children researched different types of tool belts that could be bought and the different materials we could make ours from. We practiced stitching, designing logos and also experimented with different ways of attaching the pockets we would need for the variety of tools we use.
When it came to the making itself we were faced with several challenges but the children persevered and there were several very good attempts. Well done Hazel class!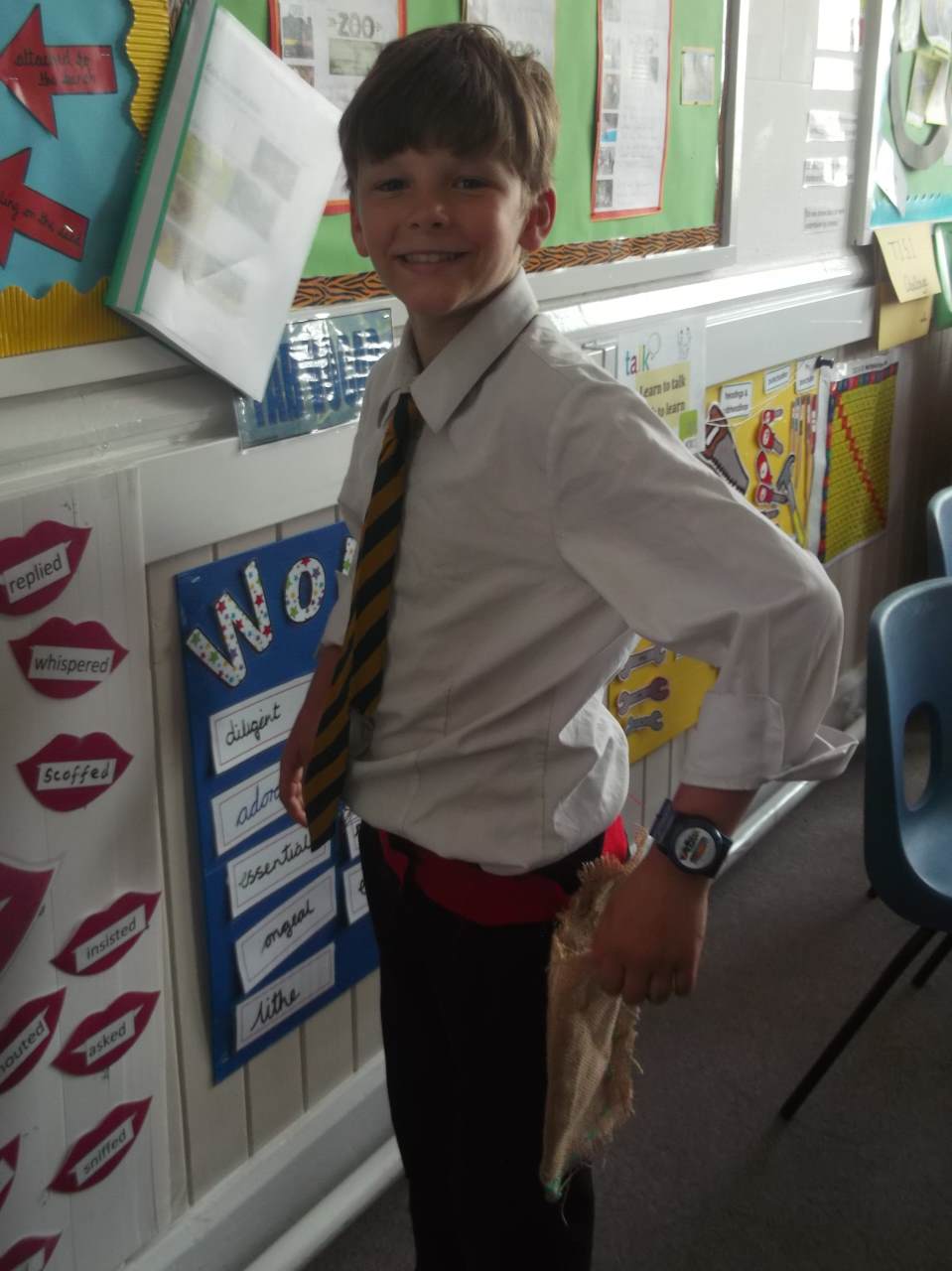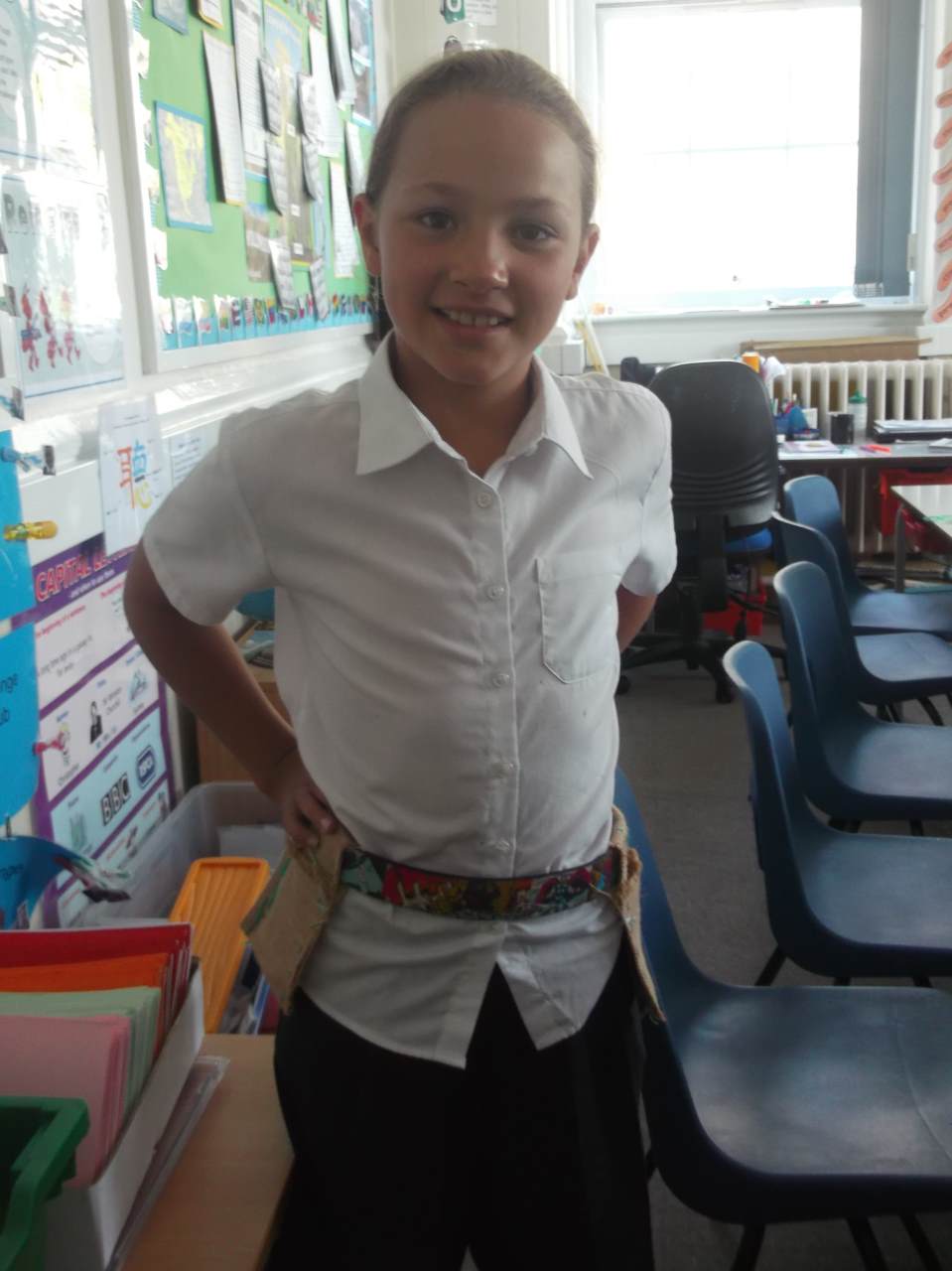 New Chrome Book mobile stations
Hazel class were one of the first to use the new class sized mobile Chrome book stations. School have purchased two stations, one for the upper corridor classes and one for the lower corridor.
The benefits can be seen straight away as each pupil has a workstation of their own and can quickly access online learning resources thanks to the new wifi hardware also installed.
Hazel are seen here using Lighbot to perform graduated programming tasks – a lot of resilience is needed here – get out your tough tortoise children. A huge amount of thanks must go to Mr George for his tireless efforts to install and to get the machines up and running. Now the staff have just got to remember to book them out for their class!
To see a copy of our Autumn Term spellings for 2018/2019, please click here.
To view a copy of 2018 / 2019 Curriculum Overview, please click here.
Science week
During Science week we filled a glass with lemonade and dropped a couple of raisins into the liquid.
We observed that they sank to the bottom and then floated back to the surface; then sank to the bottom and floated to the surface, again and again and again. It was like magic.
We had to think of a Scientific reason why this would happen..............
What do you think caused this?
Hazel class looking at the ups and downs of a raisin's life.
Mayans Assembly
The class Mayan Assembly
For most of the Easter terms the class has been learning about the Ancient Mayan Civilisation; how the lived, prospered but more importantly why they suddenly vanished leaving behind a still unsolved mystery.
Hazel class led a class assembly for the rest of the school explaining what they had studied. We had a brilliant song to sing taught to us by Mrs Buckingham and rehearsed many times at the end of each day as we were going home! Still, it paid off and we were a hit. We also had a small slide show for the school to see about how we made wraps; a staple diet of the Mayans.
Change for life
As part of our PE in school Mrs McGahan took a small group of us up to the college of St Mark and St John for a day of skills training.
It was great fun as our pictures show.
Thanks to Mr Spencer for driving the mini bus and Mrs McGahan who was with us all day.
Bikeability
This term the year 5 children in Hazel and the year 5/6 classes have taken part in the Bikeability training. Despite the cold weather, the rain held off and a very productive week of training took place. Some of the more able riders went off site and put into action some of the road awareness skills that they had been taught.
The group of instructors were full of praise of the group's Resilience and never give up attitudes - and superb behaviour. Well done to all.
Forest School
Over the past few weeks we have visited the Forest School with Mr Blake as the leader. Forest School is a chance to explore the outdoors and gain a respect for the natural world. Many new skills were acquired and the series of lessons ended with the class making cut wood Christmas trees with secure lashings. Of course the visit couldn't end without toasting marshmallows and cups of steaming hot chocolate. We can't wait until it is our turn to visit again.
---