Hazel Year 5 and 6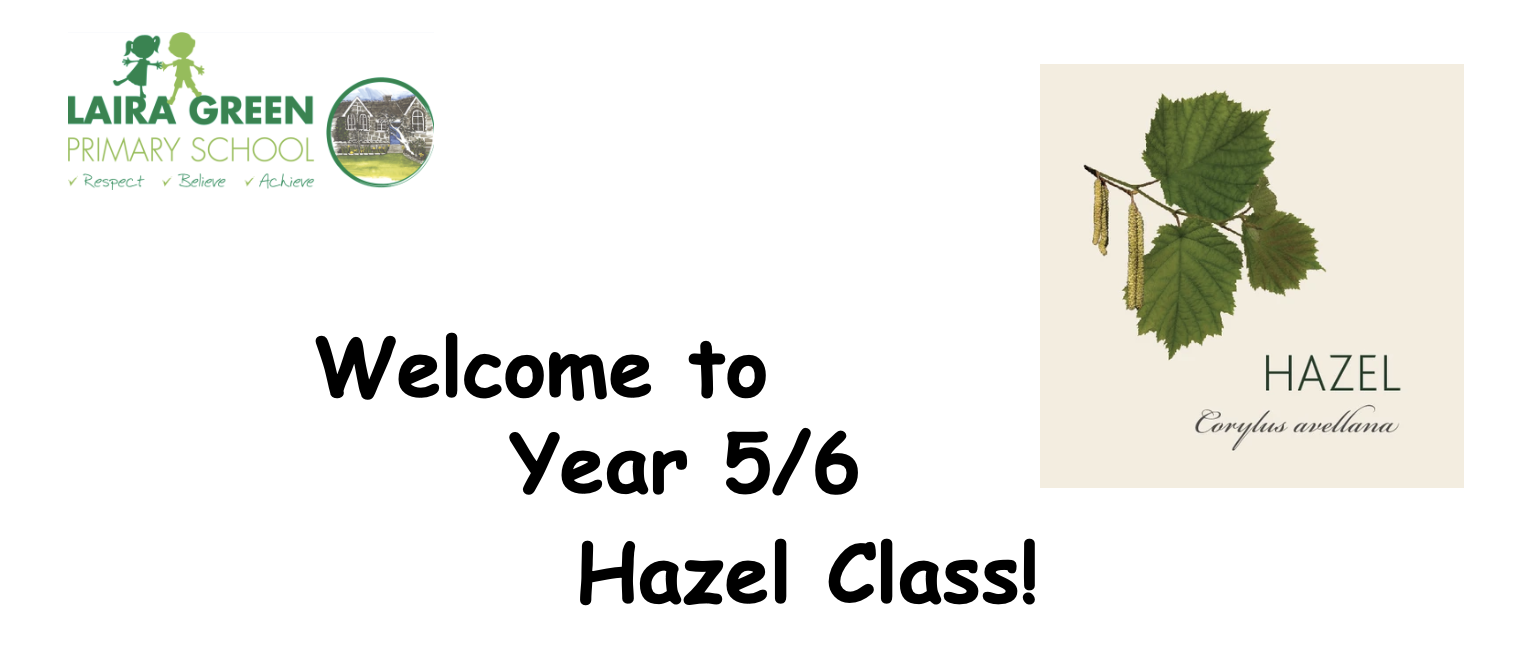 This term's learning
Welcome to Years 5 and 6 in Hazel class! It's been lovely to get to know the class and we are sure we are going to have a fantastic year full of interesting activities, along with the occasional trip to help with our learning.
The Team:
The class will be taught by Mrs Simpson and Mrs Larsen with support from our very dedicated team of Teaching Assistants: Mrs King, Mrs Finn and Mrs Dulling.
The Start and End of the Day:
8.30am - 8.40am - Children arrive via the rear gate. Please ensure that your child arrives at school on time as the gate will be locked outside of this timescale.
3.20pm - School lessons finish and children will be dismissed from the building, to leave from the rear gate where you may collect them, or with permission they can walk home alone. Children with siblings in years 1-4 will be directed to the KS1 playground so that families can collect their children together.
After School Clubs:
We have a variety of different clubs on offer, many of which are run voluntarily by our dedicated staff team. These clubs change each short term, and often operate a waiting list if they are very popular! A list of current clubs is printed in each weekly newsletter.
PE Kits:
PE kits need to be in school every day: a white T shirt, white or black shorts and trainers or plimsolls. In colder weather, black tracksuit bottoms are also allowed to be worn. Children may also keep a roll-on deodorant in their PE bag but please, no aerosols. Please ensure that all kit and uniform is clearly labelled so we can quickly match lost clothing to its owners!
Reading , times tables practice and homework:
The children will continue to bring home reading books which they have chosen as part of the Renaissance Reading programme. We would like to encourage you to listen to your child read and discuss what they have read. We suggest reading for a minimum of 20 minutes, five times a week. Children can quiz at home or in school, but must do this independently!
We encourage children in year 5 and 6 to be regularly practising their times tables in order to build fluent recall. Each child knows which table they are currently working on, and can use Times Table Rockstars (TTRS) to practise and improve. TTRS has a free app for every platform, and can also be used online - your child knows their own login.
To help year 6 pupils prepare for secondary school, we set weekly homework using CGP SATs practice books. Homework is set on a Friday and due on the following Thursday.
Other Information:
We encourage children to stay hydrated at school. All children have been given a Laira Green water bottle which will remain in school, clearly labelled with your child's name. Replacement bottles may be purchased from the school office if required.
Food and Photos:
As part of school life, to celebrate their learning, we like to take photos and videos of the children to use in and around school as well as on our website and occasionally in the media. The children may also be involved in food tastings during the year, for which we need to know of any allergies or dietary restrictions. We would be grateful if you would kindly let us know if your child has any dietary restrictions that we are not already aware of or if you want to amend your child's current media permissions.
Meet the Teacher:
A 'meet the teacher' event is offered during September, providing a short opportunity for you to see your child's classroom and find out more about life at Laira Green! We regularly post pictures of learning on our class webpage, and put updates on Class Dojo. If you ever have a question or would like to discuss something, please don't hesitate to get in touch - send a message on Class Dojo, or ring the office to make a face to face appointment.
Kind regards
Mrs Simpson and Mrs Larsen
---