Ladybirds Foundation
Welcome to Foundation!
Firstly, welcome to Ladybirds class page and to Laira Green Primary School.
Our main ethos is to plan our curriculum with the interests of the children in mind, we refer to this as 'objective led-planning'. This simply means that we outline the objectives over the year and teach them to the interests of the children. We believe that we can achieve a high level of engagement, learning outcomes and growth mind-set towards learning through adapting our styles of teaching to suit your child's interests and passions.
The activities are planned and designed carefully to enhance learning opportunities to support learning and aim to get the very best from each child. At times adult directed learning takes place in order to allow children to develop the broad range of skills they need. Learning takes place indoors and outdoors across each of the 7 areas of the Early Years Foundation Stage Curriculum. This year we have chosen to use Tapestry, an online learning journey, to record, observe and assess the children's learning and progress.
The Foundation team:
Teachers: Miss C Green, Mrs A Hughes & Mrs Gallacher
Learning support staff: Miss L Johnson & Mrs L Kent
Any questions or concerns please speak to a member of the Foundation team, we will be happy to help, the best time to catch us is at the end of the school day.
Foundation stage curriculum overview
Please find our Autumn term (2019) Curriculum letter here
Ladybirds Class of 2019
Welcome to Laira Green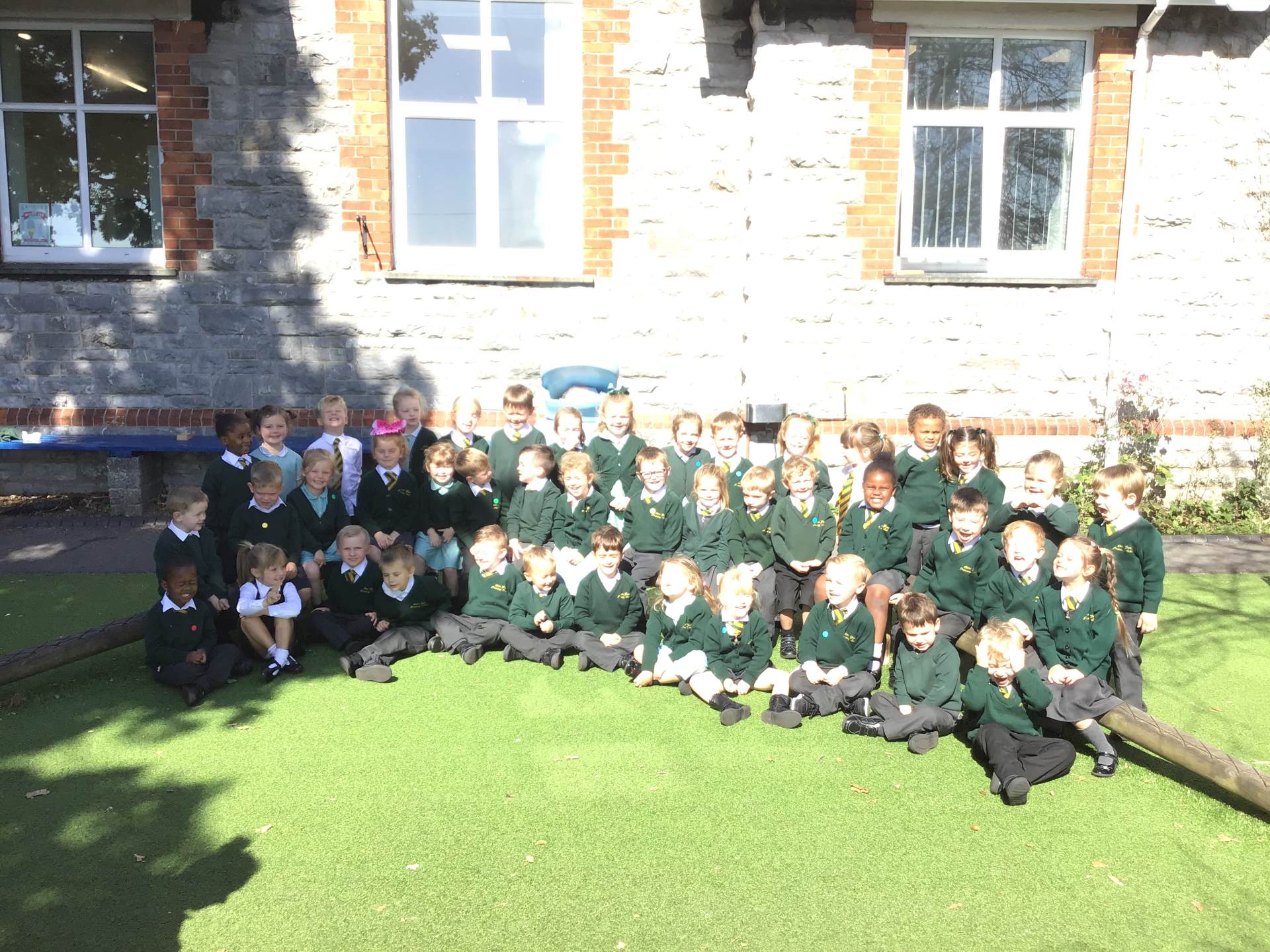 Our Learning journey begins here.....Week 1-2
To get to know each other our first topic this year has been 'All about me'. A great way for children to share all about their home life, their family and the things they enjoy doing. The children really enjoyed looking at their baby photos and then they drew a self-portrait of what they look like now.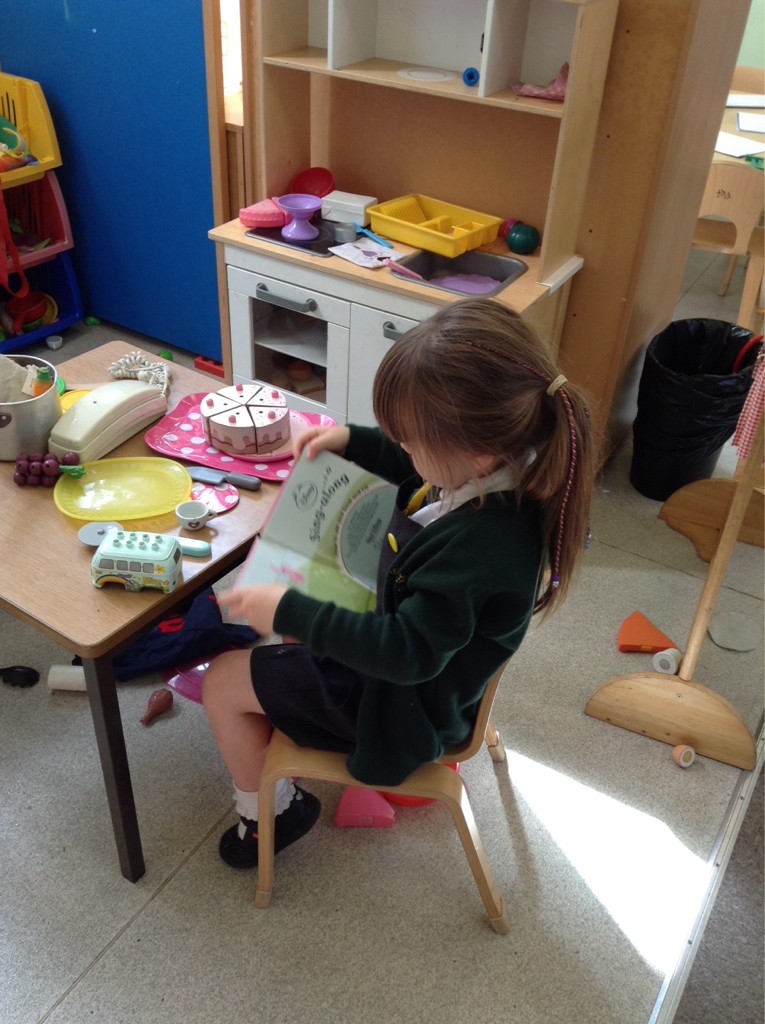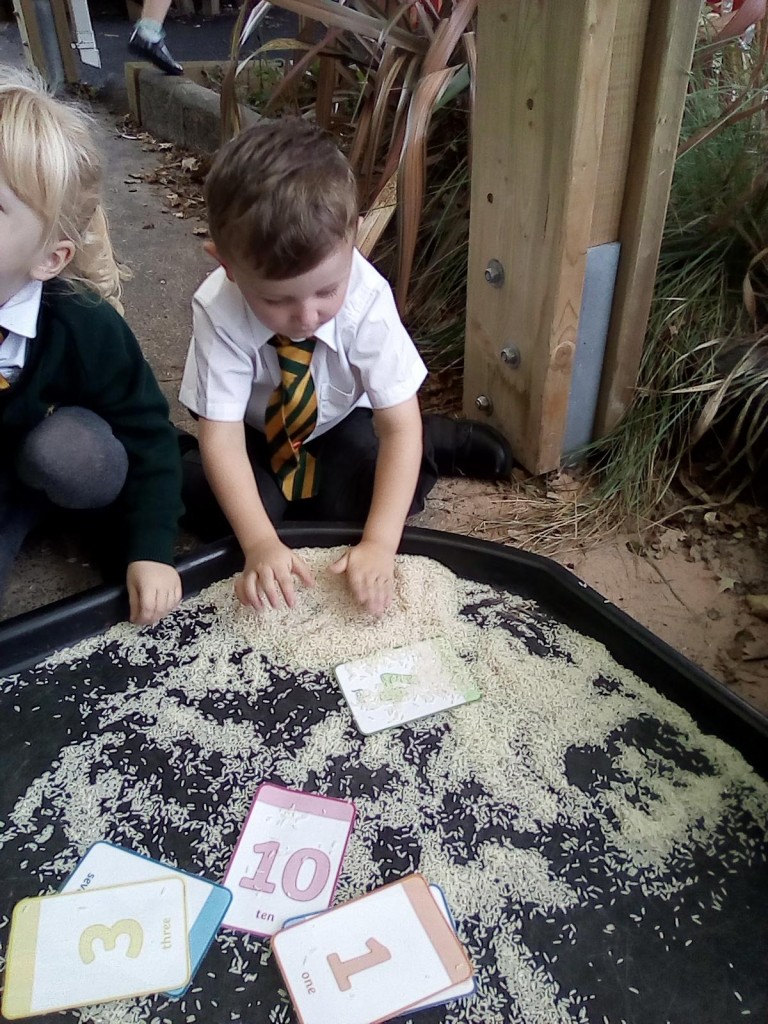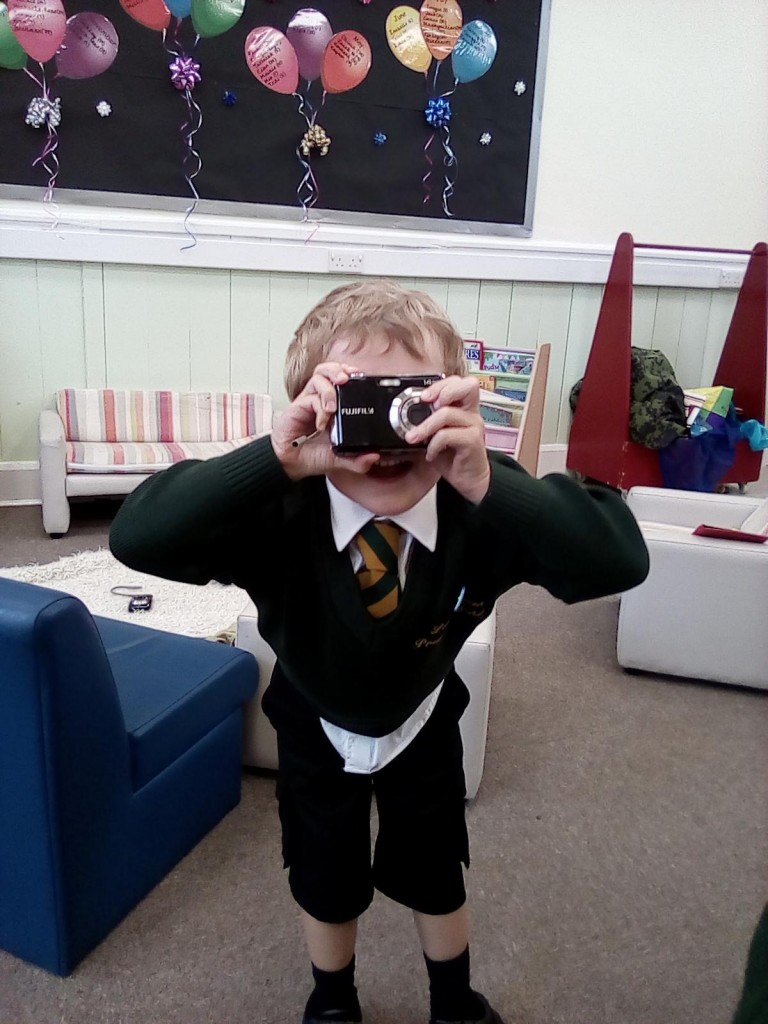 Week 3-4
These next two weeks have been full of magical maths and fantastic Phonics. Learning a new sound everyday and practising our counting, number recognition and number formation. Phewwww we have been busy!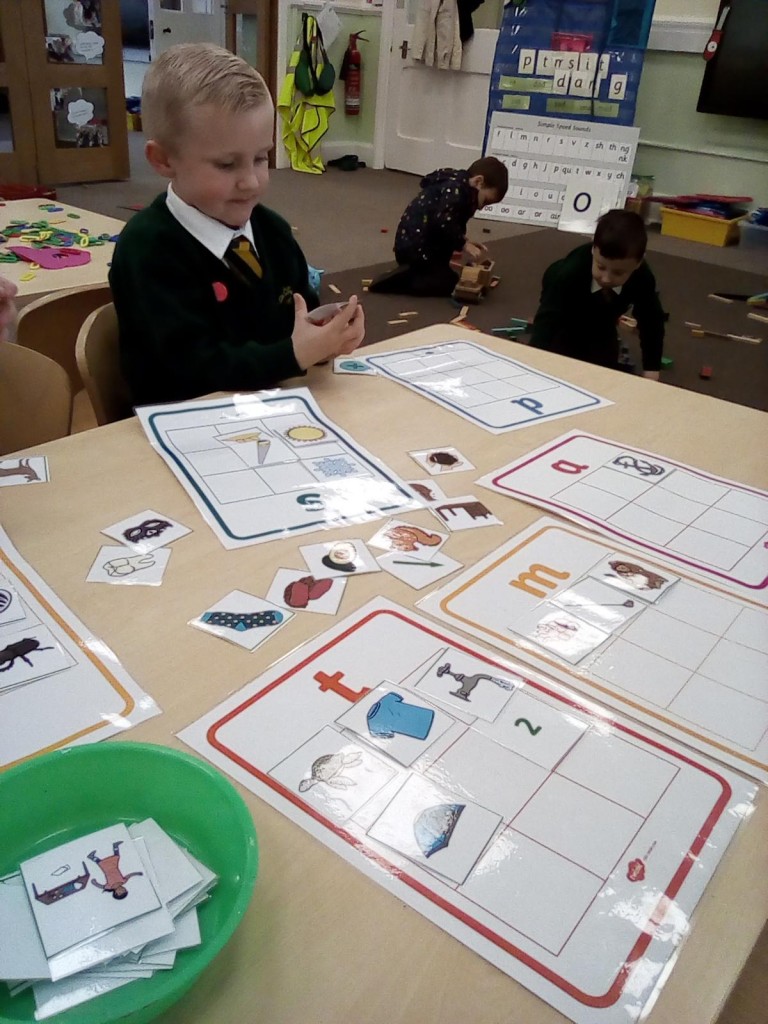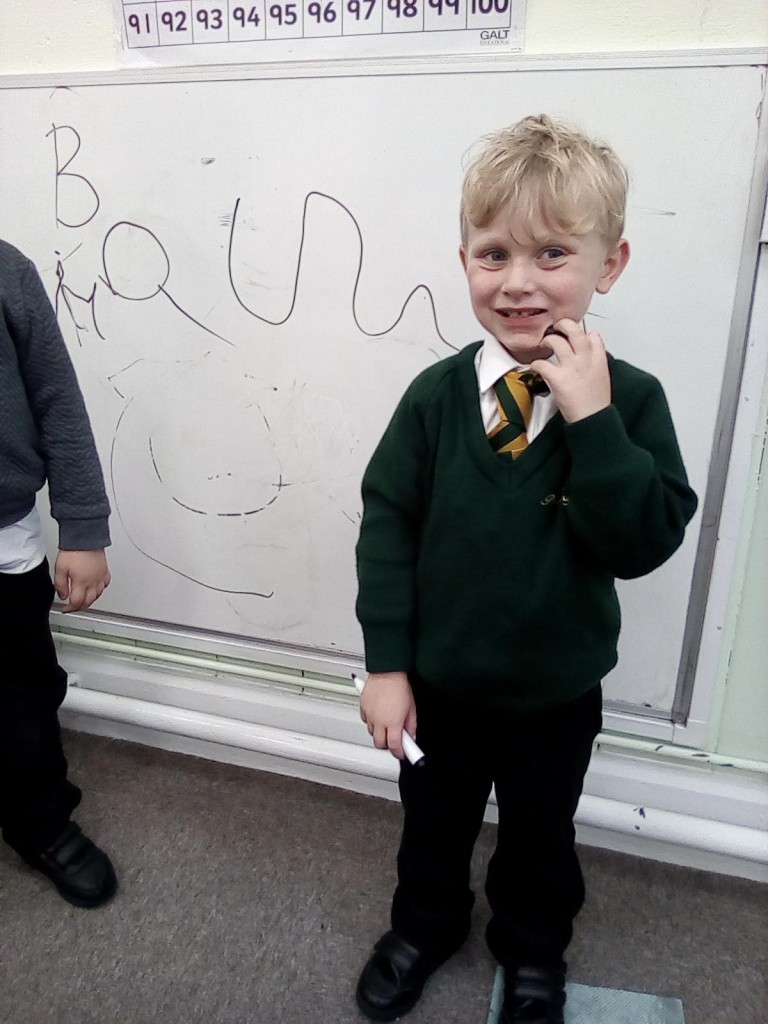 Ladybirds Class of 2018/19
Welcome to Laira Green
Soapbox Theatre
This week we have started our new topic 'Fairytales', as a result we have been doing lots of learning around Jack and the Beanstalk. On Wednesday 20th June Ladybirds we lucky enough to join KS1 on a trip to the Theatre! At the theatre we were treated to a wonderful, immersive and funny version of Jack and the Beanstalk. What a wonderful trip and a huge thank you to everyone at the Soapbox Theatre in Devonport.
Visit from the Police
Today, Ladybirds had the pleasure of a visit from PC Debbie and PC Sharon to support our learning for our new topic, 'People Who Help Us'. We had lots of questions for them and they gave us all the answers we needed. We talked about how the police help us and others in the community. We found out they help to look after lonely people, help us if we are lost and make sure we stay safe at school by making sure we don't park too close in our cars and that we get to school safely. PC Debbie said as a 'treat' for Miss B's birthday, she could wear the handcuffs!!
It was a lovely morning and we even had the opportunity to try on the police uniform. It was lots of fun and we all looked very grown up in our police clothes.
Thank you so much to PC Debbie and PC Sharon for coming to visit us!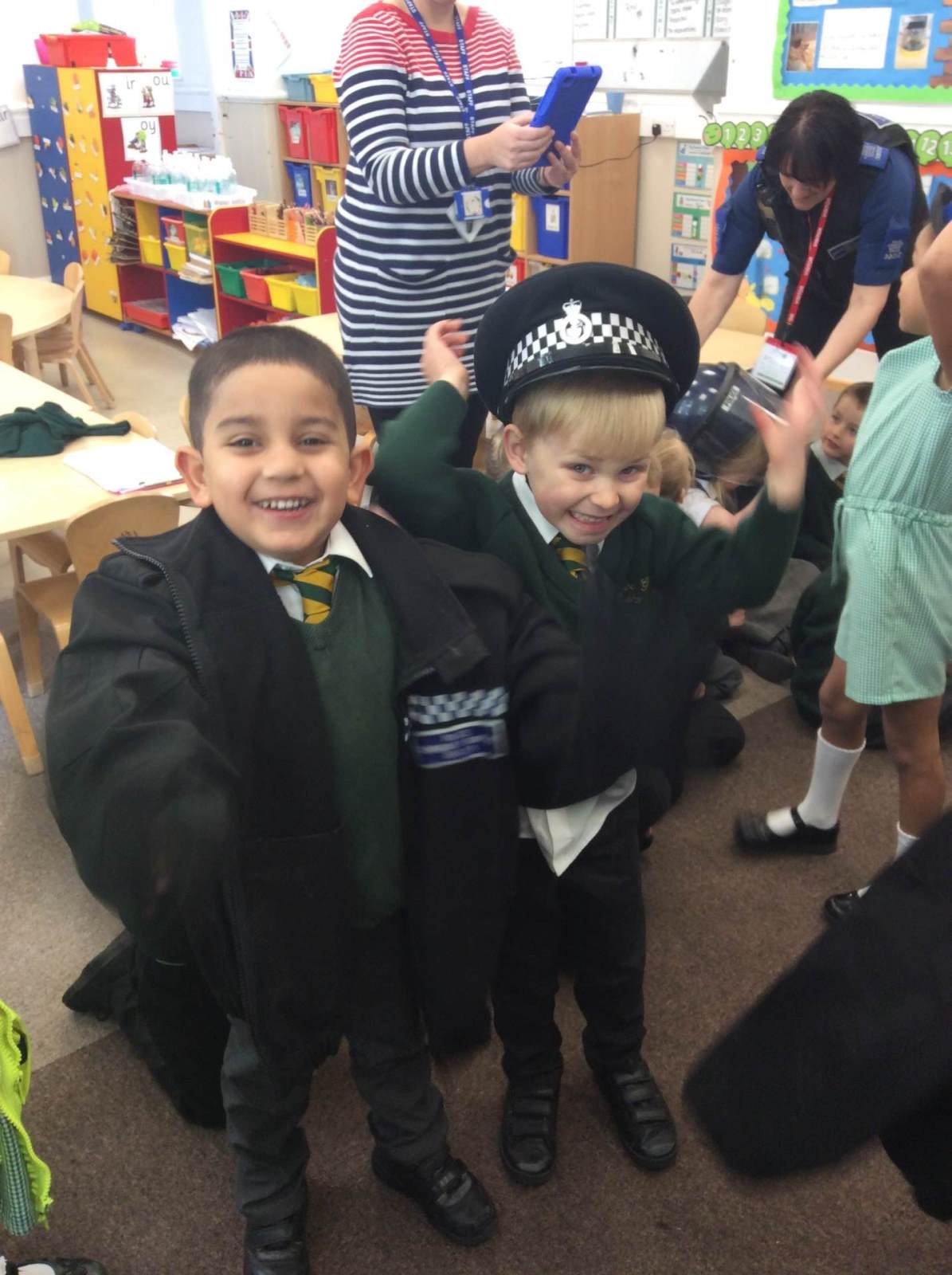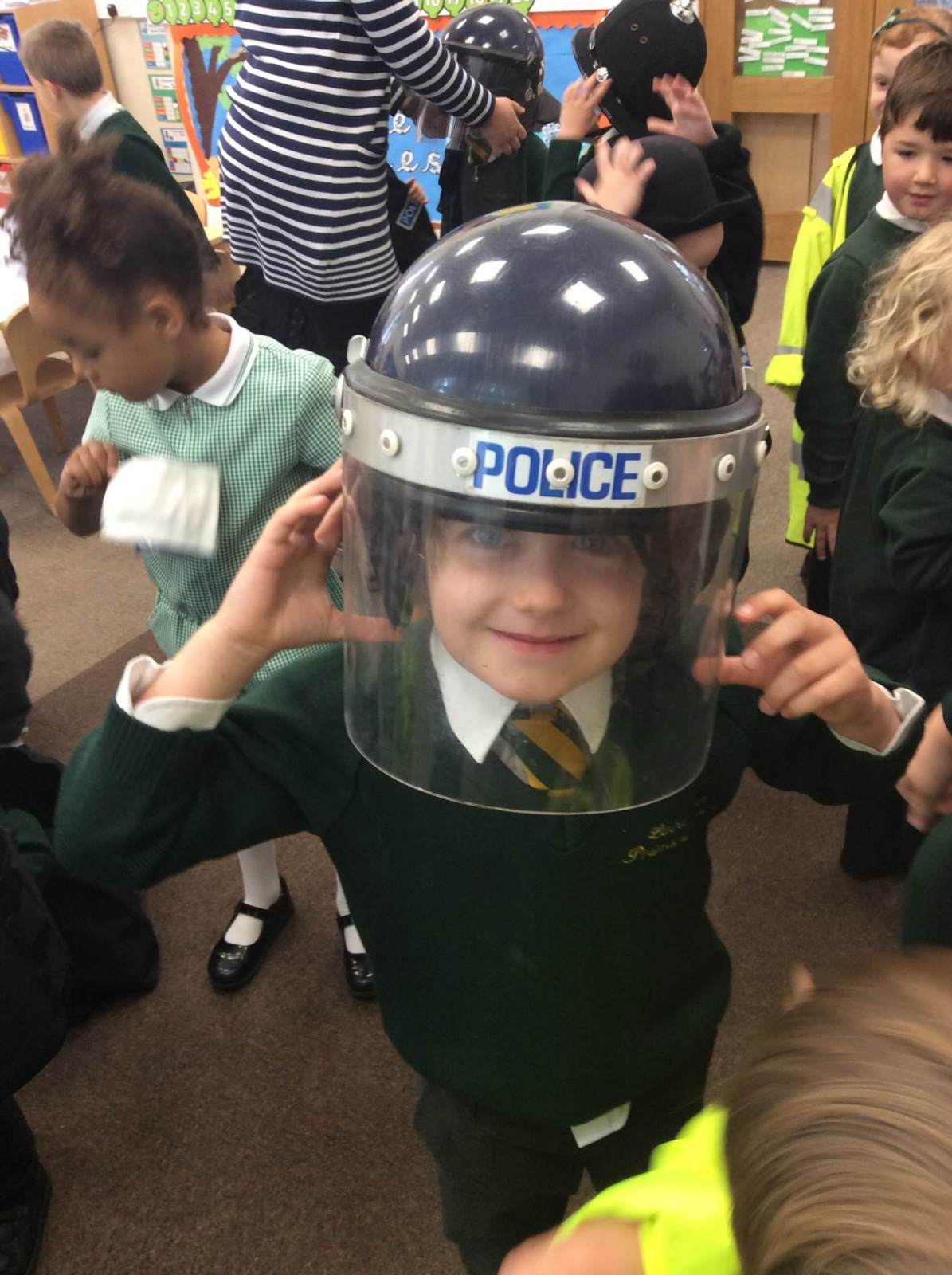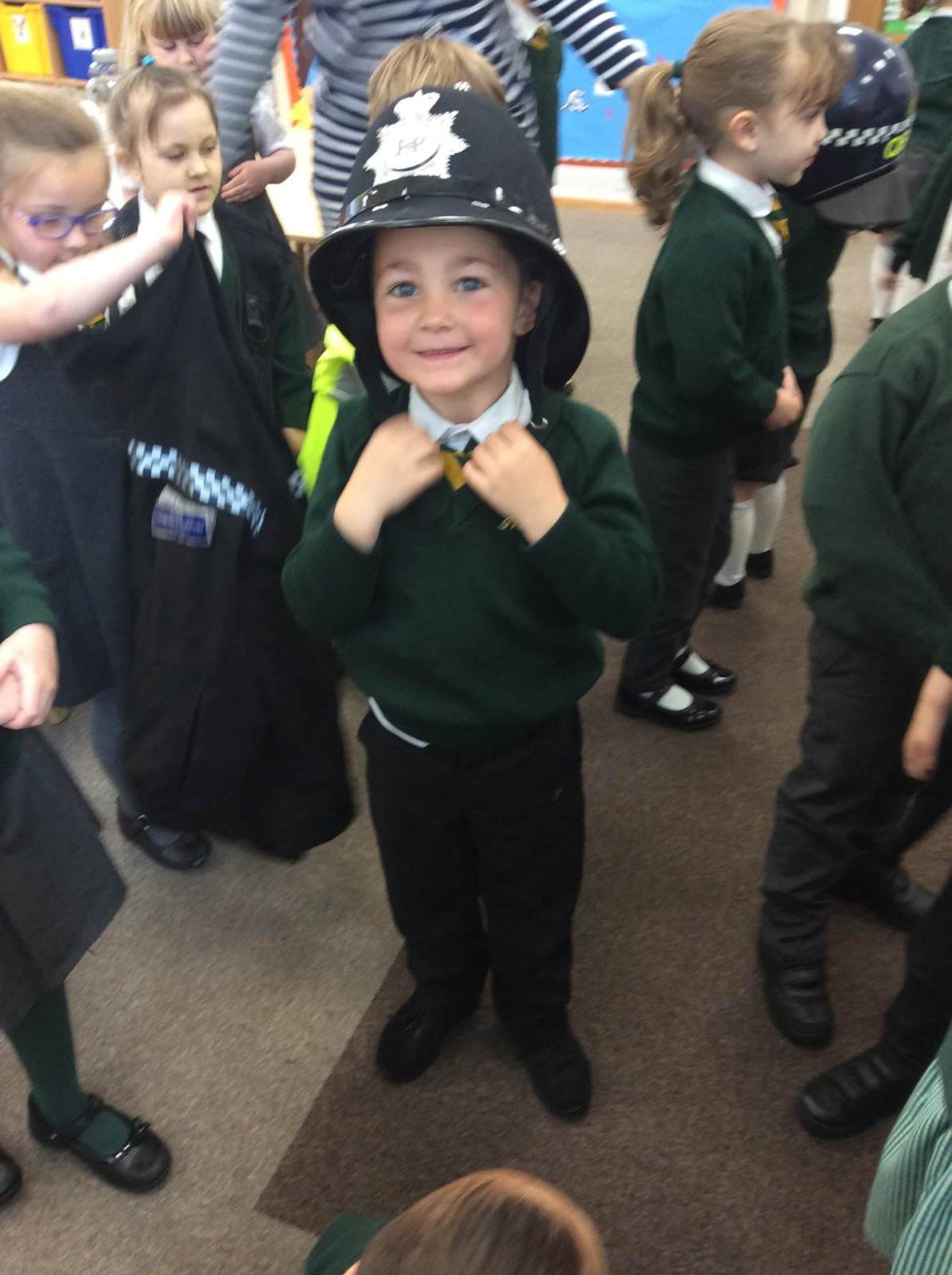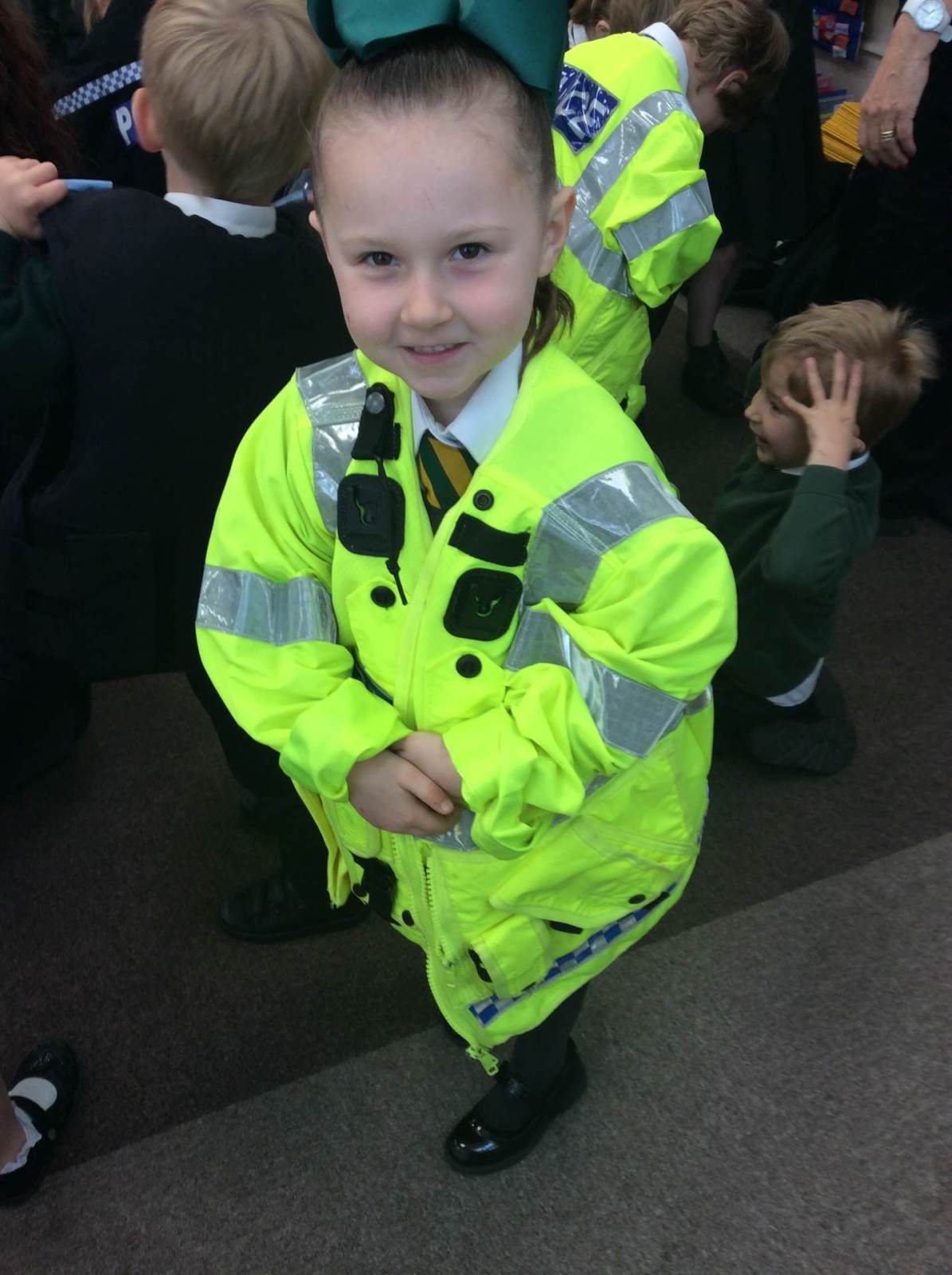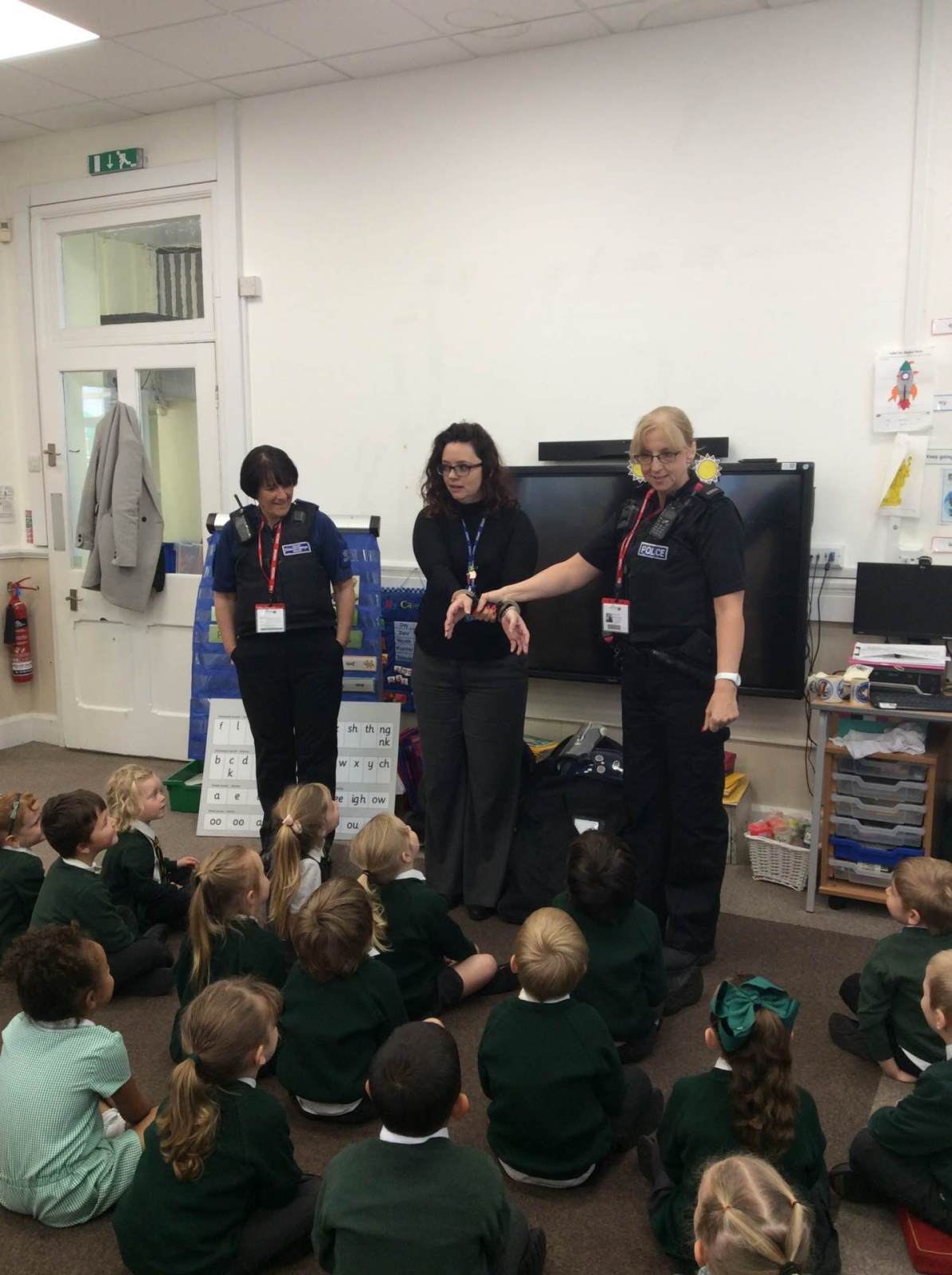 YOga!
Ladybirds have been learning to do some Yoga using the 'Cosmic kids' that can be found on YouTube. The children really enjoy following the story and doing all of the stretches. Well done everyone!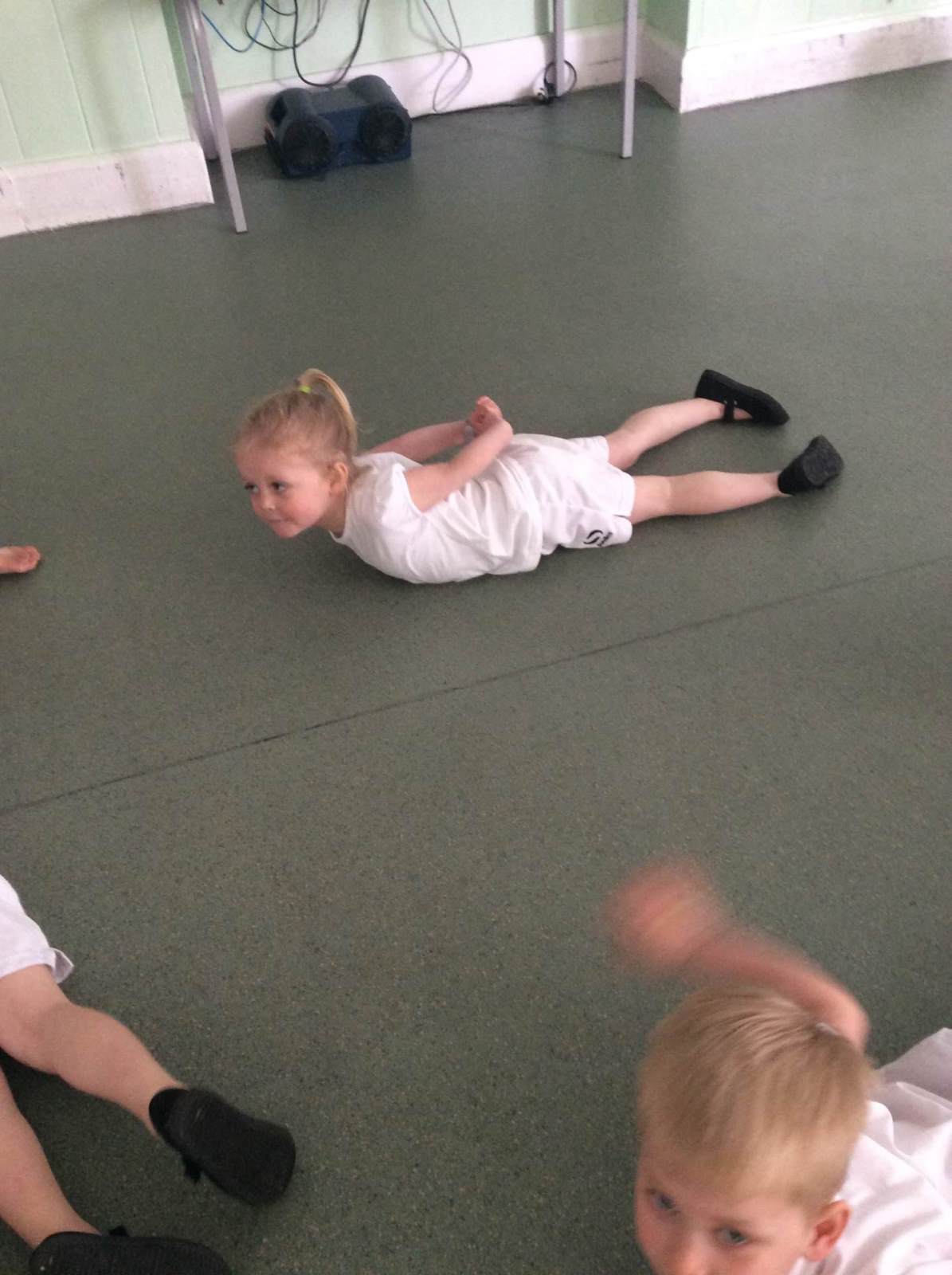 Tweet, Tweet
For the last two weeks Ladybirds have been extremely lucky to have the chance to look after some eggs and to see them hatch into chicks! Monday 4th March our 6 eggs arrived, and oh were we excited! We talked about the incubator, how to look after the eggs and the excitement of being able to smooth the chicks when they were born. Ladybirds have been wonderfully caring toward the eggs and have taken to walking around very quietly and checking on the eggs regularly. Monday 11th of March - Our first egg hatched at 8:30pm! What excitement, the children would have a chick to see and then, at 7:20am chick number two was born! Later that day, Ladybirds were sat down doing the register when chick number 3 burst out of his egg!
Wednesday 13th March - We are the proud parents of 5 healthy chicks!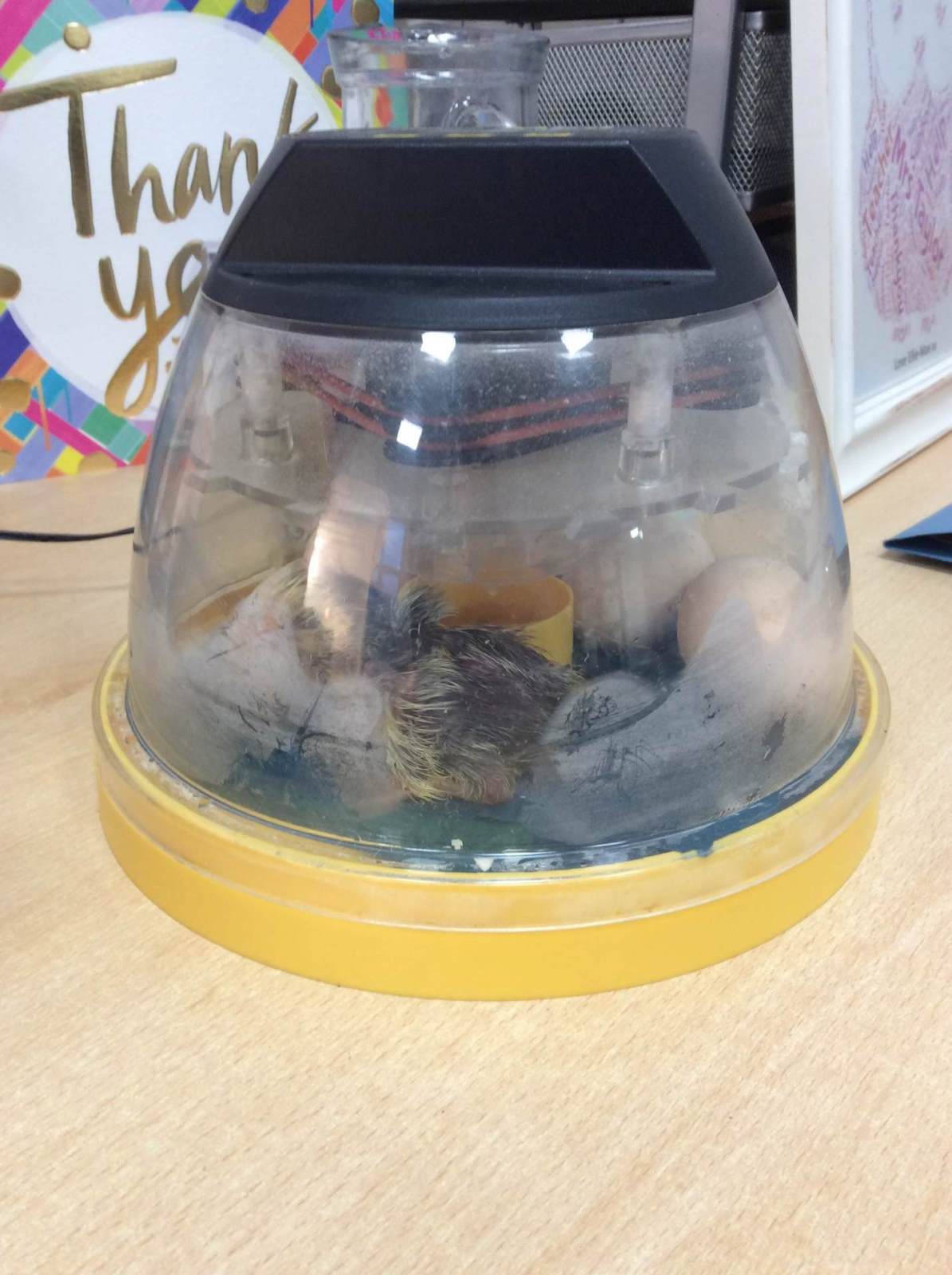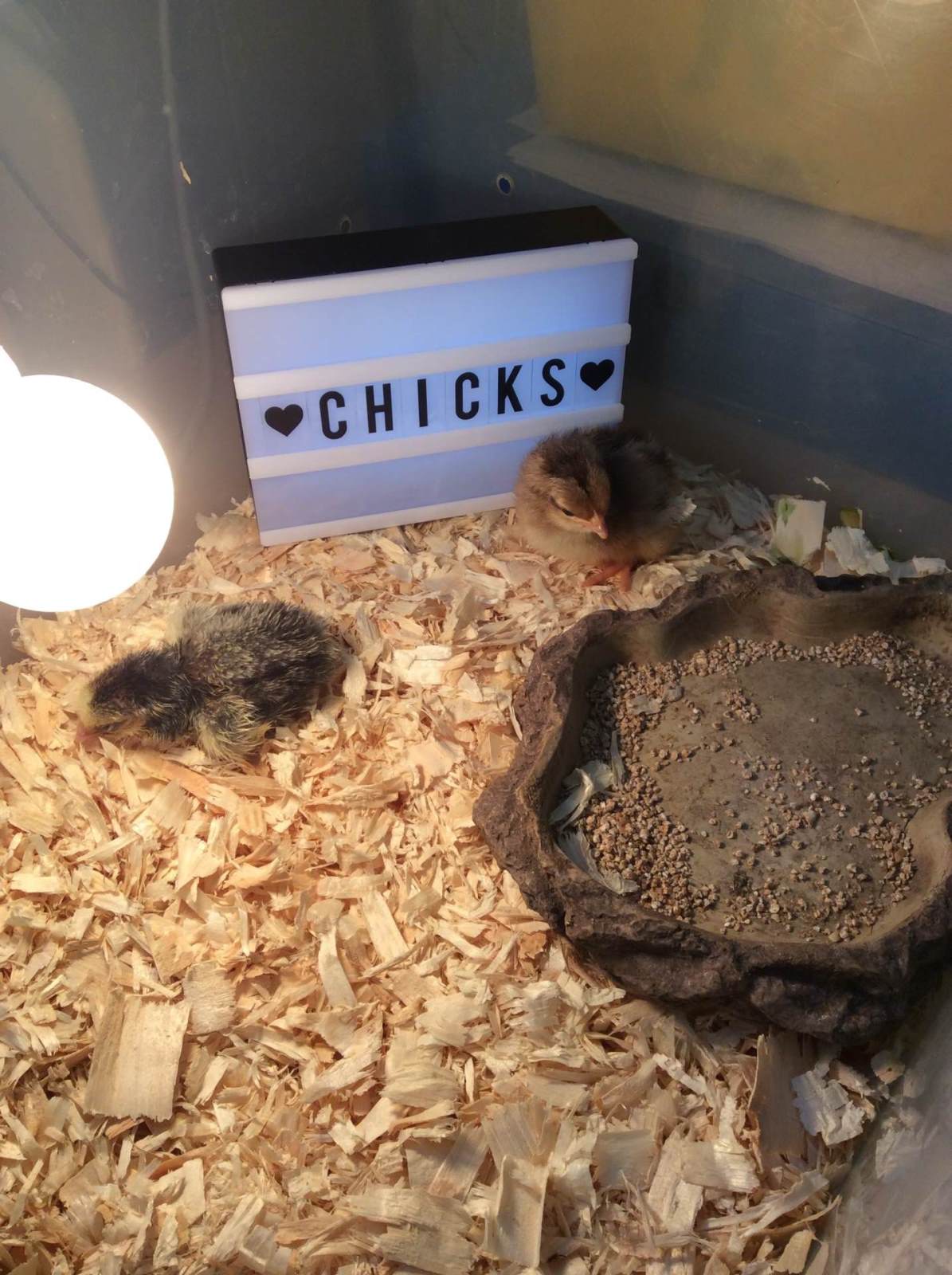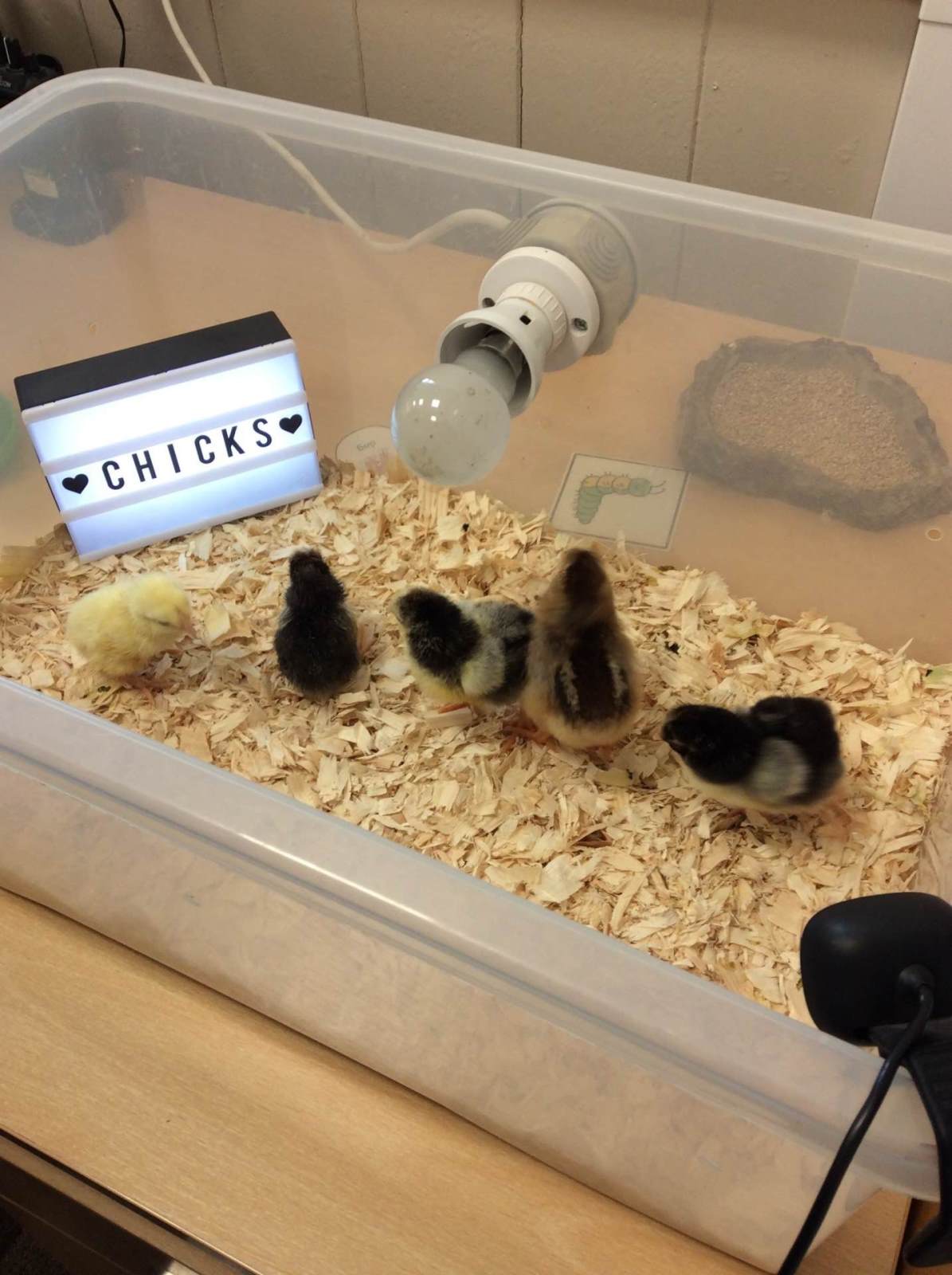 world book day
We had a fantastic World Book Day, so many wonderful stories were shared. Thank you to all the effort that went into the day, especially to parents for coming in and sharing some stories with us. We hope it inspired the children to pick up a book and enjoy reading!
Aquarium Visit
Ladybirds had a special visitor this week, Joe from the Aquarium came to talk to use about different marine animals along with some wonderful objects that we could look at and hold! We learnt about different objects being alive, dead or never alive. We weighed the jaws of a Zebra shark and measured the nose of Sawfish! We also learnt about food chains and what different marine animals eat.
30/1/19
Chinese new year. '
Gong hei fat choy'
For the past two weeks the children have been learning all about dragons and Chinese new year. Here are a few photos of what we have been up to:
18/1/19
Pyjama party!!
Throughout the week we have been writing instructions on how to have a pyjama party and Friday afternoon we brought our favourite teddy in for a little afternoon pyjama party. We cuddled up to our teddy and enjoyed a story with some lovely snacks and a hot chocolate!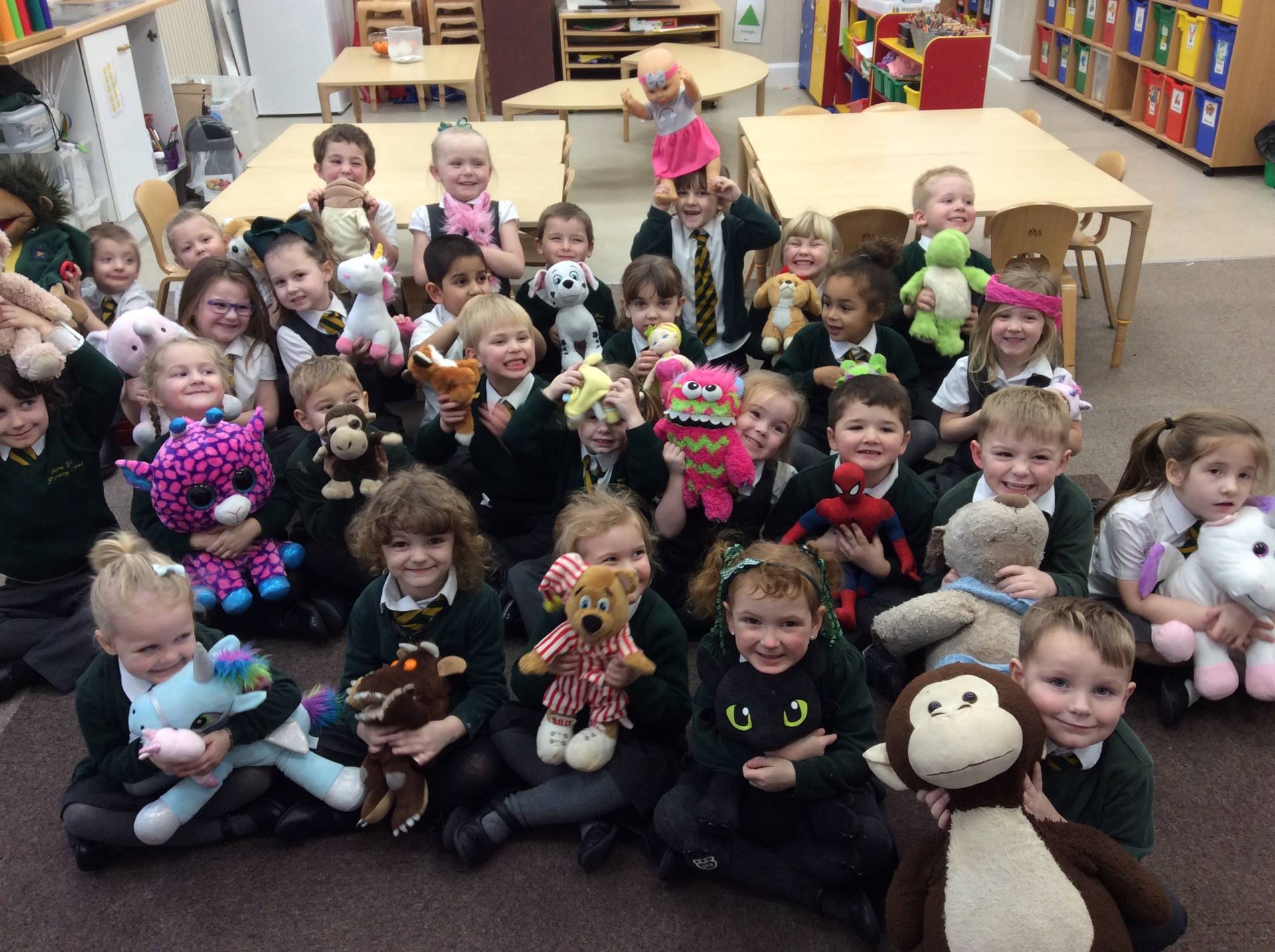 14/1/19
Today we welcomed Heather into Ladybirds for our dental talk. She told us a story about Geoffrey the giant, who was eating sweets as treats. One day, Geoffrey was very sad and he didn't want to laugh and sing or play with the children. Giant tears rolled down his face and started flooding the garden! Geoffrey's tooth hurt, so his friends took him to the dentist. The dentist found a small hole in his tooth and gave him a filling. He learnt how he must eat the correct foods to help keep his teeth healthy. We helped Geoffrey understand what he should and shouldn't eat and drink and Kayla suggested he should eat vegetables and fruit. We all thought this was very good advice and we also helped Geoffrey understand that he needs to brush his teeth twice a day, once in the morning and last thing before bed. Ava advised Geoffrey he needs to brush his tongue to keep his mouth and teeth healthy too!
We will be welcoming Heather back into school in two weeks time when she will be painting fluoride varnish onto teeth to help protect them. Thank you for visiting us Heather.
Happy New Year!
We hope you all had a lovely Christmas and new year. We have started this year with a winter theme in our role play and currently have a 'cafe in the mountains' for the children to enjoy. The children are enjoying learning about coins and paying for items in the cafe, whilst outside the children are digging for coins in the sandpit and we even have some 'snow' to make a mountain scene with the small world play!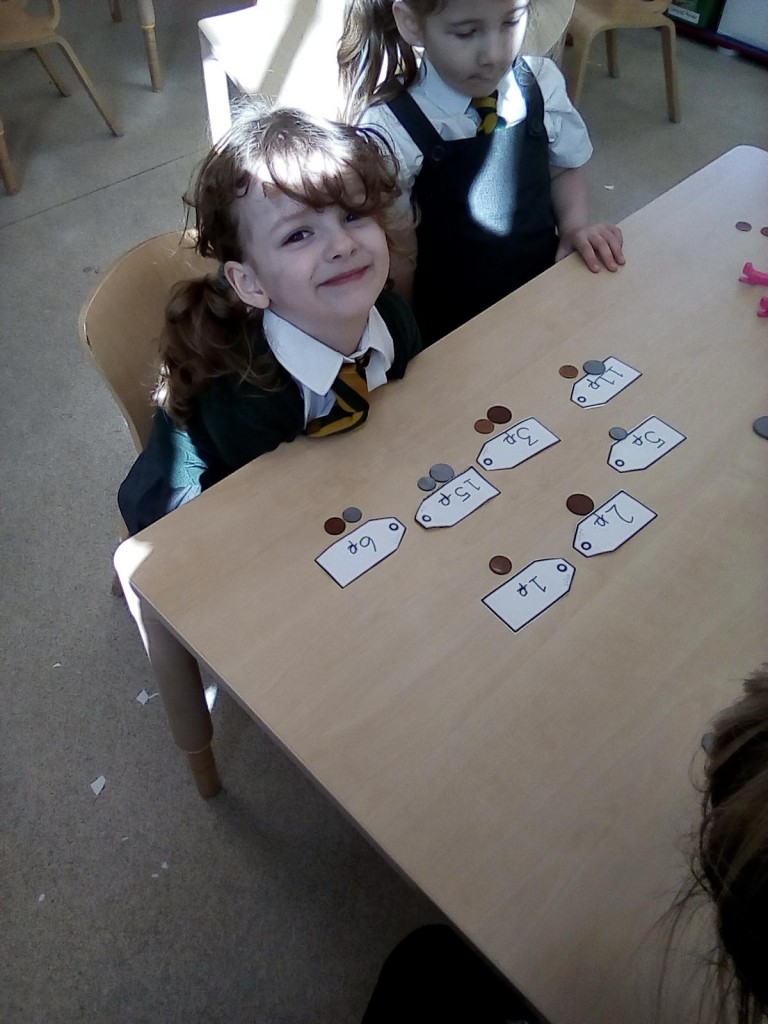 17/12/18
Christmas party
What a lot of fun Christmas activities we have been having. After a wonderful production of Lights, Camel, Action we are still feeling very festive as we celebrate with our Christmas lunch and party afternoon. Here we all are ready to enjoy our Christmas party!
Christmas Lunch
Thank you to everyone who made our Christmas lunch so special. We enjoyed the crackers, music, our friends and most of all the delicious food!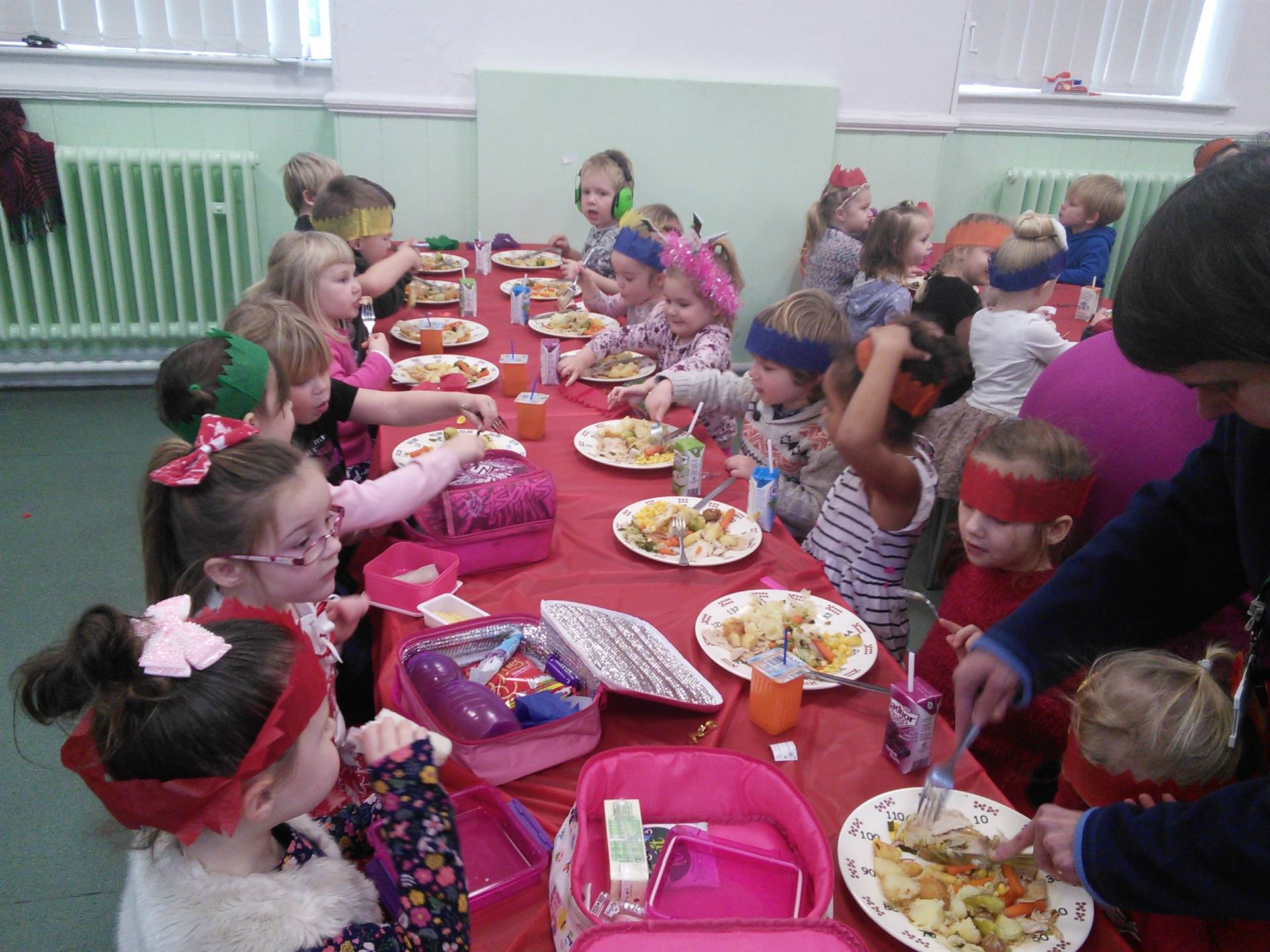 3/12/18
Maths Learning
The children have been working so hard in their maths learning over the term and have really enjoyed our Jolly Postman theme this week. The children posted their own letters and generated number sentences. Super learning everyone!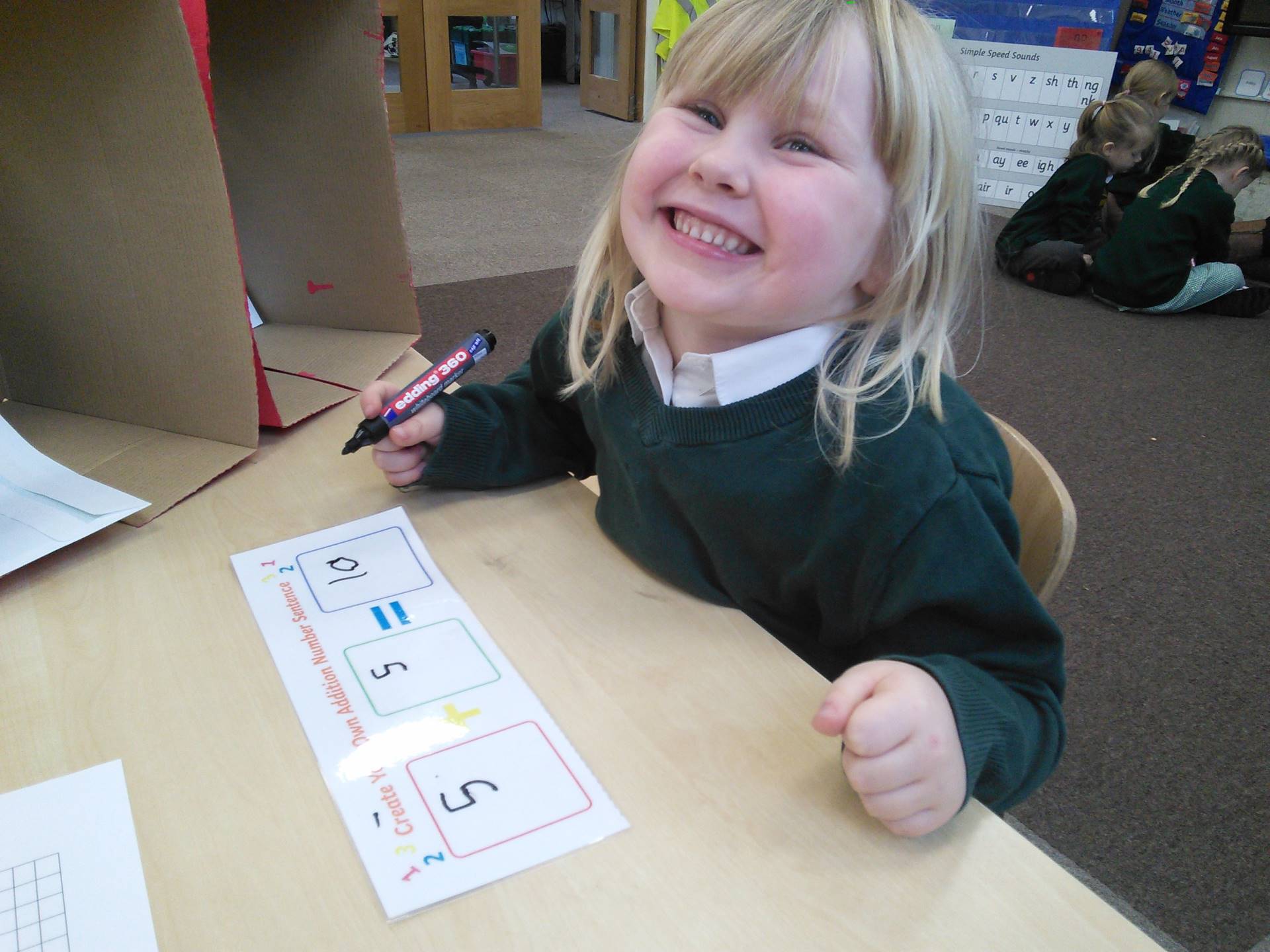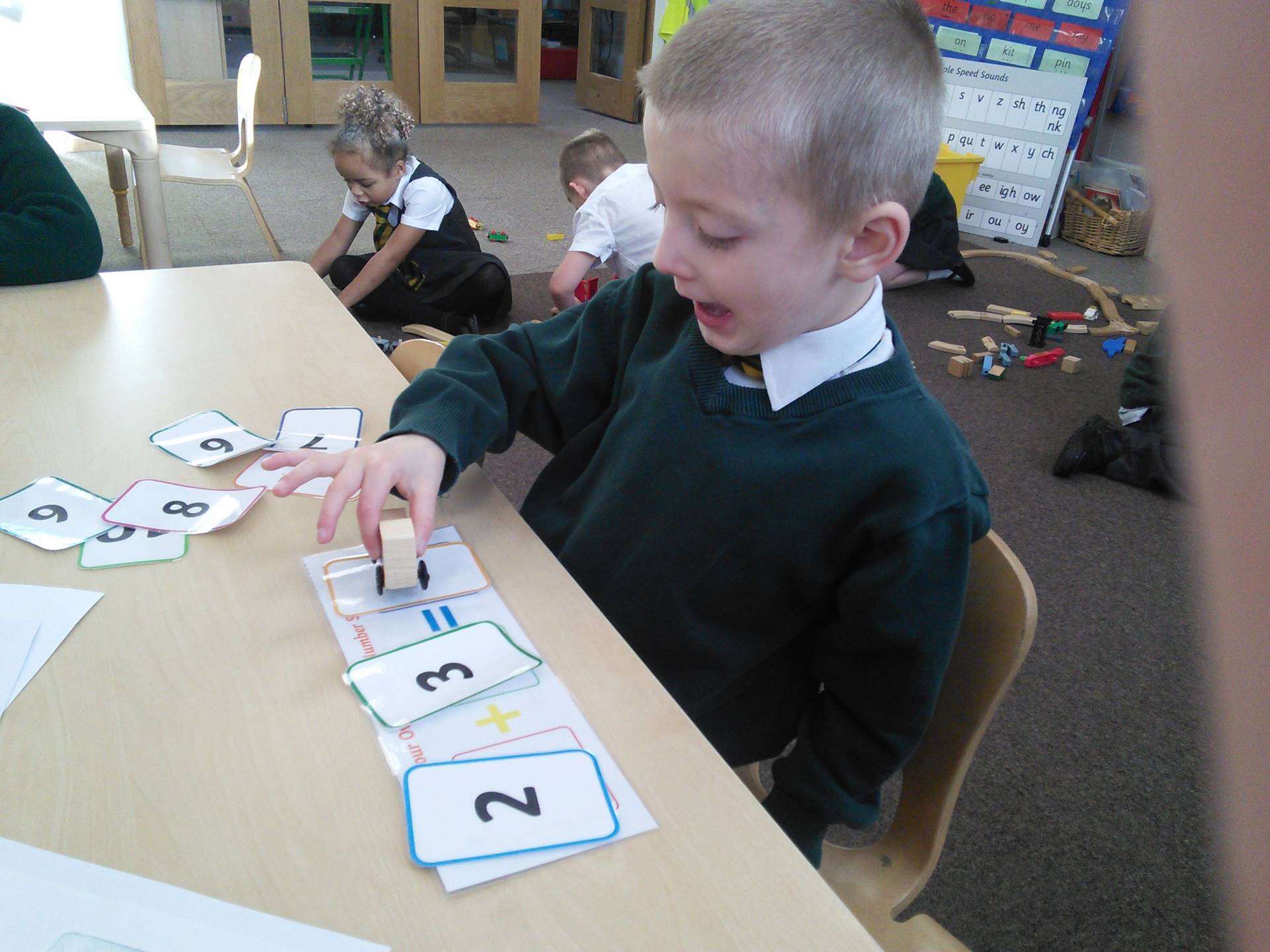 26/11/18
Alien Invasion!
This week the aliens invaded our classroom and left a mess everywhere! We really enjoyed writing labels for the aliens to explain the Earth names for objects in our classrooms.
Odd Socks Day 12/11/18
Here are all our wonderful odd socks! ]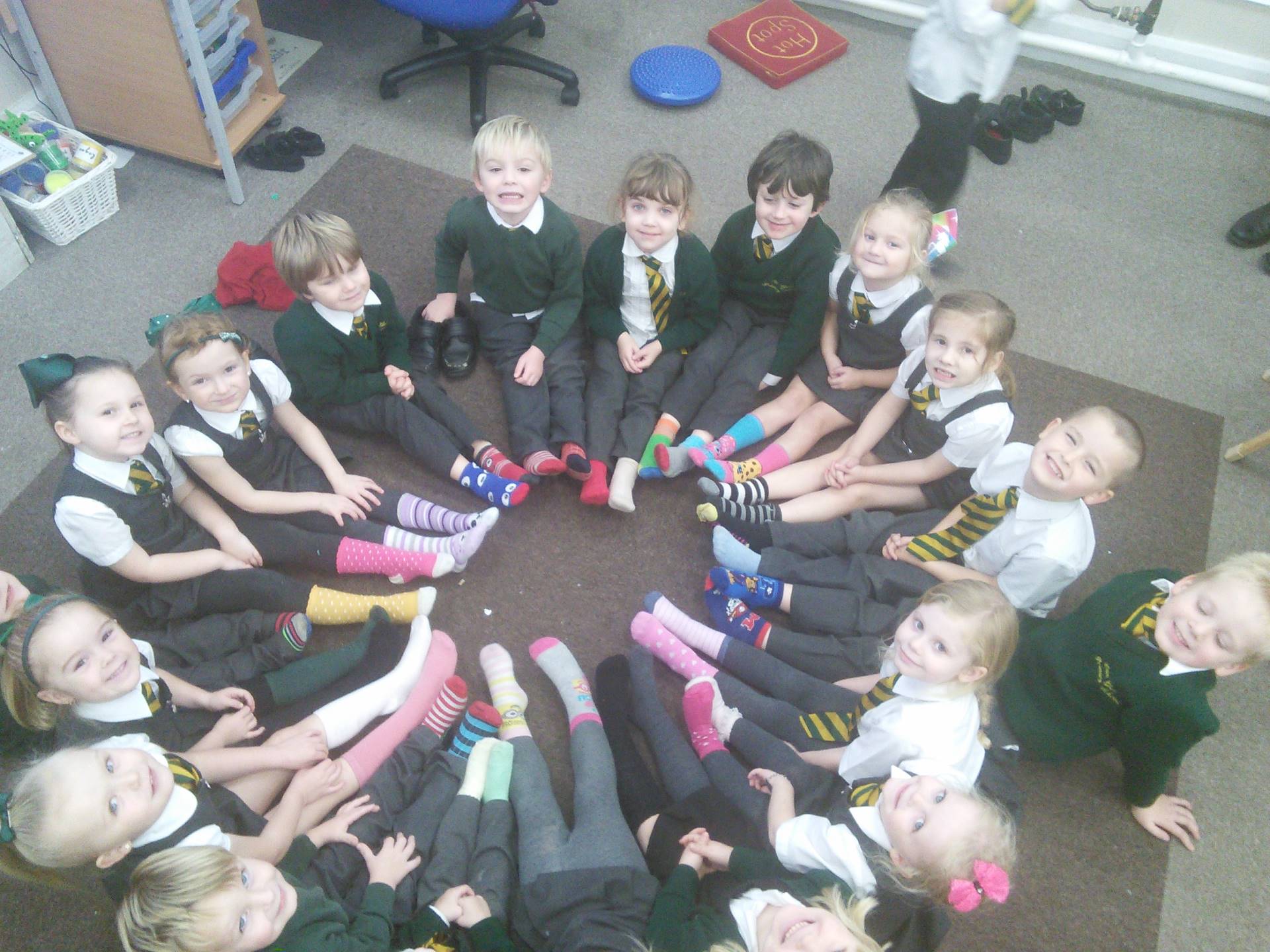 Pumpkin counting in our new outside area!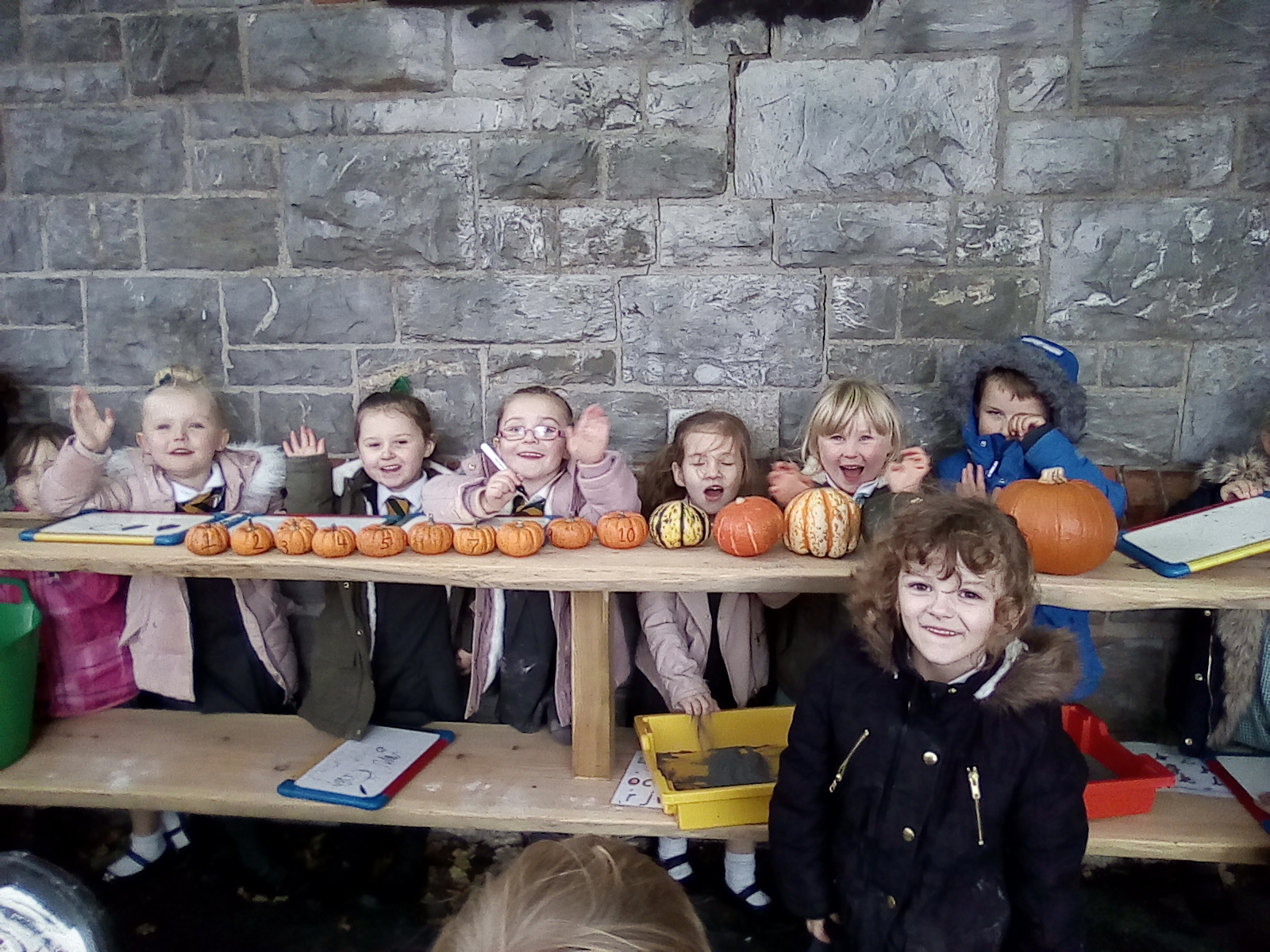 W/C 01/10/18
This week we had some Engineers who made some fantastic space rockets! Well done to everyone who took part!! You are all out of this world :)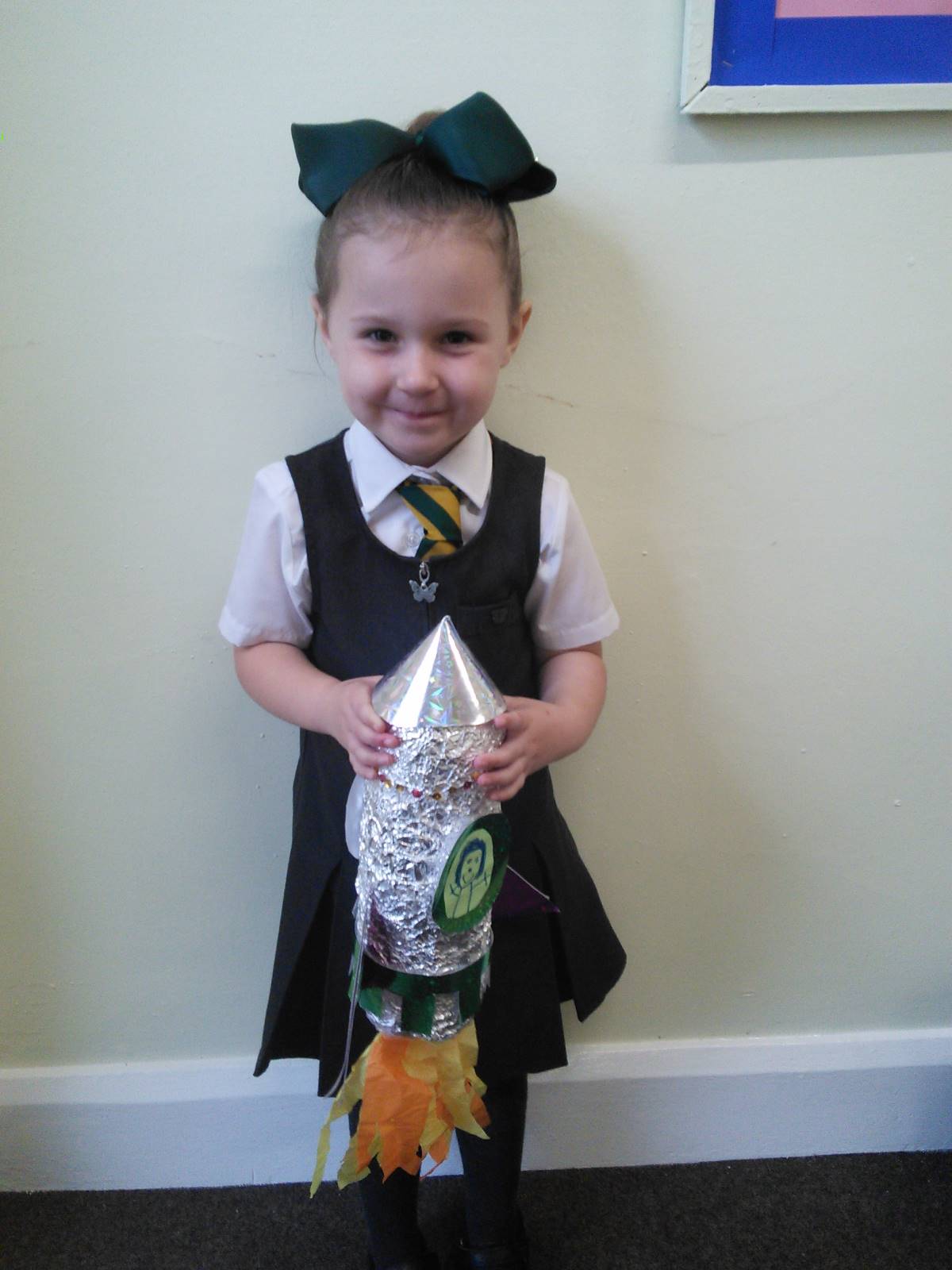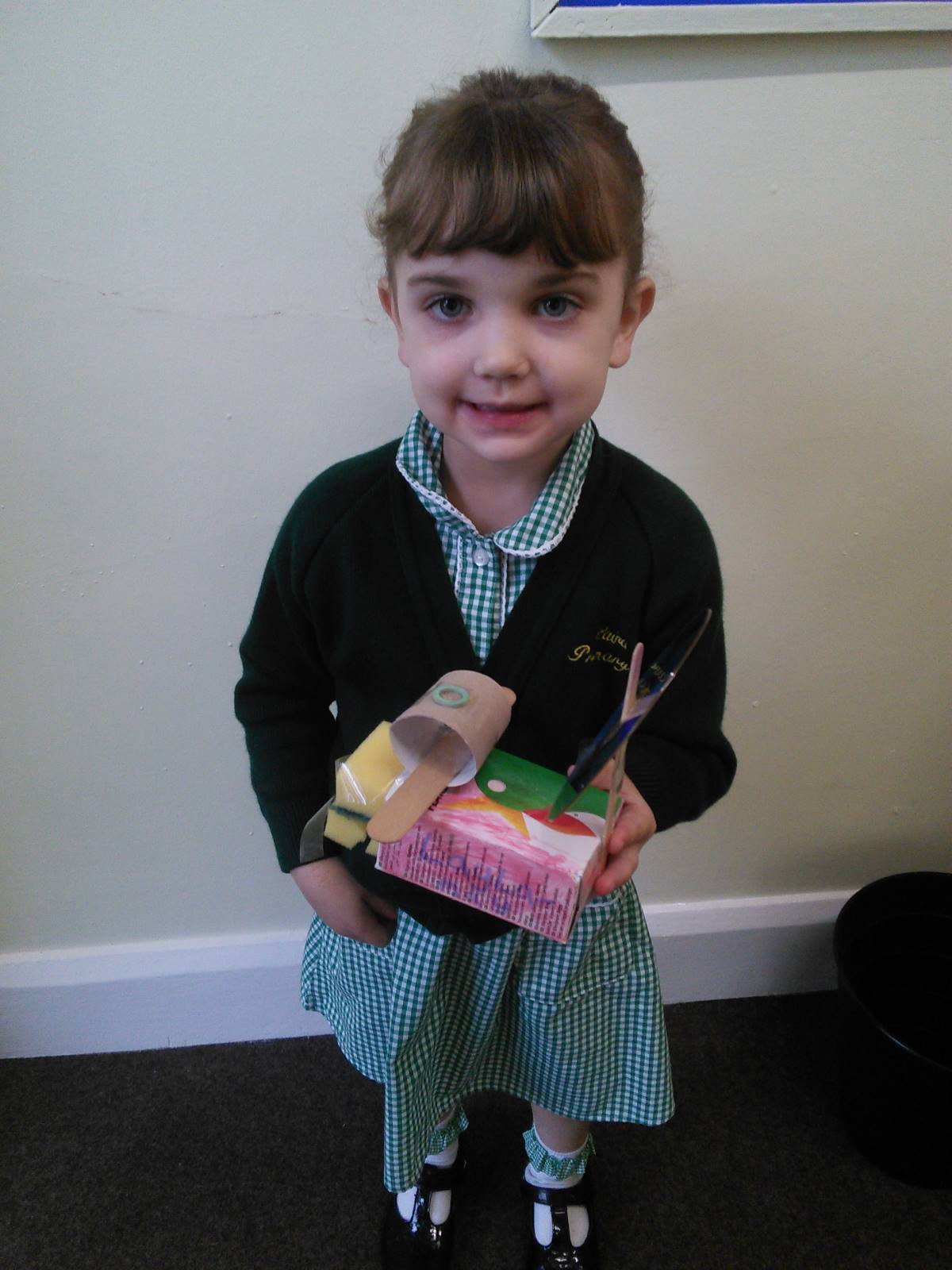 NO PENS DAY - We had a fantastic day putting our pens and pencils down for 'No pens day'. There were lots of opportunities for us to get creative and to practise our talking/ask lots of questions. Our favourite part of the day was our story 'The day the crayons quit.'
This week we have been using our knowledge of sounds to segment and blend words. The children have been working extremely hard!
Here are some of the fantastic models that we made for our Talkbox! Great job everyone!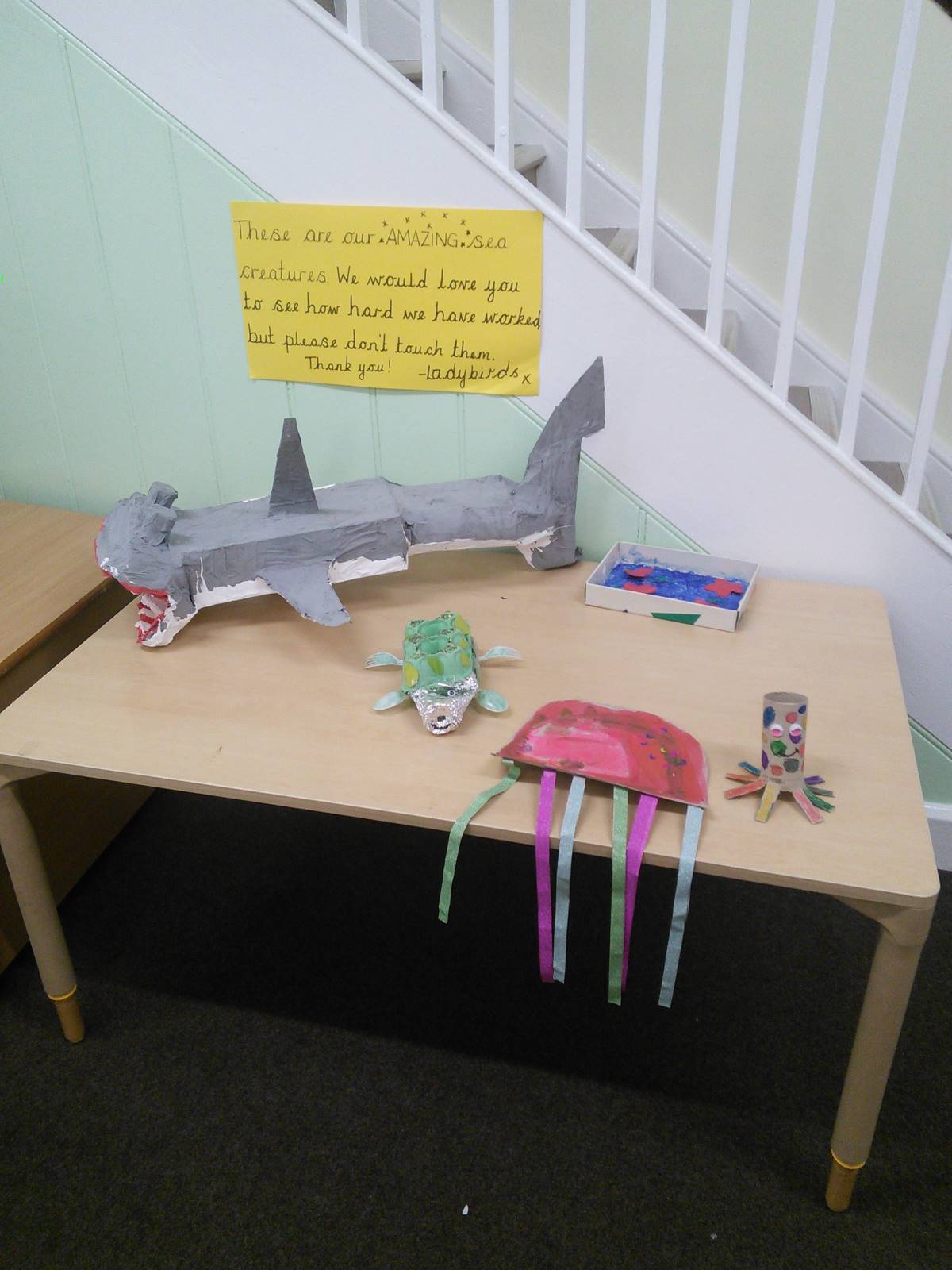 W/C 17/09/18
We have started our Read Write Inc lessons. During these lessons we learn our letter sounds and practise our handwriting. We have been working extremely hard, well done everyone!
Parents: Here is a useful video to support helping your child at home, to learn their letter sounds.

British science week
Foundation have kicked off our science week with a very exciting bug hunt! We are the animal saviours this week and we will be looking closely at the animals we find in our local environment, how we can look after these animals and how to make a bug hotel!
Head to the 'bug hunt' gallery to see what we got up to!