OAK CLASS - YEAR 3/4
Year 2019-2020
Welcome to Oak class. It's been lovely to meet our newest additions and I'm sure we are going to have a fantastic year full of interesting activities along with the occasional trip to help with our learning.
Your class teachers are Mrs Nightingale (Monday-Thursday) and Mrs Norgate (Friday). This year, we are supported in class by a brilliant Teaching Assistant - Ms Hanna.
Keep an eye on the news section and this page for updates on what we are doing in school and for other useful information.
The Start and End of the Day:
8.25am - Breakfast is available, free of charge, from the lower hall daily.
8.30am - There will be a teacher on duty in the playground from 8.30am.
8.40am - The bell rings and children make their way into class.
Please ensure that your child arrives at school on time.
3.00pm - School lessons finish and children will be dismissed from the classroom.
YEAR 2018/19
Spring 2019
To view a copy of the Parent Leaflet for the Spring Term click here.
For a copy of the spellings for Spring 1 click here.
For a copy of the spellings for Spring 2 click here.
Autumn 2018
To view our parent leaflet for the Autumn Term click here.
To view our New School Year parent letter click here.
For a copy of Autumn 1 spelling lists please click here.
For a copy of Autumn 2 spelling lists please click here.
SUMMER 2
RE day in OAK
This year, RE Day was based around the topic of pilgrimages. In Year 3/4 we have learnt about pilgrimages from the Hindu, Buddhist, Christian and Islamic faiths. (Kumbh Mela, Lumbini, Bethlehem and Lourdes and Hajj) We used our understanding of such journeys to write some poems and to create some beautiful art work. It was a lovely day of reflection!
Here is Niomi's poem, which has been entered into a National Competition!
Pilgrimage
The important thing about pilgrimage is journeying to a very sacred place.
It is a sacrifice you have to make all year.
It is a festival of respect, singing and praying to God.
It is about Christianity, Hinduism, Islam, Judaism and Buddhism and going to different countries.
But the important thing about pilgrimages is journeying to a very sacred place.
Click here to see what happened throughout the school on RE day.
More Mayflower work!
This week, we made leaflets to show what we learnt during our visit to The Mayflower Museum on the Barbican. We wrote about different themes linked to the Mayflower voyage such as; the conditions onboard, who was onboard, life and death and the New World.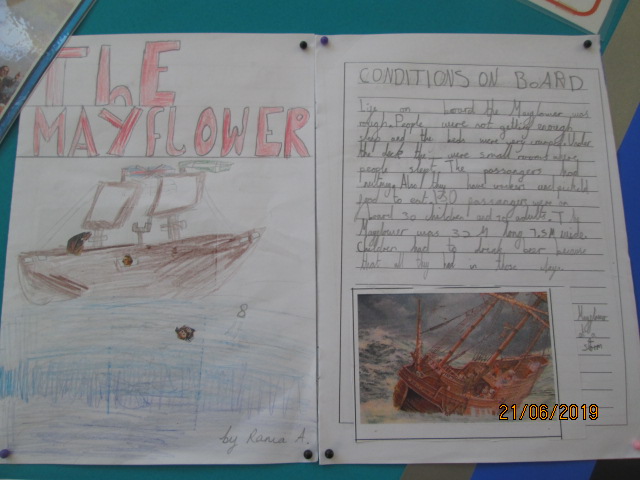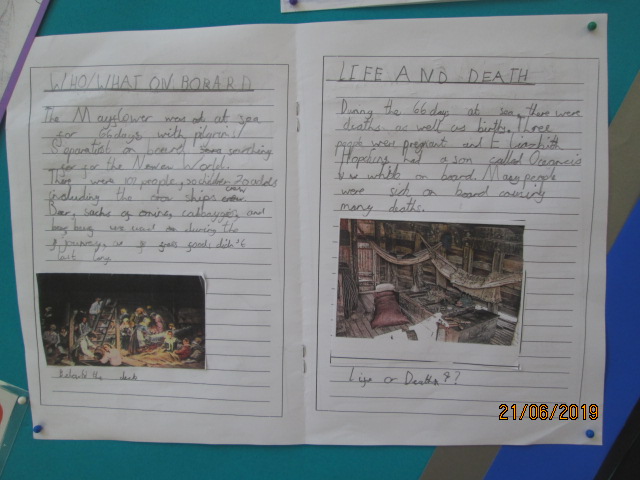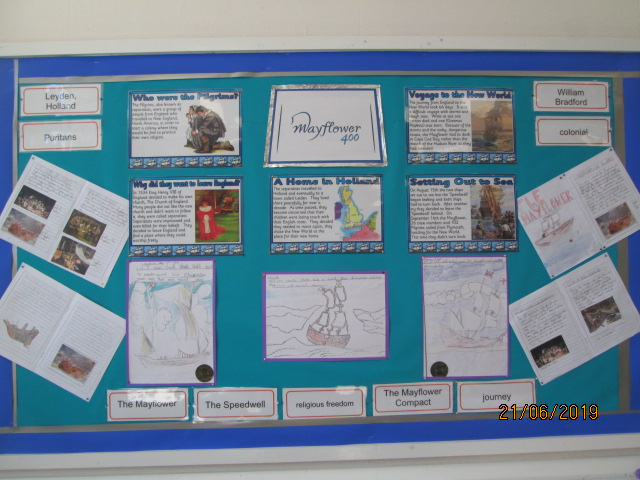 The children sketched The Mayflower as part of their art lessons.
Maths Puzzles
This week, we used our reasoning skills to complete a tricky maths task. The task was to complete a hundred square grid but without any numbers! Instead we had to work out which individual digits were represented by which symbol. It took a little while to get started but it was great fun and a real challenge.
These are some of the questions we considered whilst attempting the challenge!
Where could you start?
What might the first numbers look like?
What might the last number look like?
What do you know about the multiples of 11?
What will be the same in each column?
What will be the same for the first nine numbers in each row?
Click here to have a go at an interactive version of the task. Good Luck!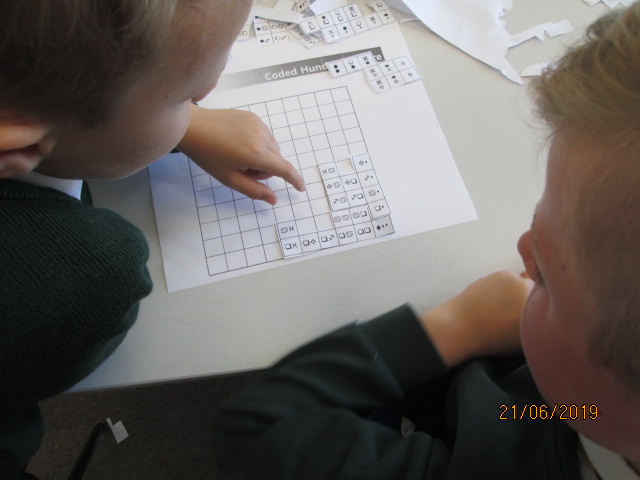 Father's Day
Thank you to all our Fathers, Grandfathers, Uncles and carers for all you do. Here are some of the lovely cards we made to say thank you. Some people personalised the last tie!
Hindu Visitor in Year 3/4
Last week, we were really thrilled to welcome Jyothi into school to talk to us about Hinduism. It was a brilliant visit and we were all able to deepen our understanding of Hinduism. Some of the things she discussed were, the importance of Rangoli and how they are created, pilgrimages and specifically Rathayatra, a chariot festival and Kumbh Mela, a pilgrimage to the River Ganges which takes place every 12 years.
Miss Moffat dressed up in a sari and we all were shown how Hindus meditate!
After the visit, we then wrote a postcard imagining that we were at the River Ganges as part of the pilgrimage.
PE with Reece (Plymouth Argyle)
The children really enjoy their PE sessions with Reece from Plymouth Argyle. Every session is planned to help the children further their skills in a number of areas and it is always fun and challenging. Here, the children are playing a game of Den Dodgeball.
English Writing Inspired by the journey of The Mayflower
After our brilliant trip, we discussed what it might have been like travelling across the Atlantic Ocean for 66 days in cramped conditions and with little food. We thought about how we would feel aboard the ship being thrown about by the treacherous seas. The children then wrote diary entries to convey the situation. Here are some examples.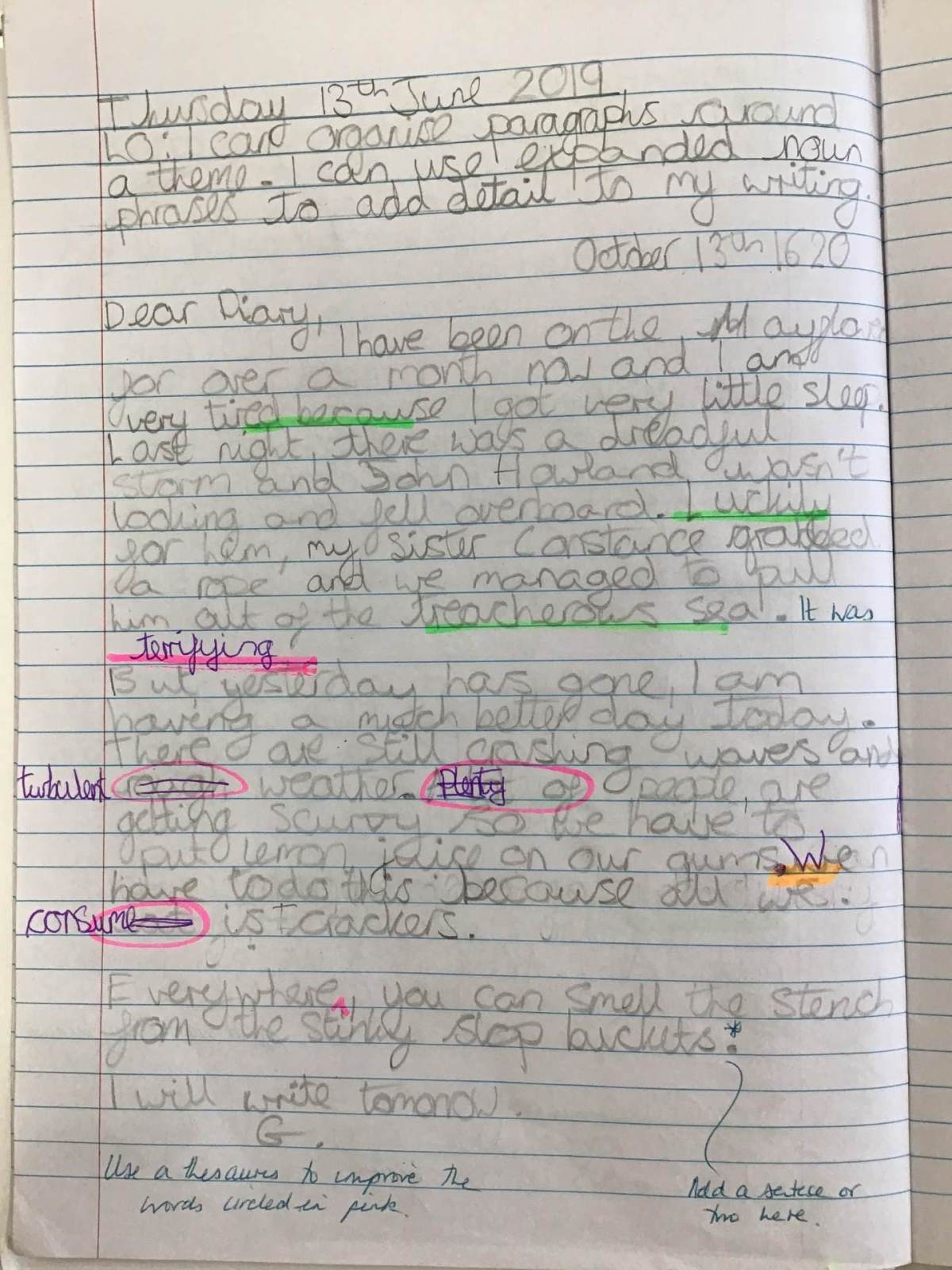 The children also wrote a dialogue between Constance and Giles, two children who were aboard the Mayflower.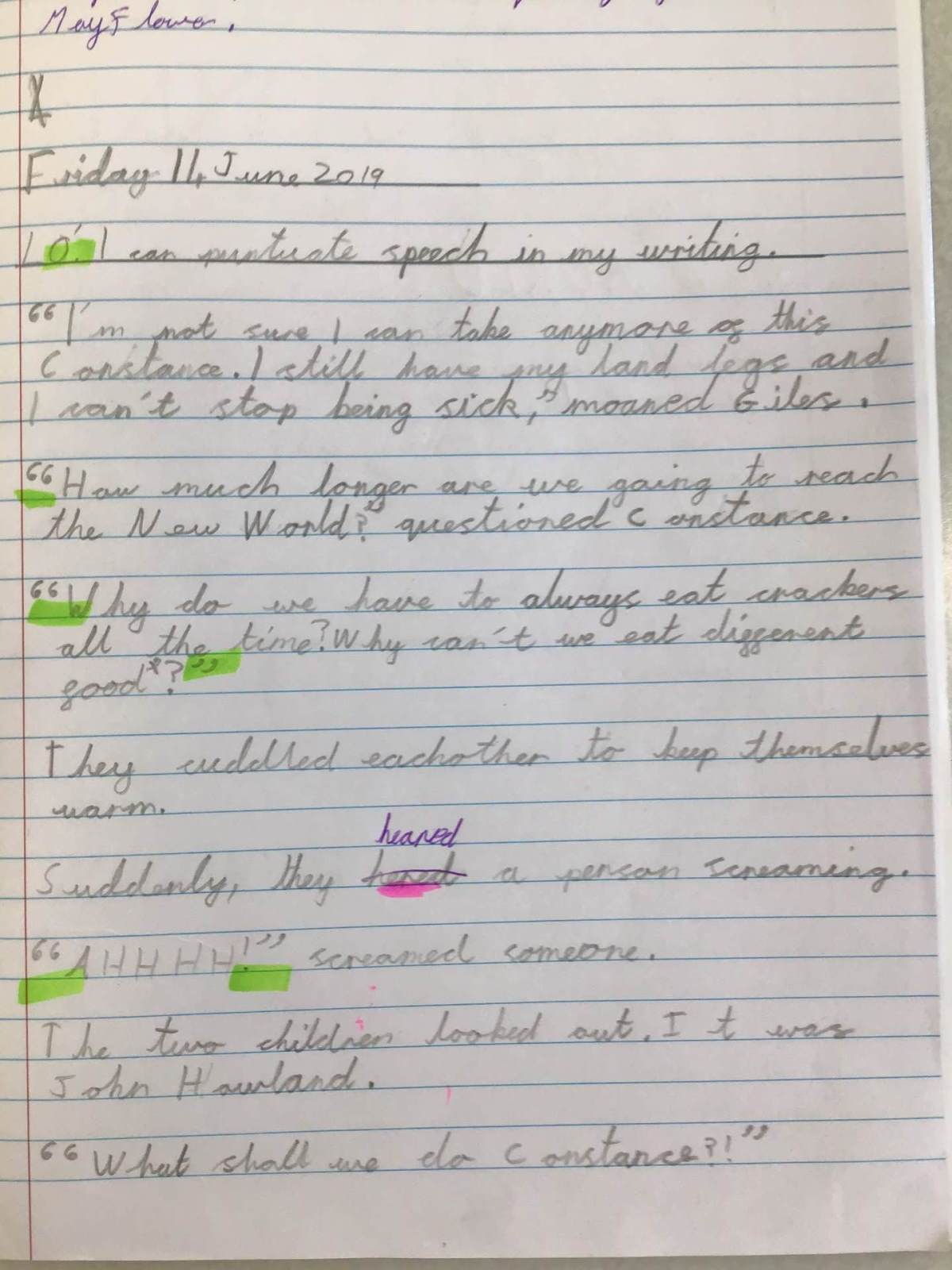 Young Readers and Barbican Trip - 11th June
On Tuesday 11th June, the Year 3/4 Team are going on a trip! We are visiting Drake's Circus in the morning as part of the Young Readers event and in the afternoon, we will be walking to the Barbican and visiting the Visitors' Museum based on our Mayflower 400 topic. For more information, please see the letter here.
SUMMER 1
Sports Day Practice.
Last week, the whole of Year 3/4 walked to Trefusis Park for some PE and practice for Sports Day. We had a lovely afternoon and everyone tried their very best when racing. We have some very talented runners who will hopefully represent us well at Brickfields later in the year.
Fairy Tales - English.
In English, we have read the Russian fairy tale, Ivan and the Firebird. It is a great story filled with magical creatures and amazing quests. We looked at one part of the story and rewrote it adding more detail and trying to build tension into the story. Here are some examples of our work.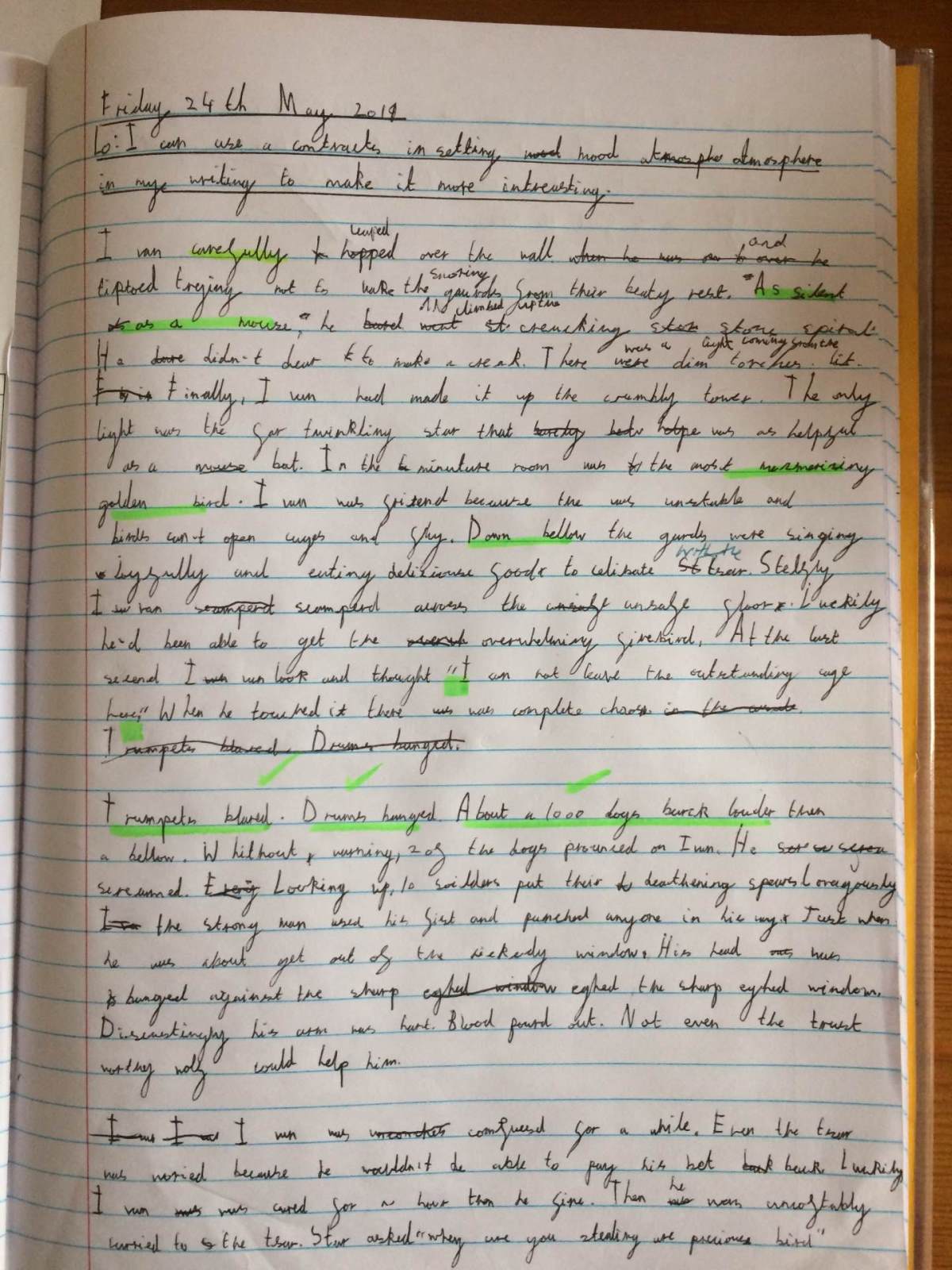 Forest School
During Forest School, we have worked with Debbie from Wild About Woods. It has been really great fun! We have learnt about birds and their nests, about the environmental benefits of trees and their importance in the ecosystem and have had fun playing games, face painting and making headdresses from the natural materials found in Efford Valley. We also got to roast marshmallows over a fire pit and enjoy some hot chocolate.
Capacity in Oak Class
As part of our maths learning, we spent some time looking at volume and capacity. We had lots of fun estimating and then finding out the capacity of different containers. We soon realised that our estimates were a little inaccurate!
SPRING 2
Check out the video of our trip to Kents Cavern in Torquay. We had a fantastic time and the children learnt so much about Prehistoric Britain.
Stone Age Art.
Stone Age paintings were used to show events and tell stories. People hadn't learnt to write at this time. Instead, they drew pictures on walls to pass on messages. We used pastels to create our own Stone Age scenes. Here is a photograph of a famous cave painting in Argentina. It was created by people crushing berries for the dye and then blowing it around hands like a stencil.
We used pastels to create our own Stone Age scenes.
Mother's Day Cards
Have a look at some of the lovely cards we made for our mothers, grandmothers and carers.
3D shape
Today, we constructed 3D shapes using blu tack, playdough and straws. We then discussed the number of vertices, edges and faces each shape had. We made prisms, square based pyramids, cuboids, cubes and we even tried a pentagonal prism- but that was a little tricky!
WORLD BOOK DAY 2019

World Book Day is a registered charity on a mission to give every child and young person a book of their own. It's also a celebration of authors, illustrators, books and (most importantly) it's a celebration of reading.
This year's theme is SHARE A STORY. We took part in several activities throughout the day including: a reading lesson with Year 5/6 children, reading to Year 1/2 children, a 'Book Tasting' session, a visit to our library and reading ebooks online. Lots of us dressed up as popular characters from books that we have enjoyed over the years. The teachers even got involved and read extracts from their favourite children's stories.
SKIPPING AT LAIRA GREEN
Last week, we had a brilliant skipping lesson provided by Skip2Bfit who promote skipping as a fitness activity for everyone. Their motto when teaching the children is '2B the Best that YOU Can B'. The session was great fun and the children loved the challenge they were set. Dave (the trainer) also gave us free blueberries Skip2Bfit believe that exercise and eating healthily go hand in hand.
SPRING 1
This term, as part of our history topic, we are studying the Stone Age to the Iron Age. In addition, we have read several fictional books linked to the Stone Age, such as The Stone Age Boy by Satoshi Kitamura and Stig of the Dump by Clive King.
This week, we wrote a letter as Barney to his Mum and Dad, explaining the fun Barney was having with his new friend Stig. Here are some examples of our work that we typed up on the chrome books.
Ellie F's letter Hollie's letter Karson's letter
NSPCC Number Day
On Friday 1st February it was the NSPCC Number Day. We took part in a carousel of maths activities during the morning and in the afternoon, we had a KS2 Times Table Rock Stars competition. Our class was represented by Erin, Karson, Mackenzie and Lucus W! Well done boys - you were all fantastic!
Here are the links to the activities we worked on. Perhaps you could have a go at home!
https://nrich.maths.org/5429/index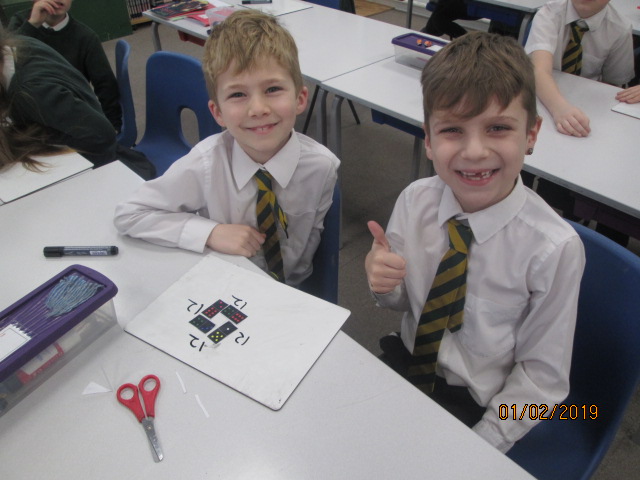 HMD in OAK CLASS
In Oak class, we read a text about Anne Frank who moved to Amsterdam from Germany when she was just 4 years old. We also read the life story of Renee Bornstein who had to leave her parents and her family when the Nazis invaded and occupied France. She was just 10 years old. Renee now lives in Manchester.
In response to Renee's story, the children wrote postcards to her. We have sent a few of them to the Holocaust Memorial Day Trust and are awaiting a reply!
Click here to read some of the postcards.
Anne Fine
Our adopted author this term is Anne Fine. We have started our first class reader of the year and we have already realised that this author likes to write about animal welfare. We have plenty of books by Fine for the children to borrow. Why not take a look at his webpage to find out more?
AUTUMN 2
Scripture Union Visit Oak Class
This Scripture Union visited our school this week. We dressed up as some of the people from the Nativity story and reenacted parts of it. We were encouraged to think about what it might have been like to be there at the time. We did some hot seating and lots of discussion work. Later in the week, we wrote the Christmas story from the perspective of one of the shepherds.
Making Hindu Shrines.
As part of our RE, we have been learning about Hinduism, about the signs and symbols used with Hinduism and about the way in which they worship their gods. We learnt about Puja and about Hindu shrines. We made our own shrines, decorated them with tissue paper and Hindu symbols and then made a puja tray to go in our shrines. It was great fun!
This week, we watched a short animation from The Literacy Shed called the Dreamgiver. We had lots of discussions about the story and learnt lots of new vocabulary. The children then wrote a narrative for the animation using adverbs, expanded noun phrases and powerful verbs.
Here is an example of the writing they produced.

Lucas Walker's narrative for the Dreamgiver

Year 3/4's Ancient Greek Afternoon.
Last Friday, we invited our parents into school for an afternoon of Ancient Greek fun! We had a meze, tasting all the delicious Greek food that we had made at LCA, we designed Greek pots and deciphered words written in Greek as well as playing Ancient Greek style top trumps! To finish off, we had a go at Greek dancing - which was much trickier than it looks. Lots of us dressed up to make the afternoon more authentic but we're glad we don't have to dress like that every day!
Thank you to all the parents, grandparents and friends who joined us for the afternoon.
Click here for a copy of the Ancient Greek top trumps game. There are spare cards to make your own!
Cooking at Lipson Co-operative Academy.
This week we were extremely lucky to do some Greek cooking at LCA. Each year 3/4 class worked with Jo Landsborough and used the amazing facilities to make some Greek food for our Ancient Greek afternoon later in the week.
The children made a variety of Greek dishes including: Greek honey cake, Easter biscuits, hummus, Greek flatbread, tzatziki, mini feta and olive muffins, tabouli and Greek salad. It was a fantastic experience and the children worked really hard to create everything from scratch. They also had to do all the dishes and put their equipment away at the end.
Here are the recipes for all the dishes that we made. Perhaps you could make them together at home!
On Friday, KS2 visited St Mary's Church for our Remembrance Service. Father Samuel spoke to us about the importance of unity and working together to make our school and the world a better place. We watched some very moving clips and then made our own memorial with each of us adding a poppy to an outline of a soldier. This gave us time to reflect on the effects of war and the importance of remembering those who sacrificed and continue to sacrifice themselves so that we can be free.
Erin and Niomi also went up to Efford Cemetry with the School Council.
St Mary's Garden Poster Competition
We are working as part of a team to improve the gardens at St Mary's Church. We have got the reparations team involved from PCC and they are starting to clear an area and will then make seats and a 'Forest school' type area where the children can sit and read, have marshmallows around a fire etc.
The long term plan is to have planters for the children to tend, other areas for reading and a sculpture made in conjunction with LCA.
However, at the moment the major problem is dog faeces!
We talked about our community and how we need to be responsible for our surroundings - new playground equipment and our community, and how we need to look after them. We also discussed the dangers of dog faeces and the importance of disposing of it safely.
The children then produced their own posters. Here are some examples of our work.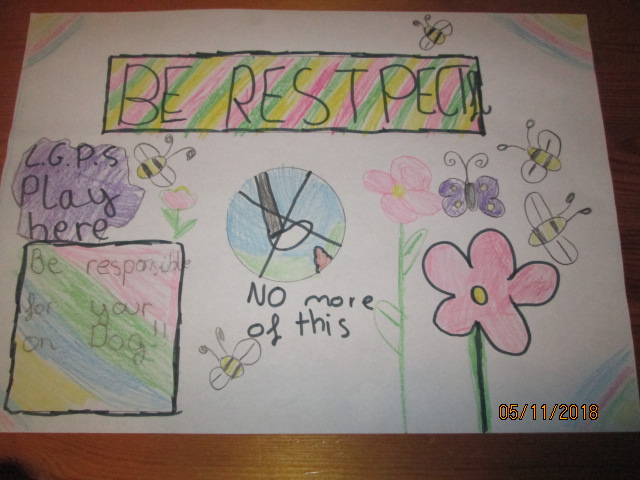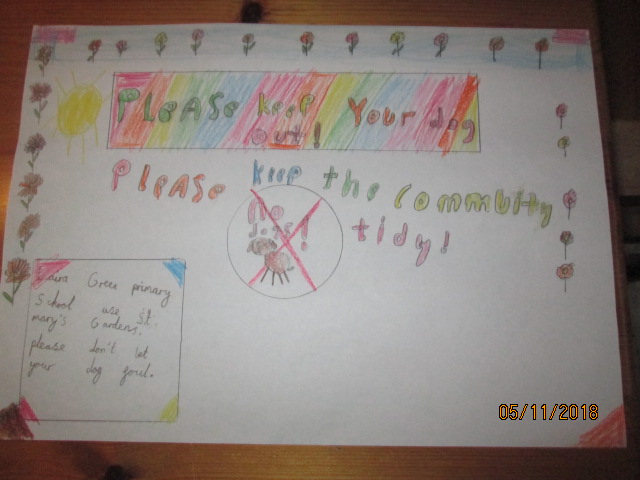 OAK Class Autumn 1
Click here to see some of the fun things we have been doing this term.
Catapults in Oak class.
As part of our topic work on Ancient Greece we have been looking at catapults. We thought about what makes a good catapult and then had a go at making a simple catapult. We then looked at a number of different catapults and evaluated them. Here is some of the new vocabulary we learnt: fulcrum, trajectory, projectile, sturdy, fragile.
Here are some photos of us making and using some simple catapults. Tyler used the catapult he had made at home with his dad.
Clive Pig's reply to our letters! - Click HERE
Classroom to the Moon Challenge
For Walk to School month, PCC are aiming, collectively, to walk for 79,000 hours. This is the time it would take for one person to walk to the moon. The Classroom to Moon Challenge runs from Monday 1st October – Friday 2nd November and is a competition as well as a unifying whole-city challenge.
We are in the small school category. If we clock up the most minutes in our category, we will win a visit from the mobile planetarium Space Odyssey. Second prize is bike or scooter storage from Scooterpods. SO PLEASE - WALK TO SCHOOL IF YOU CAN!
The Classroom to Moon Challenge starts with an inter-school walking relay. 'Astro Mo' the mascot will walk with some of the children from our school to Lipson Vale.
As a fun and creative addition, we were asked to make a 'Friendship Flag' to present to the next school during the walk.
Here are some examples of our flags.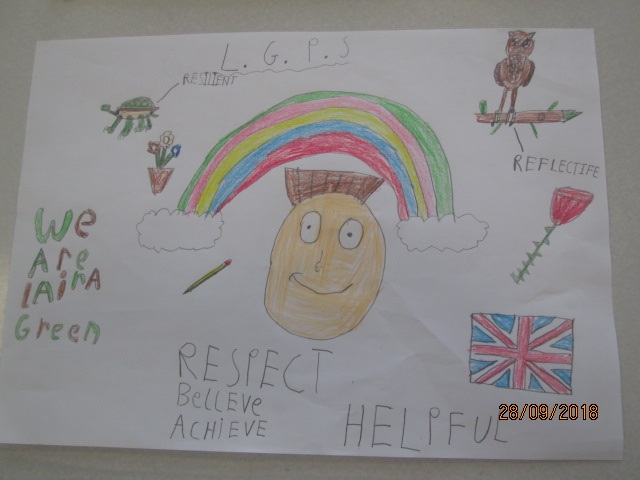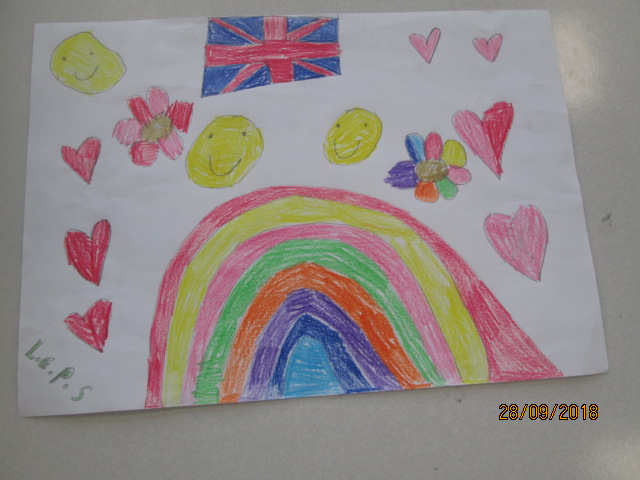 Dot and Dash
This morning, we discovered the world of Algorithms and control using Dot and Dash. We used a tablet to control Dash through various obstacles and even tried some programming using the program 'blocky' to control dash. We had great fun learning these new skills. Check out the gallery below.
A visit from the Storytelling Fella - Clive Pig
Today, we were privileged to have a visit form Clive Pig, a world-renowned story teller. WE had a fabulous morning with him, learning several Greek myths including: The Tortoise and the Lyre, Theseus and the Minotaur and Pandora's box. Clive was very funny as well as knowledgeable, and we were all brilliantly entertained. Six children were also chosen to take part in a short play - which they did with great success.
We will now be writing these legends and using them to write legends of our own!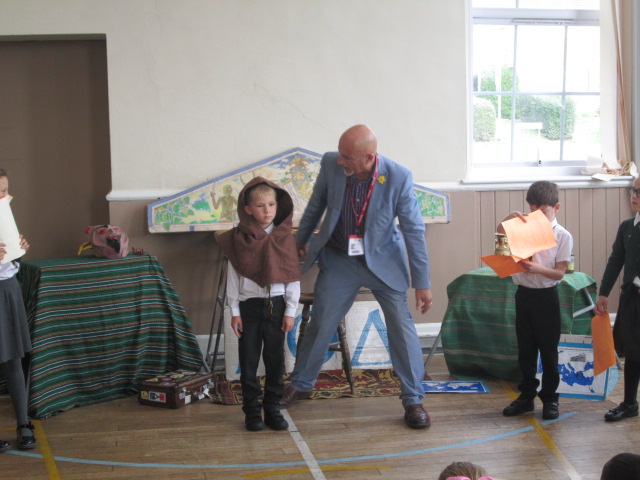 Following our exciting morning with Clive, we wrote some thank you letters to him, stating our favourite parts of the performance and asking him some questions about his experiences as a storyteller.
Click on the links below to read some of our letters.
Letter from Darci-Rose Letter from Constance Letter from Ellie H Letter from Erin
Letter from Karson Letter from Maisie Letter from Willow
Click HERE to read Clive's reply!
Ancient Greek fun
This week we had lots of fun learning about Ancient Greek buildings such as the Parthenon and The Temple of Zeus. We looked at examples of Greek, Architecture and the use of columns to make the buildings look very grand. We then made our own pictures of these buildings using paper straws.
Year 2017-2018
Hello and welcome to the new website page for Oak class - we look forward to sharing our learning with you.
Your class teachers are Mrs Gallacher, who is also the School Council Leader and Mrs Larsen, who is the RE leader. We are supported in class by our two teaching assistants, Ms Frost and Mrs Walker.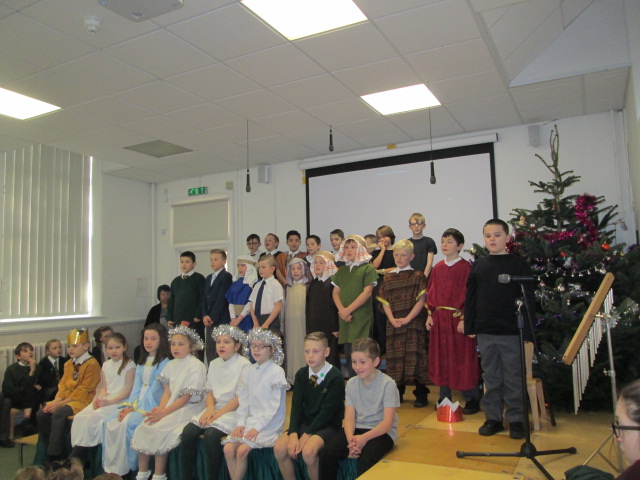 Keep an eye on the news section and this page for updates on what we are doing in school and extra activities that you and your children can do together at home. Scroll down to see some of the exciting work we have been doing.
Click

here

for a daily overview and every day expectations.
Click here to see the curriculum overview for the year and termly leaflets.
Curriculum overview 2017/8 (A)
Yr 3/4 Termly Leaflet - Spring 2018
Yr 3/4 Termly Leaflet - Summer 2018
SUMMER 2018
RE Day in OAK
This year's RE Day was called, 'Who is God to Christians?' We had a busy day learning about the practices and beliefs of Christians taking place within the church and in the community. Rev Andy Bowden from All Saints Academy came into school and talked about these things and shared examples with us. He also said that Christians do these things because they believe that the teachings in the Bible encourage them to do so:
LUKE Ch 6 v 31 'Do to others as you would have them do unto you.'
Here are some photos of us researching the practices and listening to Andy.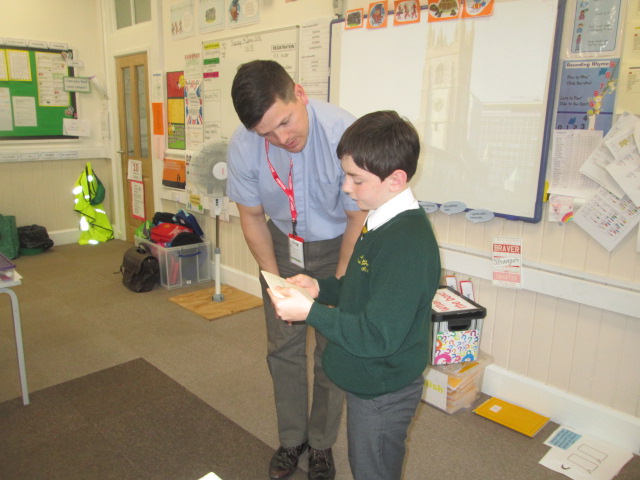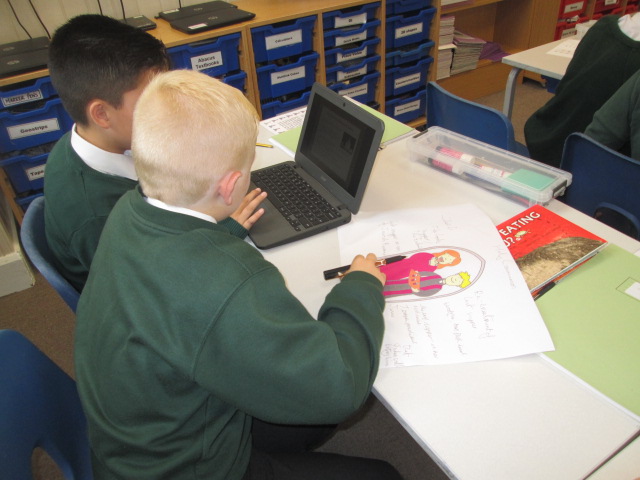 More photographs to come!
BUILDING BRIDGES - DT
In DT, we have been learning about bridges. There are 4 main types of bridge: beam, arched, cantilever and hanging/suspension bridges. We have also found out about force, load, compression and tension and how these things affect how engineers design and build bridges.
We then had a go at being Isambard Kingdom Brunel, playing an interactive game to construct the Clifton Suspension Bridge. It took a while for some of us to be completely successful.
The children then worked in teams to make simple bridges out of a single piece of paper and 5 paper clips. The object of the task was to make a structure that could hold as many counters as possible so the children needed to think about folding and twisting the paper to make their structures more sturdy.
We also made beam and suspension bridges using tape, newspaper, straws, paperclips and card. This was much harder than we thought as it had to be able to take the weight of several toy cars. It was lots of fun and we all learnt a lot about persevering (TOUGH TORTOISE) and working together (TEAM ANT)
FOREST SCHOOLS
The children have had a wonderful time at Forest School with Mr Blake. It was my first time too so it was a great experience for me to see the children in a different environment and to see all the skills the have acquired.
Here is Mr Blake's Blog from the session:
"Due to the possibility of incoming rain, the large tarpaulin was raised fairly quickly and, with a little support, the children had it tied off tightly. Unfortunately one of the strong, lower tree boughs had been snapped in the last week by some vandals but we managed to find an alternative solution and got it tied up, and higher too. The children then made their own dens, using some of the skills they had acquired last week and from raising the larger tarp.
Fires followed next and, after the main fire was lit, the children were able to make their own small blazes in their dens. The class are fairly comfortable with fire now and have been lighting them and handling it safely for a few years. They are confident with the fire steels and also at collecting appropriate wood to keep their fires burning for a few minutes. When we were done, they also managed to clear their sites effectively. A cornerstone of our, 'Leave No Trace', policy. Well done Oak Class!
We also had quite an exciting first (for a bit of a foodie!) at Forest School this week. Mrs Cawse let me know that there was some leftover fruit and veg from the Key Stage 1 snack selection and so I took it along to the woods for a little treat. The children had the opportunity to toast mini red and orange peppers and vine tomatoes over the fire on pointed sticks! Some of the children really enjoyed it as an extra little accompaniment to their hot chocolate and biscuits. "
Have a look at some of the pictures in the gallery below.
NETHERCOTT FARM
Five children in our class were lucky enough to be included in the Year 5 residential to Nethercott Farm. They all had a fabulous time and came back with some amazing stories about how they had mucked out, collected eggs for their breakfast, helped to feed the animals and cooked their own meals! Apparently, they were very good at keeping their rooms tidy too! Each day, the children talked about some of the new vocabulary they had learnt.
Here are some examples:
Ewe = A female sheep
Foal = A baby horse.
Heffer = A female cow before it has two calves.
Tuberculosis a deadly disease.
Bull = A male cow.
Colostrum = First milk from all mammals.
Whey = Liquid from cheese making process. In protein shakes.
Frog = V in the foot of a horse.
Pasteurise = Heat the milk to kill bacteria.
Here are some pictures from the week.
SPRING 2018
EASTER FUN
We had lots of fun at the Easter Fayre, the first event run by our new PTFA and organised by Mrs Barker. In our class, we also made Easter cards and Easter Baskets from paper plates. We decorated them and filled them with eggs to take home.
Here are some of the Easter Bonnets from the fayre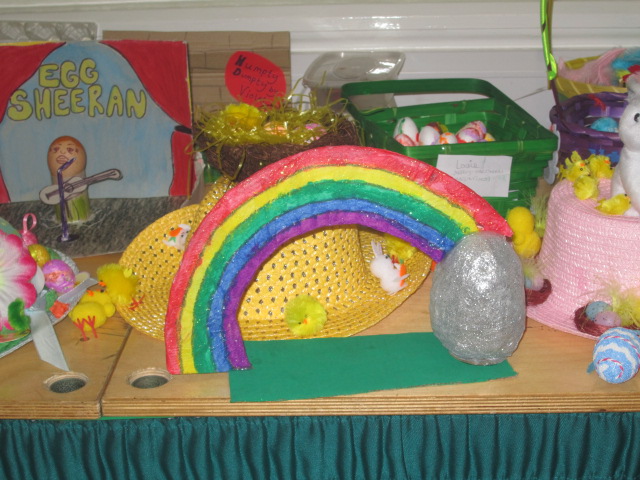 Easter Baskets
SWIMMING AT THE LIFE CENTRE
The Year 4s have had three weeks of intensive swimming lessons. Everyone had a fantastic time and the progress that the children made has been unbelievable. Each child received a voucher for five free family swims - so please use these over the Easter period, encouraging the children to continue to keep fit and healthy.
BRITISH SCIENCE WEEK
Oak class and Fireflies class worked in groups on the EGG DROP CHALLENGE. Using their science knowledge, the children had to build a holder for an egg to stop it from breaking when dropped from a height.
These were the rules:
The egg must be visible and be able to be removed with some ease to check for damage!
All team members must have contributed to the design
The 'eggs'pert judges decisions are final
Egg crafts/ insulators must not be bigger than 1m in any direction.
Eggs will be judged on their design, their success at saving the egg, and their originality.
Here are some photos showing the children hard at work!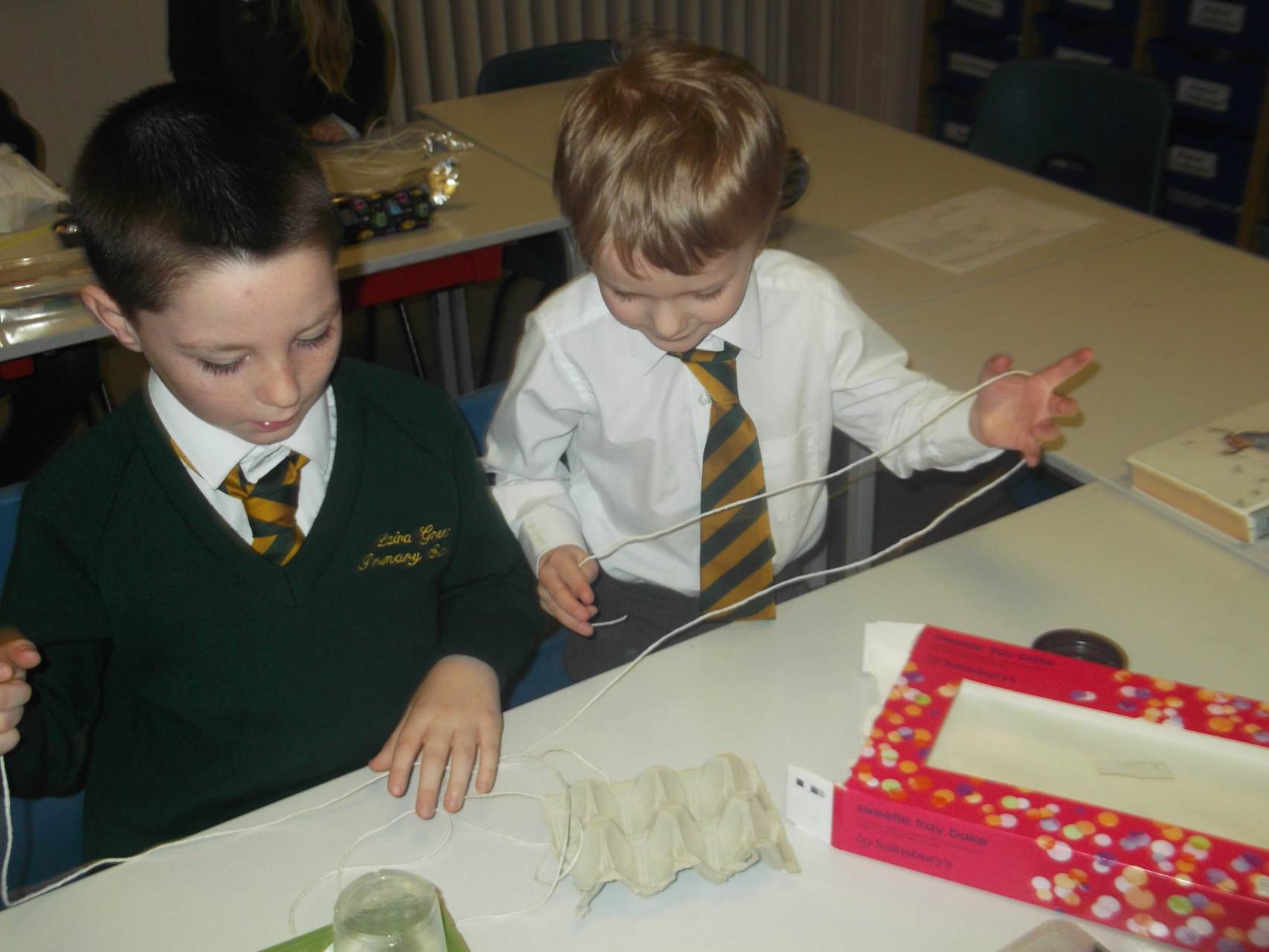 There were a number of other exciting events that took place as part of British Science Week and these included a session with a Plymouth Argyle coach to look at how diet and exercise can affect your ability to perform well in sports, a visit to the eggs/chicks in Foundation, an outdoor habitat activity with the RSPB and an experiment to see which type of material would make the best 'paper' aeroplane. Here are just some of the photos from what proved to be a really exciting week!
COOKING AT LIPSON COMMUNITY ACADEMY
We were very fortunate to have the opportunity to visit LCA and do some cooking. As we have been studying France, we chose to make some French food - Clafoutis, which is a bit like an apple pie and coconut macaroons. We had to measure out ingredients, whisk them together and then prepare them for cooking. Shaping the macaroons was the stickiest and messiest part of the session! We were also responsible for tidying our stations (the area that we were working in) and washing all the bowls and utensils we had used. It was a fantastic experience and we hope to cook there again in the summer.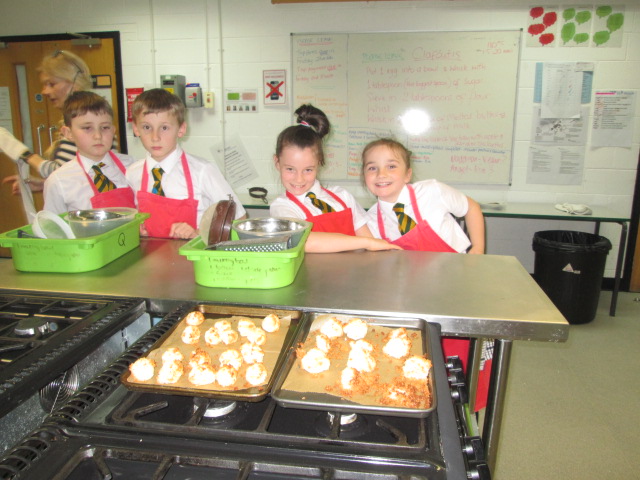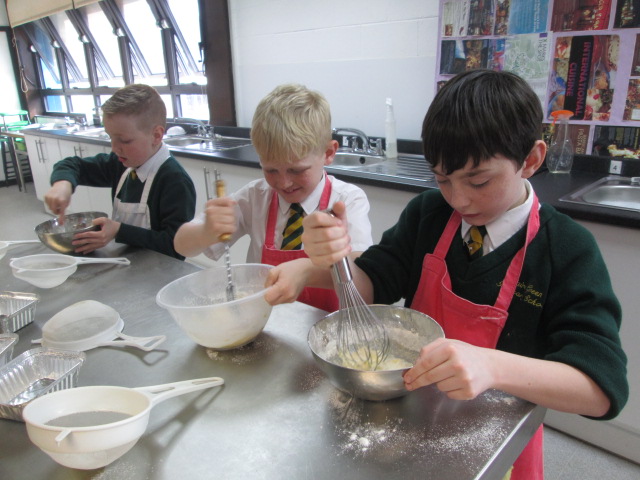 Young Thespians!
Back in Spring 1, we learnt about traditional fairytales from Brittany in our English lessons. The first of these was called Lady Yolanda's Thimble, a tale of a brave young woman who did not succumb to the evil plans of Old Nick who wanted to put a stop to the women dying to spread joy and hope during the war. We did lots of different writing around the story and even recorded our own class version. It has taken me a little while to work out how to upload it so that's why it's a little late but it's too good not to watch! Follow the link to watch our 6 part play.
'Snow' much fun!
Alice and Casper clearly enjoyed themselves in the snow recently and have shared these lovely snaps with us. We hope you all stayed safe and managed to find time to enjoy yourselves and make some precious memories. Casper also found some time in his busy snow schedule to write his own news report on the event (see below), which he presented to the class. Well done!
Casper -
"Good afternoon this weekend it has been snowing, it was called the "beast from the east" and also storm "Emma". Early every morning I was out in it All day, with my sister, mum ,dog and mates ,practising how to sledge. I think I must have reached 5 mile per hour sledging down a huge Hill in the efford Valley woods.. The wind was so strong it tipped my little sister over and it was very loud and keeped me up for a few hours in the night.
All of the shops ran out of food except for sweets and the buses couldn't get up our Hill.
It was great fun skating on all of the ice trying to stay up on both feet. I also helped my little sister build a snowman,she has never seen the snow before so I had to teach her what to do.
In the evenings we stayed up late wih hot chocolates and pop corn and watched dvds.
On the weekend every football game got cancelled because of the snow.i felt madly crazy that I couldn't play."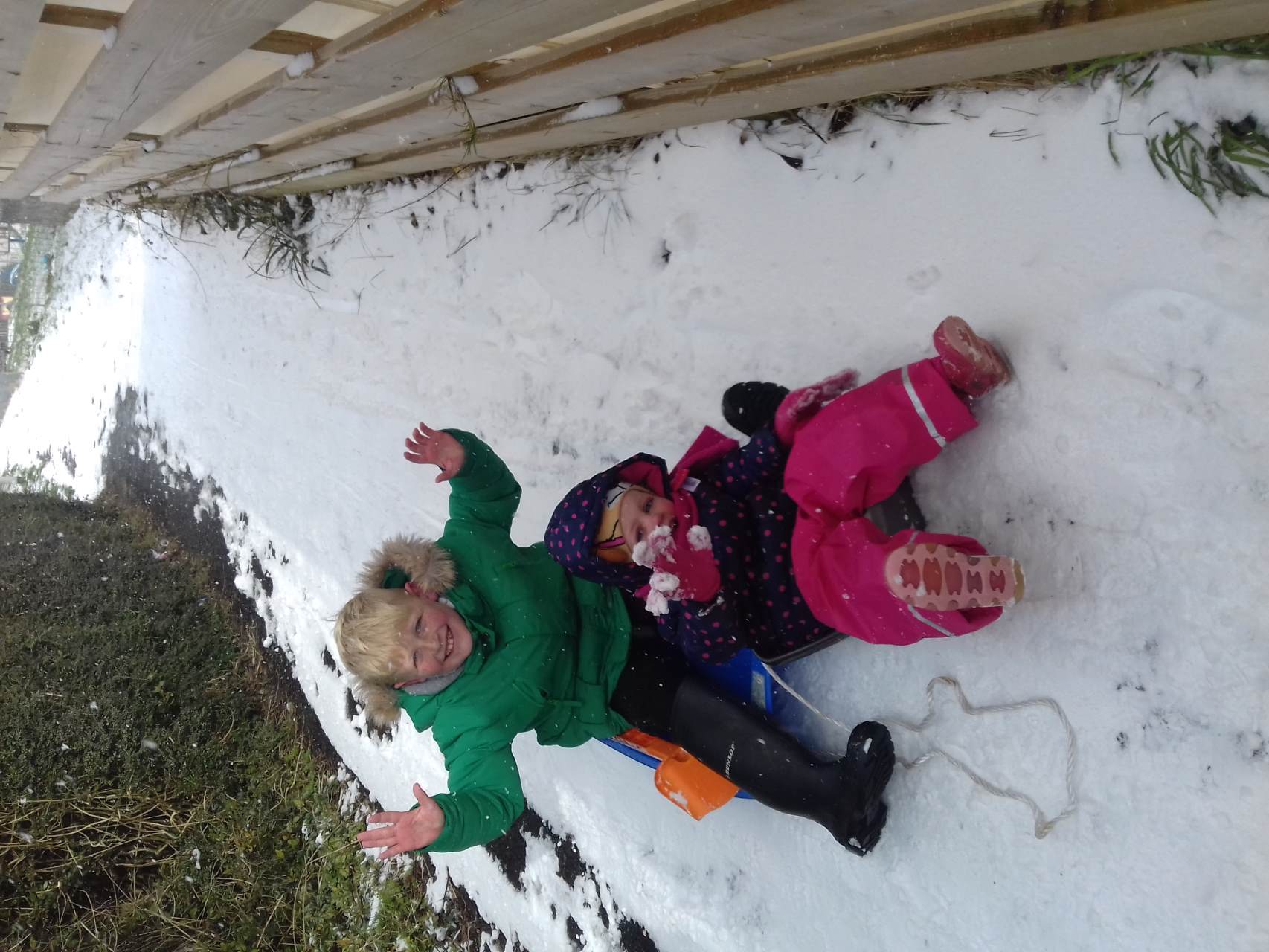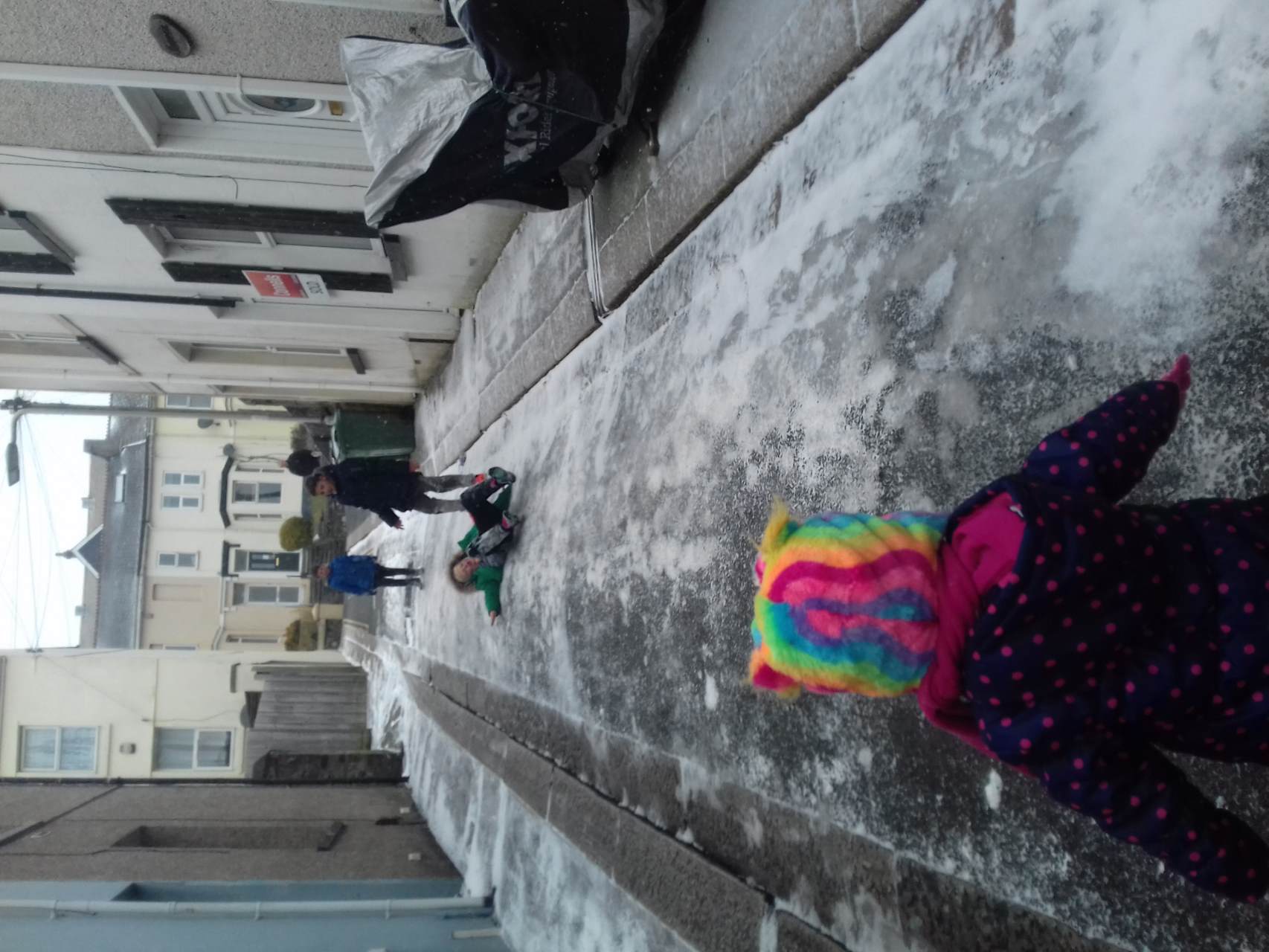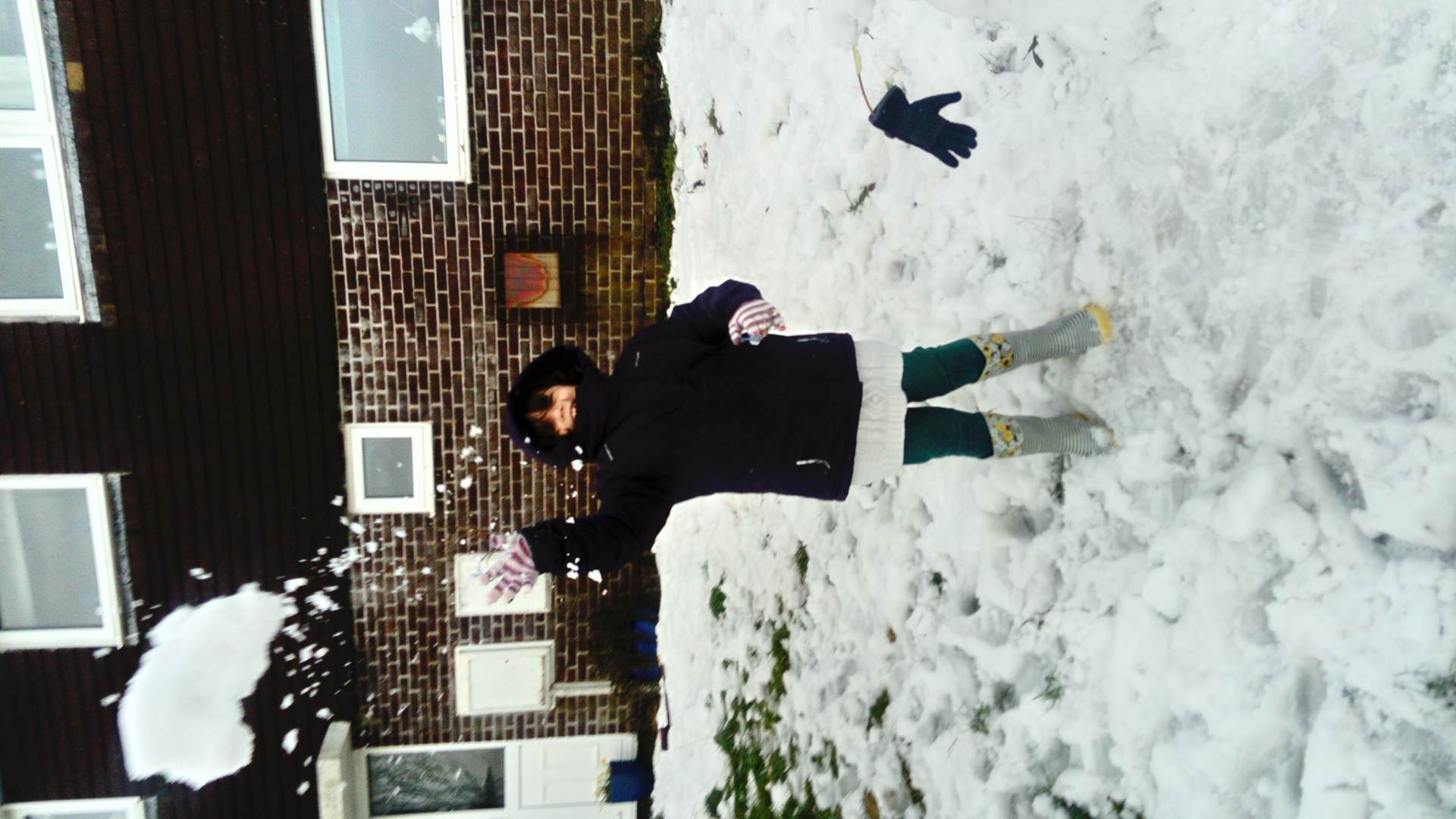 Click here to see Casper's incredible sled ride video!
This term we have had a lot of fun learning about the human body. In particular, we have studied how the digestive system works (what the different parts of it are and their functions), this then led on to looking at teeth (the different types of teeth we have and why and looking at how human teeth differ to animal teeth and why that might be), we will then lead on to looking at food chains. We have really enjoyed the hands on nature of these types of lessons. You can see in the photos that you're never too old to play with playdough as we used the dough to carefully sculpt a reconstruction of the human mouth complete with incisors, canines and molars.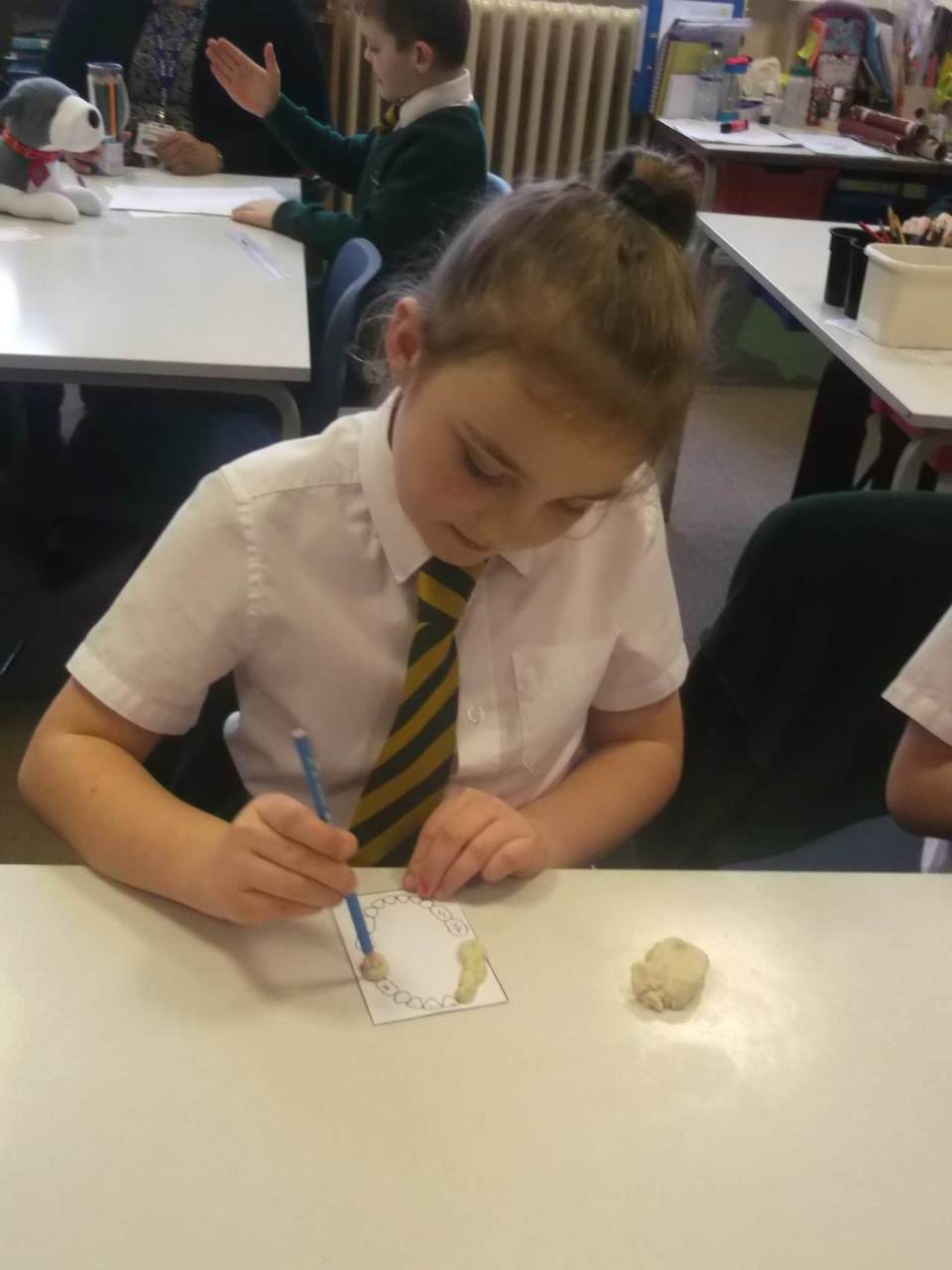 We also recently did an experiment using eggs to replicate the damage that can be done to our teeth by drinking certain drinks. Hard boiled eggs were left in 6 different liquids and, after a week, we observed the effects the drinks had on the shells. I'm sure you can imagine the smell! It left a few of us feeling a little queasy! But the results were astonishing with vinegar, coke and orange juice causing significant damage to the shells whilst water and milk caused none at all.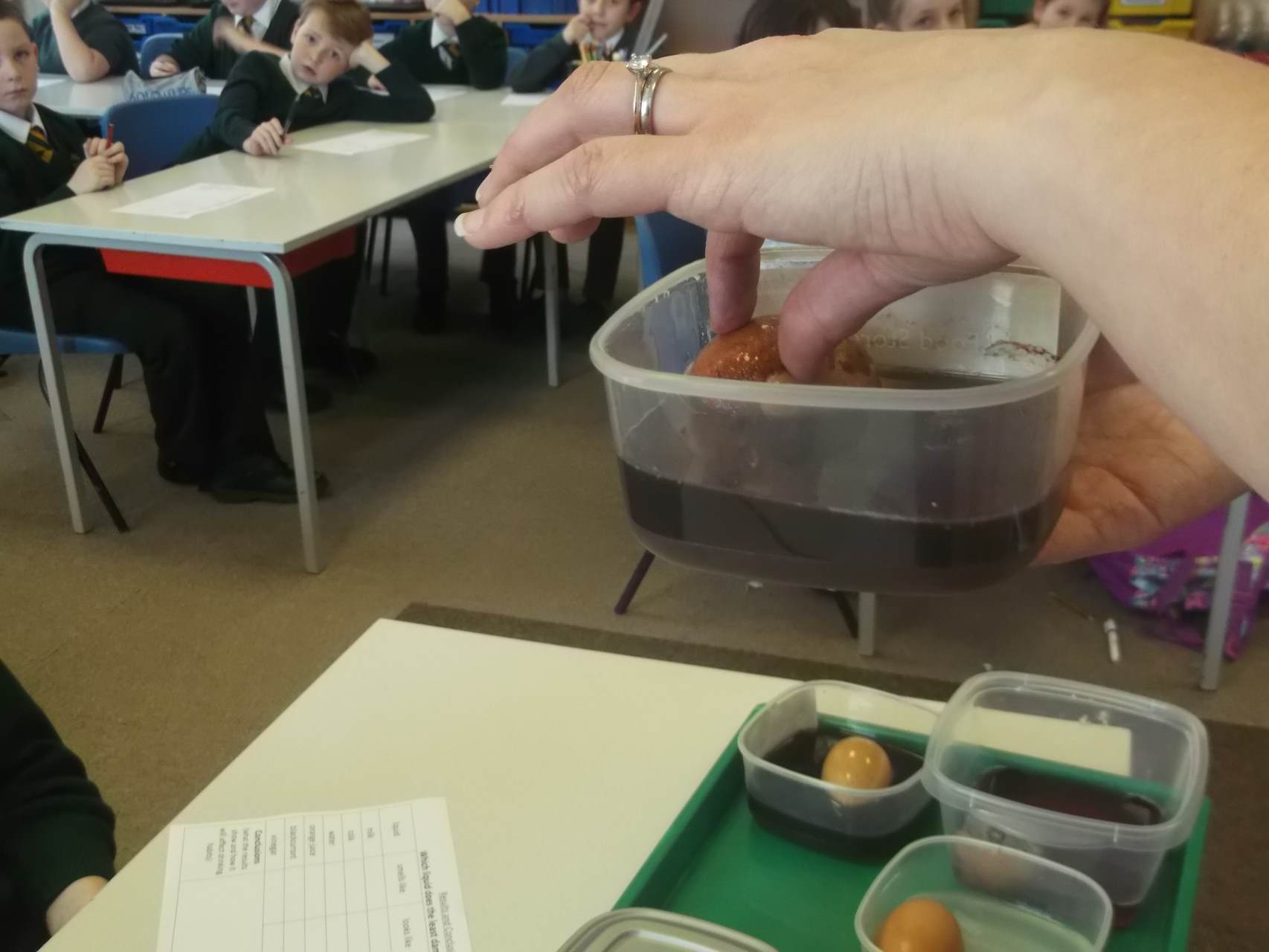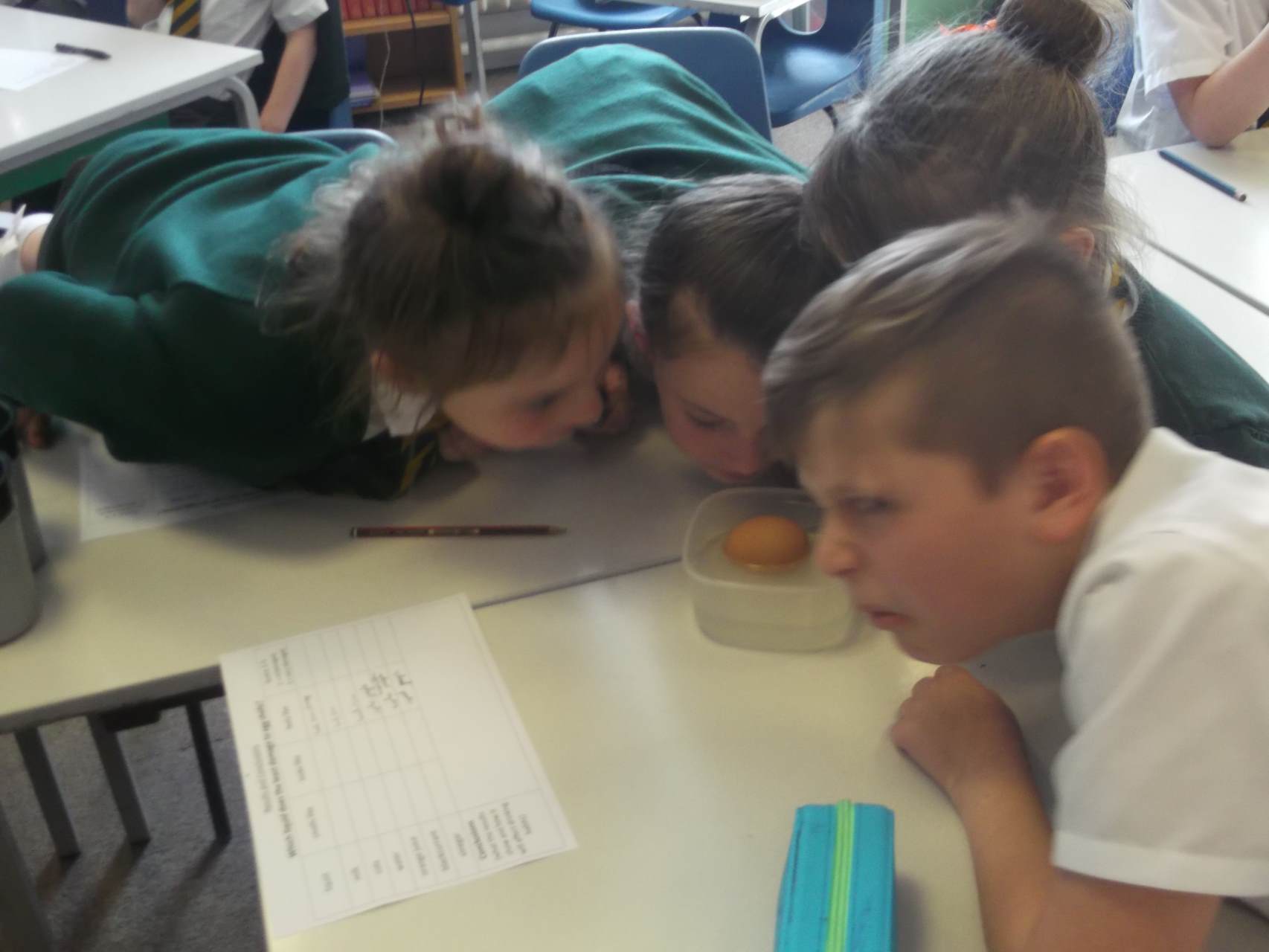 I think Harry's face says it all!!
ART
As part of our topic work on France, we have been learning about the Impressionist painters and more specifically about Claude Monet. We looked at several impressionist paintings, discussed their similarities and differences and explained to each other which painting was our favourite and least favourite and why. We then painted The Haystacks - Claude Monet painted a series of 25 paintings titled The Haystacks. He did this to show the light and shade at different times of the year and at different times of the day. Although the paintings look fairly simplistic, the skill of showing the light using paints is extremely difficult!
Claude Monet's Haystacks.
Home Learning
The children were asked to make a model of a French landmark or produce a fact book about France as part of their home learning. Look at these amazing creations!
Book Reviews
Do you sometimes have trouble deciding which book to read? With so many to choose from, it can be a tricky decision. We have all completed several reviews of books we have read recently . Click here to read some of our reviews. They may persuade you to the read the books for yourself!
HMD Day
Every year, we remember Holocaust Memorial Day. Liz Berg came in to speak to us about it in an assembly and told us a story by Eve Bunting called Terrible Things. In this allegory, the author's reaction to the Holocaust, the animals of the forest are carried away, one species after another, by the Terrible things, not realizing that if perhaps they would stick together and not look the other way, such terrible things might not happen.
This year's theme was 'THE POWER OF WORDS'. We looked at extracts from Anne Frank's Diary and discussed the power of the words she used.
Click here to see some of the work we completed based on extracts from Anne Frank's Diary and a discussion about the Kindertransport.
AN AUTHOR VISIT
On Friday 25th January, we travelled by bus to the Guildhall to meet the author and illustrator of Dave the Pigeon, Swapna Haddow and Sheena Dempsey. We had a fantastic time. Swapna read an excerpt from her new book and then we all helped to design a new bad character. In addition to this, Swapna invited some children up to the front of the hall to create a new story whilst Sheena illustrated it. We all had a fabulous time and lots of children bought books to read at home.
Click here to see a letter we have received from Swapna!
Click here to see more pictures from the event.
This term we are learning about France and have enjoyed learning some French folktales. We also had a go at rewriting some of them. It has meant that we have learnt lots of new vocabulary such as:
abode, brocades, ramshackle, betrothed, nefarious, pilgrim, damsel and many more. If you aren't sure what these words mean ask the children - they know!
AUTUMN 2017
We have been working hard all term, and have enjoyed success in many areas: making our mosaics, performing in our class assembly as well as in our maths, writing and reading.
Mosaics
This term, Jane Stevens came into school to help the year 3/4 children make their own mosaics, as part of our history and art topics.
It was a fantastic experience and every child had to persevere and be a Tough Tortoise in order to complete their work. The finished mosaics are brilliant and the children are very proud of themselves. We were very fortunate to have this workshop funded 100% by the school.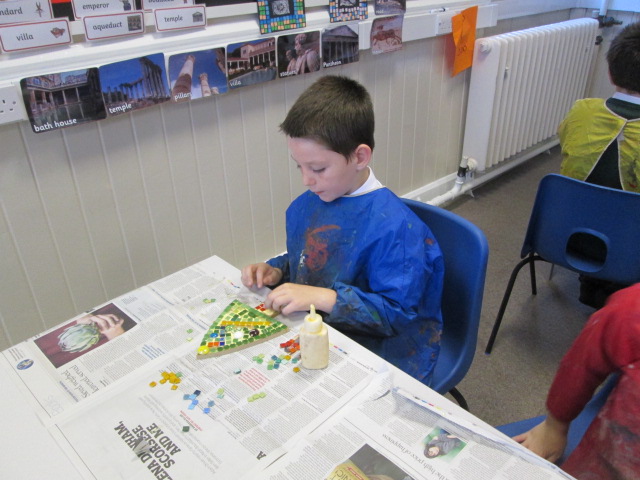 Oak Practical Maths
In maths, we have been learning about the properties of 2D shapes eg lines of symmetry, whether they have perpendicular sides or pairs of parallel sides.
We then used Carroll diagrams to sort the shapes using 1 and then 2 criteria.
PE with Oak
We have been working hard to improve our overall fitness by taking part in BOOTCAMP. We learnt about the effects of exercise on our bodies and felt them too!
Every week we tried to persevere and improve on our scores for each activity. It was good fun but very tiring.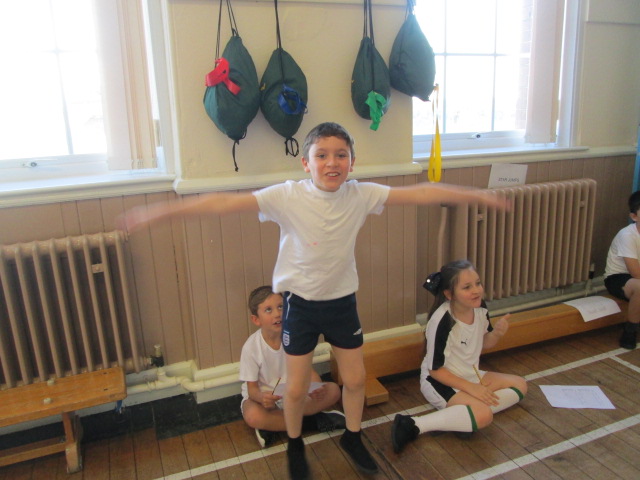 PE with Argyle
Click here to see pictures of us enjoying our PE with the Argyle coaches
Remembrance
On Friday 10th November, KS2 visited St Mary's Church for a Remembrance service. We all made wreaths out of our hands and wrote messages to those who have suffered some way during the wars of the last century.
Father Sam talked to us about the TOCH lamp and the importance of not just remembering about the past but making it count - being grateful for our freedom and appreciating those around us.