Info on this page:
Speaker's Award
City Youth Council
Other news and events
School Council
Hello and welcome to our School Council page! The School Council is made up of two pupils from each class from Year 2 to Year 6. This panel of children has been chosen by the classes themselves in line with our democratic ethos. We hope you enjoy reading about all the wonderful things we have been doing.

May 2019
The Lord Mayor's Choosing Ceremony
On Friday 17th May, four of our school council representatives were invited to attend the Ceremony of Election of Lord Mayor, which was held in Plymouth Guildhall. This was a great opportunity for the children to experience the inauguration of the Lord Mayor, Councillor Richard Ball. The children listened to Devonport Royal Naval Volunteer Band as members of the council and guests arrived. Prayers followed, before nomination and election of the new Lord Mayor and appointment of he Deputy Lord Mayor. Drakes sword was presented to the the new Lord Mayor on behalf of the Royal Navy to symbolise the key links between the Royal Navy and the City of Plymouth. There were presentations of flowers and gifts and the new Lord Mayor, Councillor Richard Ball made a speech.
Our school council representatives really enjoyed the morning and were complimented on their fantastic behaviour by a guest at the ceremony. Quotes from Maisy and Viktoria: ' It was really fun because we got to see the new Lord Mayor and lots of different people from the council.'
Well done to you all!
**Interesting Fact! In 1580, after his successful voyage of circumnavigation, Drake's sword is said to have been used to knight Sir Francis, aboard the Golden Hinde at Deptford, London. In 1967, Queen Elizabeth II also used it to knight Sir Francis Chichester following his solo voyage around the world.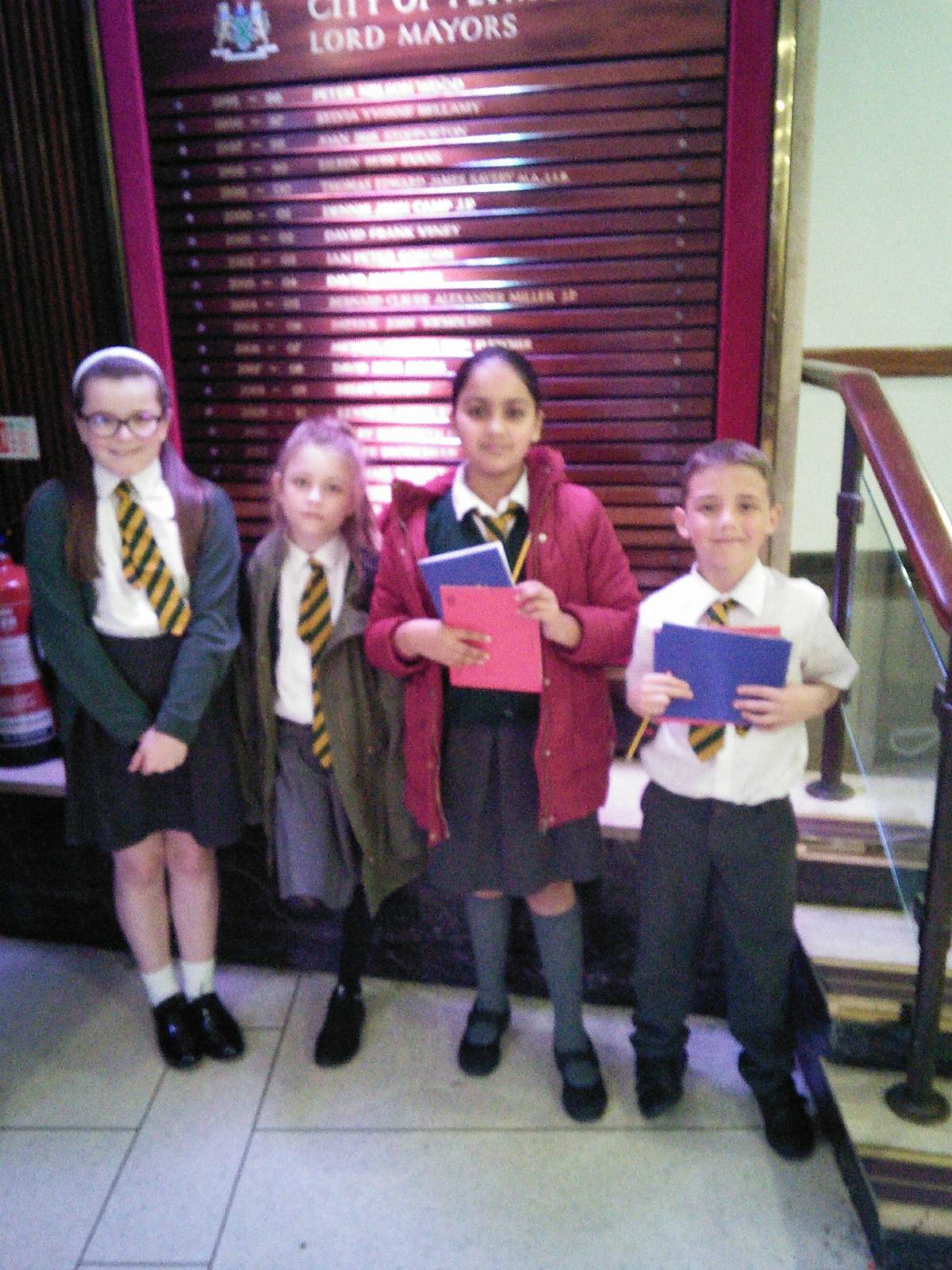 April 2019
On 4th April 2019, our School Council took part in the grand opening of St Mary's Church gardens. This was a wonderful community event which brought together all the people who have transformed the church gardens in a celebration.
Thank you to the Lord Mayor of Plymouth, Mike from the Youth Offending Team, Councillors Mrs Murphy and Mr Vincent, Father Sam and our wonderful children.
Here are the two poems the school council wrote and performed to celebrate the opening:
St Mary's Church Gardens
A place to be quiet
A place to play
A place to read
A place to grow flowers
St Mary's Church Gardens
A place to relax
A place to stay
A place to enjoy beauty
A place to pray
St Mary's Church Gardens
A place to create
A place to be myself
A place to think
A place to help
St Mary's Church Gardens
A place to make friends
A place to remember
A place to imagine
A place to feel better
All: Our Gardens
There is a little garden…
There is a little garden
Outside St Mary's Church
Children of Laira Green say
'Come on and join the search!'
There is a little garden
With a bench made of oak
Where the children can play, listen and learn
While the birds soak
There is a little garden
That fills us with a sense of pride
Where lovely things mix and match
And tiny ladybirds hide
We now have a little garden
Colours of green, yellow and red we can touch
We will take care of our little garden
Thank you, so very much.
We also presented a poster to Father Sam, which the children created together, to display at St Mary's Church.
March 2019
Comic Relief March 15th
Comic Relief spends the money that is raised through Red Nose Day and Sport Relief on disadvantaged people living in the UK and around the world. Over the last 30 years over £1 billion has been raised for the charity. The Comic Relief charity is UK based and aims to free the world from poverty.
Our School Council supported comic relief by organising a biscuit sale and by selling red noses. We would like to thank the children in Foundation, the children in Year 3/ 4 and the school council for helping to ice nearly 300 biscuits! Amazingly, they all sold out and we made £199 for comic relief, thank you so much!
January 2019
On 24th January 2019 four of our school council representatives attended the City Youth Council meeting at Plymouth Council Chamber. Laira Green was one of eighteen schools that attended.
There were four speakers during the day.
Heather Ogburn - PCC, and MKC Heroes Ambassadors
Jackie Young – Urban Agenda South West
Robyn – St Luke's Hospice
Jenny Way – Plymouth UKYP
This meeting is our school's opportunity to engage with Active Citizenship learning. Plymouth City Youth Council provides an opportunity for elected members of school councils in Plymouth, and their associates, to come together and represent their electorate, discuss and contribute towards issues that affect them in their school, their local community and the country as a whole.
The City Youth Council is not a simulation; councillors have a strong voice that the decision makers in the city want to hear. Members decide who they would like to invite to meetings, the choice of issues and campaigns for discussion and debate are decided by the school councillors and associates.
Jackie Young talked about how schools can reduce single use plastic. She showed a lunch box containing 10 pieces of food packed or wrapped in plastic. She encouraged to avoid cling film , small food bags etc. She also talked about plastic free water front surface in Devon. She said that children's ideas to reward people for recycling were passed on to the council.
Plymouth City Youth Council and School Council's priorities for the Compassionate Plymouth Charter – January 2019
Plymouth is one of the first city in the country to develop a Compassionate City Charter to ensure that people feel supported when they experience a bereavement and are affected by the loss of a family member, friend or someone they know. At the last meeting, St. Lukes asked CYC members to talk to their constituents (other pupils in school) about how they would like to learn about bereavement, loss and care. Laira Green did this as a whole school and our school council reps presented our ideas.
Council voted for their top four priority recommendations, to influence the Plymouth Compassionate City Plan. The results for the City Youth Council priority recommendations for the Plymouth Compassionate City Plan are:
Our first priority is: a memorial garden
Our second priority is: staff training
Our third priority is: a safe space
Our fourth priority is: a memory box
Chair, Vice Chair and reserve list elections for 2019-20
All schools wishing to stand as candidates were invited to provide a short (one minute) presentation, saying why they think that other council members should vote for their school. Chair and Vice chairs were elected following a vote from council members. Chloe wrote a manifesto and presented it to be the Chair. She had a minute to deliver her presentation. We are very proud of your presentation Chloe and well done to all our school council reps who took part in the day.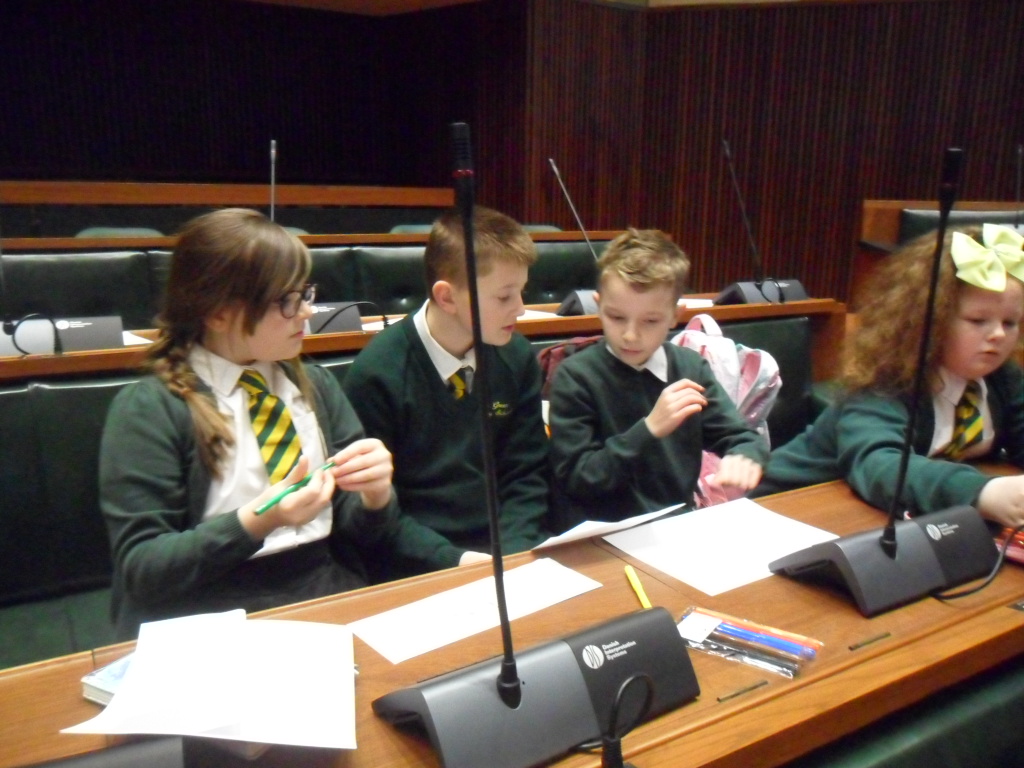 November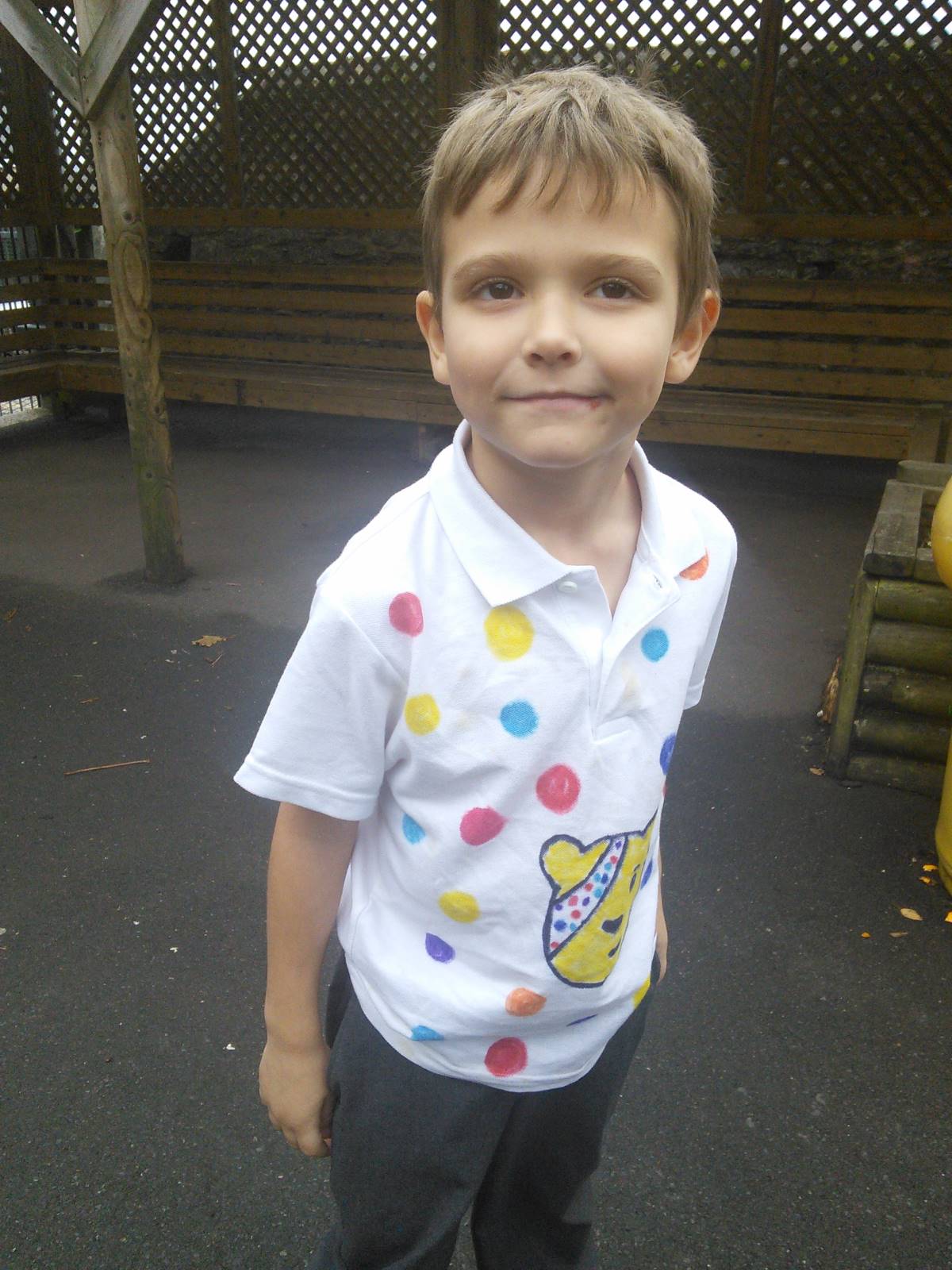 What a busy week! The School Council worked hard all week to sell Pudsey wrist bands, badges and key rings during their break and lunchtimes, before finishing on Friday with a successful cake sale. They worked hard to sell cakes, buns and biscuits and to make posters in the run up to the cake sale. We had such a long queue and sold out after school!
Thank you so much for all of your kind donations and support. As a result, we are proud to announce that we have raised an amazing £586.50 for all the good causes that

Children

in

Need

support. Thank you!
Remembrance Service at Efford Crematorium
On Thursday 8th November, Key Stage Two members of our School Council represented Laira Green Primary School at the service of remembrance at Efford Crematorium. This is an annual event and is always well attended by schools and members of the public, in addition to the local councillors. Upon arrival, the pupils had a chance to speak to ex-servicemen and enjoyed hearing about some of their experiences, before walking together to the War Memorial. The pupils took part in a minutes silence and paid their respects by laying our wreaths in memory of those who have lost their lives.
The Kohima Epitah
"When you go home, tell them of us and say,
For your tomorrow, we gave our today."
For the Fallen
They shall not grow old, as we that are left grow old;
Age shall not weary them, nor the years condemn.
At the going down of the sun and in the morning
We will remember them.
Click here to see more photographs of the Service of Remembrance.
October
City Youth Council Trip 17th October 2018

Four members of our school council were excited to be selected to attend a City Youth Council meeting at the Plymouth Council Chamber. The meeting involved hearing from a number of inspirational speakers:
James Brent, the current chairperson for Plymouth Argyle.
Councillor Winter explained how the City Council will use the nine priorities voted for by City Youth Council members at the reducing single use plastic consultation event, at the Marine Aquarium in July.
The main agenda item looked at what it is like to be a child of a member of Her Majesty's Armed Forces and the impact it can have on their emotional health and well being. CYC members learned about how schools and the council support Military Kids and discussed recommendations for how improvements can be made.
The children were introduced to a City Council plan to become a Compassionate City. Members heard from St. Luke's hospice who wanted to find out from children and young people in schools about how the city and schools can provide better support for children and young people and improve teaching and learning about bereavement and end of life.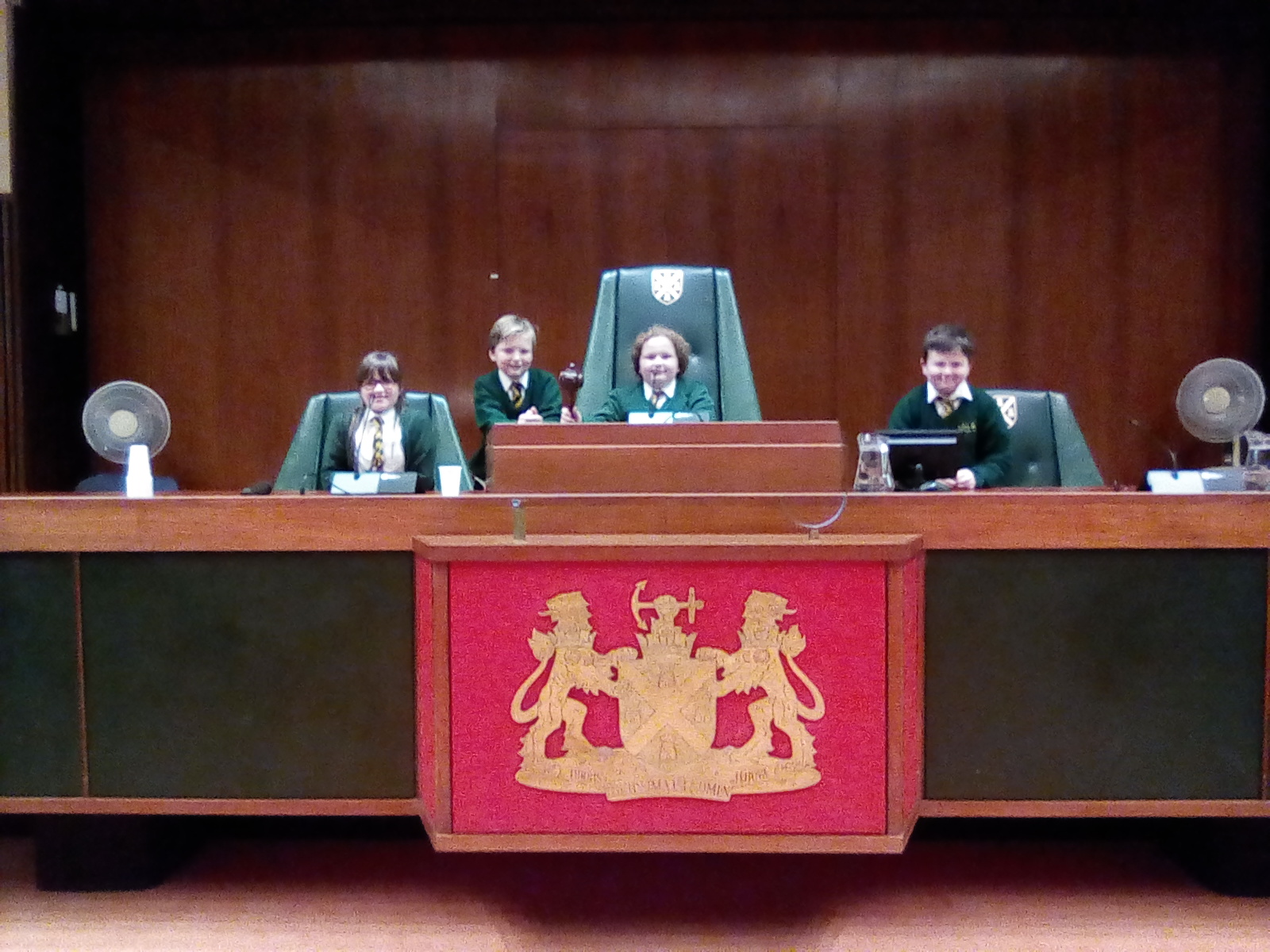 Enjoy more photographs from the day here.
Classroom 2 Moon Walk 4th October 2018
On Thursday 4th October, Key Stage 2 school council representatives took part in the 'Classroom to Moon Walk'.
For walk to school month, Plymouth City Council are aiming collectively for 79,000 hours across the city. This is the time it would take for one person to walk to the moon. The Classroom to Moon Challenge is running from Monday 1st October to Friday 2nd November and is a competition as well as a unifying whole-city challenge. We are hoping to win a visit from the mobile planetarium Space Odyssey and have already made a good start. We are keeping a record of how many minutes each child has walked each week.
The school council were lucky to represent Laira Green and take part in the inter-school walking relay. 'Astro Mo' the mascot walked with us to Lipson Cooperative School. We took friendship flags to present to the next school during the walk. "We thought it was really good, we enjoyed seeing different children from different primary schools and we gave our flag to Lipson Vale (Friendship flag)." Well done everyone!
September
During our first SC meeting the children elected a Chairperson, Vice Chair and Secretary. Congratulations to Xander on becoming the Chairperson, Kira was voted in as Vice Chair and Viktoria as Secretary. We are excited to be the voice of Laira Green and to embark on some exciting projects working within our school community. Please read our minutes to see what we have been talking about so far and remember to see us in our drop in sessions too!
Congratulations to the children who are our new SC reps:
Birch: Jude and Maisy

Hazel: Chloe and Viktoria

Cherry: Tyler and Cody

Apple: Aileen and Frazer

Oak: Niomi and Erin

Maple: Clyde and Sid

Dragonflies: Caleb and Kacie

Butterflies: Zak and Lily

Fireflies: Lavinia and Govati
Minutes for 2018 - 2019
Summer Hols!
I would like to say a huge thank you to each and every one of the School Council reps for their hard work and dedication this year and for giving up their Monday lunchtimes every fortnight. You have been a delight to work with and I've been amazed by your ingenuity and the pride in which you have shown towards our school. I hope you all have a fab summer and good luck to our Year 6s moving on - don't forget to join the School Council in your new schools!
The School Council next year will have newly elected reps and will be led by Mrs Hughes.
Plastic Pollution Conference at the National Marine Aquarium
Mrs Lonsdale took 4 of our Year 5/6 reps to the NMA on 13.7.18 to attend a conference on the growing issue of plastic pollution. This was a follow up to the last City Youth Council meeting, where the NMA were guest speakers. The purpose of the visit was to give children and young people a say on how Plymouth should reduce its use of single use plastic. The overall aim was to come up with ideas for the City Youth Council to reduce plastic in homes, schools and businesses.
Councillor Darren Winter spoke first and said that we need to 'get a positive message to the City of Plymouth' about ways to reduce single use plastic.
He was then followed by Sally from CaterEd (the company who provides our school dinners) who were previously challenged by the CYC at their last meeting about how they, as a company, would reduce their own plastic pollution. In response to this, Sally made several important announcements which included the fact that they would be: taking away slushies at lunch in order to tackle the problem of plastic straws, using tetra packs instead of plastic milk bottles and using disposable cutlery (we already use metal cutlery) called 'vegware' made incredibly from.....vegetable peelings! They also said that their next step is to put proper recycling bins in schools. Watch this space!
The third and final speaker was Nicola Murray from the NMA, who our children met at the last CYC meeting. She put the sheer enormity of the problem into perspective when she said that plastic has been around for about 100 years and every single piece ever made is still on our planet. An alarming 12 million tonnes goes into our oceans every year!
Each school council was tasked with pairing up with another school to come up with ideas for tackling the plastic issue. Ideas were then shared and the top 9 priorities were chosen by way of a vote. These were:
1. Raise awareness through education in schools/public.
2. Facilitate recycling in the City (more bins)
3. Finding alternative materials.
4. Campaigning.
5. Get schools more involved in recycling.
6. Bottle schemes e.g. money back.
7. Environmental action e.g. beach clean up.
8. Plastic wardens.
9. Encourage businesses/community services to do more.
To conclude the morning, groups were then asked to come up with Snappy Slogans and Likeable Logos which have been left behind for consideration. This was a really important and valuable meeting for our School Council and it is good to know that the City of Plymouth is starting to play its part in salvaging our precious planet.
In preparation for this meeting, our School Council devised a questionnaire to conduct some research. If you wish to complete the questionnaire yourself, please find it here: https://www.surveymonkey.co.uk/r/9VWQT5H
City Youth Council
Mrs Price recently took 4 of our School Council reps to the last of the City Youth Council meetings this year. The main focus this time was supporting the aged and plastic pollution, with visitors from Dementia Friendly City and the National Marine Aquarium. Click here to read more!
The Speaker's Award
This year, Mrs Kennedy would like our School Council to enter The Speaker's Award competition. This is a competition where School Councils across the country can shout about the improvements made to their school and local community as a direct result of their actions. Click here to go to the Speaker's Award homepage to find out more.
Winners of the Speaker's Award will receive a winner's certificate and web badge for the school website, as well as an invitation to the awards day in Parliament that will include a tour of the palace of Westminster, and an awards ceremony in the Speaker's Apartments, where they will be presented with a winner's trophy by the Speaker of the House of Commons.
British Values
In keeping with our firm belief in the 5 British Values, we have tried to ensure that our endeavours towards this award are democratic and respectful to all. We started the process with inviting the whole school to approach the School Council with any ideas they had for a project e.g. improving links with community, greener spaces, recycling, road safety etc. The Council then collated all ideas and we voted on those most achievable and relevant to our school and local area. These were whittled down to:
1. Team Ant across the school
2. Improving sportsmanship
3. Road safety
4. Litter picking
And this is what each project's manifesto consisted of: click here.
The School Council then got together in the above 4 groups and produced a video for the rest of the school, explaining why they should vote for their project (click each project to be taken to their video). Each class conducted a vote and sent their results to Mrs Gallacher.
Votes were collated on Friday 19th January and the project with the most votes is:
Improving Sportsmanship!!
The Council have already begun to put things into place in order to deliver what was promised and what the school voted for. We are very excited about what the future holds and look forward to improving sporting experiences for the pupils at Laira Green.
City Youth Council
This year, Year 6 School Council reps at Laira Green have taken part in something called the City Youth Council. This entails attending 3 meetings a year with School Councils from all across Plymouth and from a variety of different settings, including Secondary schools. Not only do we get to meet in the official Council Chambers in the City Centre (and get a free lunch!) but it's also a great opportunity to liaise with other councils, share ideas and put our heads together on huge, city wide projects.

Click here to read the minutes from September's meeting.
January minutes coming soon.
Other news/events
Children in Need
In November, the School Council organised fundraising for the very worthy Children in Need charity. After brainstorming ideas, children agreed on the following activities: selling official merchandise, a collection tin for the old 'round pound', spotty mufti and a Pudsey bear cookie sale. Posters went up in advance around the school and School Council reps gave up their own time to decorate and sell cookies and merchandise. The fundraising week was a resounding success and we raised a whopping £550! A big thank you to parents, children and staff for fully supporting this crucial and life-changing charity.
Minutes
Click on one of the links below to read about our latest meeting. Meetings are held fortnightly on a Monday lunchtime.