Music
Welcome to Music at Laira Green.
Every class experiences music lessons each term where they learn to compose, analyse and perform music through class based topics. We also have singing assemblies every Wednesday morning.
We have a school choir that meets every Monday lunchtime. Our school band meets every Wednesday after school.
Private small group instrumental tuition is also available on the guitar, keyboard, violin and flute. Please chat to Miss Moffat to find out more.
Thank you so much!!
The benefits of Music
Makey Makey
We had great fun in Music today making a keyboard that you can play with your feet!
We used the 'Makey Makey', some card and tin foil. Check out the photos and video below.
Laira green music evening 2018
On the 11th July we had an amazing evening, celebrating the awesome talents of our Laira Green pupils.
The evening included our school choir, school band and students who currently have guitar, flute, keyboard and violin lessons.
We would like to thank everyone who made the evening run so smoothly especially, Mr Pettit and Mrs Vand'Vliet. Please check out the videos and photos taken at the event.
Spring music
Watch here for our latest Mayan drumming adventure!
Cherry, Birch and Hazel studied music through their history topic of the Mayans in Term 3. They worked on composition and performing skills in small groups. Musical notation and note values were also studied to help with the written recording of rhythms.
Years 1 and 2 wrote their own music about the seasons this term and performed it to others in their classes. They have been working on their singing skills to improve confidence and tuning when performing.
Years 3 and 4 learnt a French rap ready for our visit from French School children next term. They also progressed on the ocarina, learning new notes and playing simple tunes from musical notations.
Christmas 2017
Well done to all our children for their fantastic performances this Christmas.
Please take this chance to have another listen to two of the songs again.
Laira Green Choir performing at St. Andrew's Church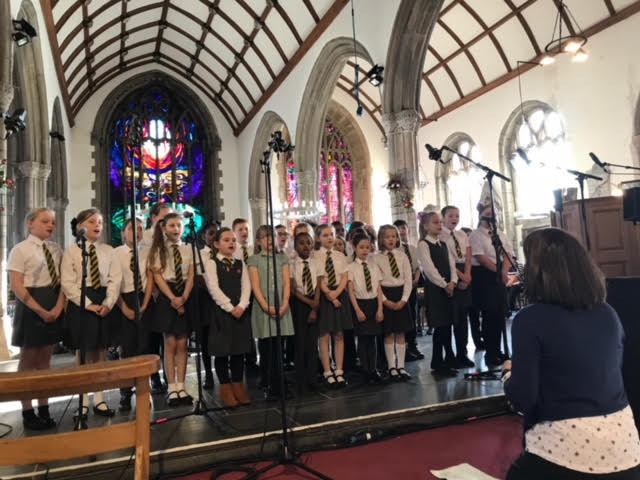 Plymouth Musicality Concert 3rd February, 2018
Congratulations to the 35 members of the school choir who sang at the Pavillions on Saturday night. You were fantastic ! Also what a treat to share in such a wonderful evening of music.
Royal Marine Band Concert June 4th, 2018
On Monday June 4th the School Band travelled by bus to the city centre to see the world famous Royal Marine Band perform in Plymouth Guildhall.
The concert was amazing and the children thoroughly enjoyed listening to a mixture of classical and pop music, as well as the fantastic corps of drums.
Mrs Buckingham and Mr George were very proud of all the children who behaved wonderfully, watched attentively, joined in with clapping and dancing, and were a real credit to Laira Green Primary School.